Christine Ahn
Jump to navigation
Jump to search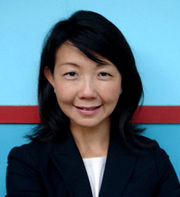 Christine Ahn is the Founder at Women Cross DMZ. Founding Board Member at Korea Policy Institute, and a columnist at Institute for Policy Studies.
She is co-founder of the Korea Peace Network, Korea Policy Institute and Global Campaign to Save Jeju Island. Christine has addressed the United Nations, U.S. Congress and ROK National Human Rights Commission. Ahn has been a policy analyst at the Global Fund for Women, Oakland Institute, Institute for Food and Development Policy, and Nautilus Institute. A columnist with Foreign Policy In Focus, Ahn's writings have been published in The New York Times, CNN, and The Nation. She has appeared on Al Jazeera, CNN, Democracy Now!, NPR and Voice of America.[1]
Service
Christine Ahn is a policy analyst with expertise in Korea, globalization, militarism, women's rights and philanthropy. She is co-founder of the Korea Policy Institute (KPI), National Campaign to End the Korean War, and Korean Americans for Fair Trade. Ms. Ahn has participated in and led several peace and solidarity trips to South and North Korea. She has addressed the United Nations, U.S. Congress and the National Human Rights Commission in South Korea. She is a columnist with the Institute for Policy Studies' Foreign Policy In Focus, and her op-eds have appeared in The New York Times/International Herald Tribune, CNN, Asia Times, and the San Francisco Chronicle. She has appeared on Al-Jazeera, BBC, CNN, Democracy Now!, NBC Today Show, NPR, and Voice of America.
Ms. Ahn is currently Senior Fellow with the Oakland Institute and has worked with the Global Fund for Women, Women of Color Resource Center and Institute for Food and Development Policy/Food First. She helped produce Fashion Resistance to Militarism, a popular education show on the dominance of militarism in our lives. Ms. Ahn holds a master's degree in public policy from Georgetown University and a certificate in ecological horticulture from the University of California, Santa Cruz. She has been inducted into the OMB Watch Public Interest Hall of Fame and recognized as a Rising Peacemaker by the Agape Foundation.[2]
Judith LeBlanc connection
Grassroots Feminist Visions
Women Cross DMZ September 21 2021.·
Grassroots Feminist Visions: A Way Forward from the War on Terror. ICYMI, check out today's panel discussion hosted by the Feminist Peace Initiative on how to transform US foreign policy away from militarism and endless wars.
PANELISTS
Feminist Peace Initiative was founded by 2019 Madre, Grassroots Global Justice Alliance, Women Across DMZ.
North Korean connection
Christine Ahn has worked with North Korean Pak Chol, the vice chairman of North Korea's Asia-Pacific Peace Committee. .
"Breathless in North Korea"
"Breathless in North Korea" by Christine Ahn, Foreign Policy in Focus April 1, 2014.
"Please don't take her," my sister pleaded with me. "You'll end up in a prison camp." She, along with the rest of my family, lobbied forcefully against my bringing my two-year old daughter on a recent peace-building mission to North Korea.
Granted, it wasn't a great time to go to Pyongyang. It was during the dead of winter, freezing cold, with gray skies and barren trees. Even worse, our trip was bookended by two major events: the release of a 400-page report by the UN Commission of Inquiry on Human Rights in North Korea and the start of joint U.S.-South Korea military exercises simulating the invasion of Pyongyang. Furthermore, this year's exercises featured a new policy of launching pre-emptive strikes against any suspected North Korean missile activity. Given the exchange of fire that nearly erupted during last year's war games (and that did erupt shortly after our visit), it wasn't an auspicious time.
While the UN human rights report and war games appear to be two disparate issues, they are linked by the Korean War, which came to an unresolved end on July 27, 1953 with the signing of the temporary armistice agreement. The signatories—the United States, North Korea, and China—committed to finalize a permanent peace treaty within three months. Sixty years later, we're still waiting.
What has ensued instead for the past six decades is an endless arms race between South and North Korea. According to SIPRI, in 2013, South Korea was the world's 12th highest military spender, with its expenditures reaching $31.7 billion for the year—though experts say this figure would be far higher if it included the salaries of soldiers. World Bank data shows that in 2012, 13.6 percent of the central government's expenditures in South Korea went towards defense spending. And according to Suh Bohyuk, North Korea expert at Seoul National University, South Korea became the world's number-two weapons importer in 2011.
North Koreans must not only face down this tragic and traumatic past; their everyday lives are shaped by another form of war: U.S. sanctions. In a special edition on North Korea human rights in the journal Critical Asian Studies, Haeyoung Kim of the Korea Policy Institute documents how U.S. sanctions have not only failed to achieve their policy aims, but have direct bearing on the well-being of the North Korean people: "It is the North Korean people, moreover, not the governing elite, who bear the ultimate costs and suffer under these sanctions, creating an undeniable tension when considering the causal relationship between economic sanctions and human rights."
The prospect of constant war not only threatens human security on the Korean peninsula; it diverts urgently needed attention to the ecological crises facing humanity. My daughter's experience in North Korea is a stark reminder of the real and urgent threats we are all facing. Air pollution is the single largest environmental health risk in the world, according to the World Health Organization. In 2012, it killed an estimated 7 million people.
"We are at the crossroads to either survival or self-destruction," Pak Chol of the DPRK UN Mission wrote me in an email. "We have no time for hating and killing each other. We should put an end as soon as possible to all those cold war legacies for good and pull together to tackle our common task." [3]
"Met frequently with Pak Chol in New York"
A two-hour White House meeting Friday January 18 2019 between President Trump and Kim Yong-chol, the chief negotiator for North Korean leader Kim Jong-un, apparently cleared the decks for the next phase in the US attempt to convince Kim to give up his nuclear weapons in return for relief from economic sanctions and a new relationship with the United States.
The other US officials at the session were Secretary of State Mike Pompeo and Stephen Biegun, the former Ford executive who is now serving as Pompeo's Special Representative for North Korean Policy.
"This meeting shows that Trump and Kim have moved into the diplomatic phase of negotiations, which is a great thing for the people of Korea, North and South," Christine Ahn, the Korean-American founder of Women Cross DMZ, told The Nation. "It's an assurance that renewed conflict is off the table, and that the two sides are starting to define a roadmap that will lead to the end of the 70-year Korean War."
The most telling sign of that progress came in an official photograph of the White House meeting—complete with a new letter from Chairman Kim sitting on the desk—that was distributed by Trump's communications team.
It showed Kim Yong-chol, who is best known as the former director of the Reconnaissance General Bureau, North Korea's notorious intelligence service, sitting in front of Trump's desk with Kim Hyok-chol, North Korea's former ambassador to Spain. Also in the photo are Kim Song-hye, the head of strategy at the United Front Department of the Workers Party of Korea, and Pak Chol, the vice chairman of North Korea's Asia-Pacific Peace Committee.
Chad O'Carroll, the editor and founder of NK News, the Seoul-based reporting service that identified the men, told The Nation that the presence of the "working-level officials" was significant because it "comes after almost a year during which talks have been stuck at the presidential and Secretary of State level." In an article in NK News, he reported that "a key American condition" of Kim Yong-chol's visit "was that working-level talks could commence as a direct result of it."
That is already happening. On Saturday, Biegun flew to Sweden to begin the first official diplomatic talks since the Trump-Kim meeting in Singapore last June. On Monday, he met with his counterpart in Pyongyang, Choe Son-hui, North Korea's vice foreign minister and a well-known figure to US diplomats. Lee Do-hoon, a South Korean negotiator dispatched by President Moon Jae-in, also took part in the talks, which were described as "constructive" by Sweden's foreign ministry.
The presence of Pak Chol in the delegation to Washington was especially poignant to Women Cross DMZ's Ahn. Pak was a senior counselor at the North Korean Permanent Mission to the UN for over five years and, according to Ahn, has extensive experience "engaging with international civil society working for peace and unification in Korea."
In 1989, Ahn said, Pak was the lead interpreter for North Korea during a World Youth Festival in Pyongyang that became famous in South Korea when a university student, Im Su-kyong, crossed the DMZ to attend it (she met Kim Il-sung, Kim Jong-un's grandfather) and was arrested upon her return to Seoul. Years later, Im was elected to the South Korean National Assembly. A political activist who helped Im make her secret trip, Im Jong-seok, was also arrested, but he went on to serve until a few weeks ago as the chief of staff to President Moon.
More recently, when Ahn was negotiating with the governments of North and South Korea and the UN Command in Korea for the first women's crossing of the DMZ in 2015, she met frequently with Pak Chol in New York. "I credit him as the key North Korean diplomat who advocated for the peace walk," she said. Pak's presence in Washington with Kim Yong-chol, she added, shows "he has the ear" of Kim Jong-un.
"It heartens me to see that his experience and expertise is so highly regarded and that he can use all of that to help end the war and help transform North Korea," she said.[4]
Early Korea activism
In 2004 Christine Ahn, then an activist working for Food First, an Oakland nonprofit, was invited to give a speech about North Korea at the Human Rights Commission in South Korea. In her talk, she criticized the American passage of the North Korean Human Rights Act, arguing that increased sanctions against the communist country were choking its people and exacerbating their human-rights crisis. Ahn advocated peace and engagement. She also pointed out US hypocrisy. "I said some provocative things," she recalled, calling out American human rights violations at Abu Ghraib and Guantanamo, racial biases of the US criminal justice system, and the persistent hunger and poverty of a meaningful segment of the American population.
The crowd's response was overwhelming. "My perspective was obviously very fringe and a bit left, but the Korean people loved it," Ahn said, recalling her surprise. "I was, like, paparazzi'd. .... But it was just like people opened their eyes for a moment here. Okay, let's just stop for a moment here, all this propaganda about North Korea, and just like think about it here in a more pragmatic way. And, obviously, it had resonance."
But one month later, she received an e-mail that tempered her excitement. It was a message from a friend, pointing her to a blog called One Free Korea. A post entitled "The Alternative Reality of Christine Ahn" criticized her viewpoint, labeled her a "North Korean apologist," and detailed facts about her life and her beliefs. Ahn was creeped out. "I mean it was so freaky to have this ten-page article about me," she said. It was authored by Joshua Stanton, a lawyer with the Department of Homeland Security who currently serves as the department's deputy chief for tort litigation. In a recent interview via e-mail, Stanton said he blogs as a private citizen, but added, "I think Ms. Ahn is a reprehensible apologist for mass murder, and for the deliberate, discriminatory mass starvation of men, women, and children."
The incident horrified her. "It freaked me out so much that I was like, 'Oh, I don't think I'll continue doing this peace work,'" said Ahn, who lives in Oakland and is now a fellow at the Korea Policy Institute. But, in fact, she became more vocal, and was interviewed on CNN and talk shows such as the Today Show and KQED's Forum. Meanwhile, her list of critics grew. The following year, Ahn said one of her colleagues in South Korea received a call from the US embassy demanding to know "Who the hell invited Christine Ahn to speak at the panel?" She's now listed on DiscoverTheNetworks.org, a web site by conservative author David Horowitz that she describes as an "online database of all these cells, like terror cells of academics, think-tanks, foundations, Hollywood stars." She's described as a "Supporter of the Communist dictatorship of North Korea."[5]
International Women's Peace Walk
In mid-March 2015, Christine Ahn received word that Pyongyang wanted her to come to discuss the event and program. After Ahn returned from Pyongyang, she received the following confirmation from the DPRK mission to the United Nations:
This is to inform you that Pyongyang expressed its full support to the International Women's Peace Walk. The Korean Committee for Solidarity With World Peoples, the Democratic Women's Union of Korea, the Committee for Overseas Compatriots of Korea and other related organizations will render all necessary assistances to the event for its success. Since this is an international peace event timed in this special year marking 70th anniversary of liberation and simultaneous division of our beloved country and nation, we hope that the event will be a specially significant contribution to terminating the current status of war, replacing armistice with peace agreement, and thereby achieving permanent peace and reunification on the Korean Peninsula.
Says Ahn;
On Christmas Eve of last year, we received the best gift we could have imagined through our adviser, former New Mexico Governor Bill Richardson, when we were informed by the U.N. Command that, upon receiving confirmation from the Republic of Korea, they would be prepared to facilitate our DMZ crossing.[6]
Peace treaty the goal
Circa October 2009 Christine Ahn and Paul Liem, the Berkeley-based president of the Korea Policy Institute, arranged a meeting to discuss US-North Korean relations between themselves, ten other activists, and members of the State Department and Congress, including Frank Januzzi, John Kerry's senior Korea advisor, who also works for the Senate Foreign Relations Committee. They were received much differently than during past visits, Ahn said. "Something about the Bill Clinton trip really changed the dynamics in a very significant way," she said. "The whole regime-change discourse felt like it was long gone, that was history. It also felt like that they just knew that diplomacy was the way forward and that there had to be some kind of breakthrough with North Korea. It was just a matter of how and when."
"If more and more Americans knew about the kind of diversity of people that are really questioning US involvement, US military occupation, 30,000 troops still on the Korean peninsula, all the kind of crimes committed towards the civilians by the US military ... I think they would say, 'Okay, it's like the Korean War has got to end,'" said Ahn. "Enough is enough. We need a new kind of way, a new way of moving forward on US-Korea policy."
Ahn and her cohorts at the Korea Policy Institute are trying to do just that. Formed in 2006, the Los Angeles-based group aims to provide a unified, coherent, and informed voice on US-Korean policy that it hopes will one day lead to the signing of a peace treaty.[7]
Career
Education
Studied at Georgetown University.
Teach-in with Sanders
Circa 2018 Christine Ahn joined Senator Bernie Sanders for a Move On teach-in commemorating the 15th anniversary of the U.S. war on Iraq, with 80,000 online viewers.[8]
Vietnam Summit
Carter connection
Jimmy Carter with Christine Ahn November 2018.
Meeting Ocasio-Cortez
Christine Ahn Jan 14, 2018:
In Washington DC today meeting with Cong offices to discuss #KoreaPeaceTreaty and women's inclusion in Korea peace process. So thrilled to meet @AOC in person! The closest we have ever come to electing a Congresd by and for the people! @CatKillough @KCRobinsonWPS @WomenCrossDMZ
Left Women Cross DMZ supporter and Ploughshares Fund staffer Catherine Killough, second from left Women Cross DMZ staff member Hyun Lee, center Christine Ahn, Congresswoman Alexandria Ocasio-Cortez.
Gabbard connection
Christine Ahn March 14 2019
With Tulsi Gabbard Aiyoung Choi and Ann Wright.
North Korea May 2015
Christine Ahn posted April 26, 2018 ·
With Meri Joyce, JT Takagi, Chung Hyun Kyung, Coleen Baik, Jean Chung, Kozue Akibayashi, Gay Dillingham, Erika Guevara Rosas, Lisa Natividad, Grace Grace Grace, Hye-Jung Park, Deann Borshay Liem, Medea Benjamin, Ann Wright, Abby Disney, Gwyn Kirk, Jane Jin Kaisen, M. Brinton Lykes, Jodie Evans and Una Kim.
Lisa Natividad One of my fondest memories of being in the DPRK!!!!!
Ann Wright What great memories from our May 2015 trip to North Korea!! I hope we can go again--although the Trump administration is denying our requests for the Special Validation Passports they now require!
DEEP tour 2008
Christine Ahn and lead a DEEP tour to North Korea 2008.
Korea Solidarity Committee
May 2003:Roger Kim, Judy Han and Christine Ahn were members of the Korea Solidarity Committee who published in War Times, May 2003 "U.S.-North Korea Nuclear Crisis Intensifies"
In 2003 Christine Ahn and Eunice Cho of the Korea Solidarity Committee, and Kawal Ulanday of CHRP and Filipinos for Affirmative Action gave talks entitled: "Korea/Philippines Solidarity Forum" In these talks, the speakers examined the U.S. Administration's intervention in Korea and the Philippines and the resistance of these communities. The talks were co-sponsored by CHRP and the Korea Solidarity Group. The classes were held at the San Francisco based Center for Political Education, an organization closely associated with the Committees of Correspondence for Democracy and Socialism.[9]
Friday, November 7, 2003, joining 30 other campuses and institutions worldwide, Korea Solidarity Committee helped organize a Korea Peace Day event at UC Berkeley, in conjunction with the Alliance of Scholars Concerned about Korea.
Speakers;
Initiated by the Alliance of Scholars Concerned about Korea, more than 30 college campuses nationwide are sponsoring events devoted to understanding the current crisis and advocating for peaceful resolutions.[10]
Center for Political Education
In 2003 Christine Ahn and Jan Adams gave talks entitled: "Non-Profits and the Movement - the structure of the non-profit system and the impacts on left movement building, and alternatives, with an eye towards the future of non-profits". The talks were hosted by the Center for Political Education.[11]
Averting U S War on North Korea
As part of its War & Liberation series, Center for Political Education hosted a discussion with leading Korea peace activists and experts on the historical roots of this conflict. The panel discussed what peace and social justice movements are doing and must do locally, nationally and internationally to avert war.
Co-sponsored by Women Cross DMZ, Hella Organized Bay Area Koreans (HOBAK) and Catalyst Project.
November 10, 2017, First Congregational Church of Oakland.
Averting U S War on North Korea: What Progressives Must Know and Do Now
Working Group for Peace and Demilitarization in Asia and the Pacific
Working Group for Peace and Demilitarization in Asia and the Pacific released a "Statement Opposing U.S.-South Korea Joint Military Exercises Key Resolve Foal Eagle" circa 2008;
Christine Ahn, Gretchen Alther, Rev. Levi Bautista, Jacqueline Cabasso, Herbert Docena, John Feffer, Bruce Gagnon, Joseph Gerson, Subrata Goshoroy, Mark Harrison, Christine Hong, Kyle Kajihiro, Peter Kuznick, Hyun Lee, Ramsay Liem, Andrew Lichterman, John Lindsay-Poland, Ngo Vinh Long, Stephen McNeil, Nguyet Nguyen, Satoko Norimatsu, Koohan Paik, Mike Prokosch, Juyeon Rhee, Arnie Sakai, Tim Shorrock, Alice Slater, David Vine, Sofia Wolman, Kevin Martin.[13]
North Korea
Christine Ahn, Sun Hyung Lee visited North Korea under DEEP: Democratic People's Republic of Korea (DPRK) Exposure and Education Program in 2004.[14]
Peace Action Advisory Board
Peace Action Advisory Board as of 2014;
Women Cross DMZ walk
War Times crew
In 2017, the "War Times Crew" consisted of Rebecca Gordon, Sasha Wright, Jan Adams, Hany Khalil, Clare Bayard, Lynn Koh, Rami El-Amine, Jen Soriano, John Trinkl, Gary Hicks, Carlos Martinez, Christine Ahn, Francesca Fiorentini, Felicia Gustin, Greg Hom, Max Elbaum, Nathan Paulsen, Michael Reagan, Sarah Lazare, Alicia Garza, Elvis Mendez, Becca Tumposky.[16]
Korea Forum
According to Kent Mori, 80 people attended a forum on U.S. war threats and aggression against North Korea, Oct. 24. 2017The event was organized by the Minnesota Peace Action Coalition and took place at the University of Minnesota.
Highlights of the forum included three outstanding speakers who all have significant experience in addressing U.S. aggression on the Korean peninsula. Sharon Chung moved to Minnesota a year ago and is a supporting member of Nodutdol for Korean Community Development and on the Korean Education and Exposure Planning Team. Roy Wolff is a member of Veterans for Peace Chapter 27 and a U.S. Army veteran who was stationed in South Korea for 16 months (1955‐57). Wolf has traveled to both north and south Korea in the years since he was in the U.S. Army. Lastly, the panel included Christine Ahn, who video conferenced in from Hawaii. Ahn is a founder and International Coordinator of Women Cross the DMZ, and a co‐founder of Korea Policy Institute, Korea Peace Network and Korean Americans for Fair Trade. She is a policy analyst with expertise on Korea, globalization, militarism and women's rights.
Beginning the forum, Sharon Chung stated Western news media regularly spews distorted information about a "crazy north Korean dictator trying to blow up the world with nuclear weapons," while ignoring the truly provocative actions coming from the U.S. government. She condemned actions like the U.S. and south Korean joint war exercises which simulate a nuclear war and assassination strikes on north Korea, and the forced and undemocratic deployment of the THAAD missile system.
Roy Wolff presented next. He emphasized the genocidal history of U.S. aggression on the Korean peninsula. He stated facts that are generally unknown about the Korean War (1950-1953) like, "every village and town in north Korea was destroyed! Every one!" and he repeated that "30% of the population of north Korea were killed, that's 3 million out of the 1950 population of 9 million." By way of example Wolf talked about the north Korean city of Wonsan, "a city of 70,000 people (in 1950) was shelled for 800 days in a row. At the end of those 800 days, only one wall of one building was left standing....and there were no people...many had fled, but thousands were killed." Wolf also showed that while the 1953 Armistice temporarily ended the 'hot' hostilities, it did not end the brutality of the continuing U.S. occupation of south Korea, which meant that U.S. military personnel committed 100,000 assaults, rapes and murders between 1953 and 1995.
The last speaker, Christine Ahn pointed out that "if there was ever a need for a mass mobilization in opposition to Trump and prevent a war on north Korea, it is now!" She argued that conditions appear to be good for developing movements both in the U.S. and in south Korea, with 68 to 80% of people in the U.S. opposing military action against north Korea, and over 80% of the people in south Korea wanting peaceful reconciliation with north Korea. [17]
Supporting an End to the Korean War
July 2019 WASHINGTON - Today, a coalition of five organizations is celebrating the passage of Amendment 217 in the National Defense Authorization Act for Fiscal Year 2020. The historic vote represents the first time that Congress has taken a stand on the need to end the nearly 70-year-old Korean War.
This amendment, led by Representatives Khanna and Sherman, recognizes that diplomacy is essential for navigating a realistic path forward on denuclearization of the Korean Peninsula, and that a formal end to the Korean War plays a critical role toward that goal
"This vote is a game changer," said Christine Ahn, Executive Director of Women Cross DMZ. "It's a clear sign that the American people want an end to the oldest U.S. conflict, and that ending decades of hostilities with a peace agreement is the only way to resolve the nuclear crisis."
"A peace agreement to end the Korean War offers a clear path, if not the only path, for real progress towards the goal of a denuclearized Korean Peninsula," said Paul Kawika Martin, senior director for policy and political affairs at Peace Action.
"Diplomacy is the only way to achieve peace on the Korean peninsula and begin the process of phasing out North Korea's nuclear weapons program," said Win Without War Advocacy Director Erica Fein.
"We applaud the passage of this historic vote, which recognizes that ending the Korean War is essential for addressing the challenge of North Korea's nuclear weapons program. It is clearly in the national security interests of the United States and our South Korean ally to expand diplomacy and pursue a changed relationship with North Korea," said Ploughshares Fund's Senior Program Officer John Carl Baker and Roger Hale Fellow Catherine Killough.
"The Korean War is often called the "Forgotten War" in the US, but it is a daily reality for the Korean people. This vote is a commendable step by Congress to address the root causes of conflict and end a 70-year-old war; a step that certainly moves us along the right path toward a more peaceful, prosperous Korean Peninsula," said Daniel Jasper, the Asia Advocacy Coordinator for the American Friends Service Committee.[18]
Physicians for Social Responsibility event
Christine Ahn To Speak In L.A. On March 6 2018, Physicians for Social Responsibility Group At Immanuel Presbyterian Church In Koreatown.
Join Physicians for Social Responsibility - Los Angeles and Beyond the Bomb-Los Angeles on March 6 for a discussion featuring Christine Ahn, founder of Women Cross DMZ, a global movement of women mobilizing for peace in Korea. Suggested donation $10, no one turned away for lack of funds. Co-sponsored by ICUJP, Peace Action, Asian Pacific American Dispute Resolution Center, The Asia Institute, Action One Korea
Contributors
Zoom in Korea, Contributors[19]
References