Christic Institute
From KeyWiki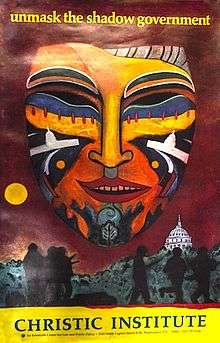 The Christic Institute was formed in 1981 and operated out of Washington, D.C. Daniel P. Sheehan is the 20-year President and Chief Counsel of the Washington, D.C.-based Christic Institute, which he formed with his wife Sara Nelson, and their partner, William J. Davis.[1]
After being disbanded, the group was succeeded by the Romero Institute.[2]
About
The Christic Institute was formed as a public interest litigation group by attorneys and activists. A number of these were formerly with the Quixhote Center, who had worked on the Silkwood and Harrisburg 8 cases and were then handling an anti-MX lawsuit filed the Silkwood and Harrisberg 8 cases, and an anti-MX lawsuit filed in Salt Lake City; Lewis Pitts, a Regional Vice President of the National Lawyers Guild representing Communist Workers Party members in a Greensboro, N.C. lawsuit; Bill Davis and Wally Katuboski who went to El Salvador prior to filing an amicus brief in support of a suit by Rep. George Crockett and others handled by the Center for Constitutional Rights attempting to rule U.S. military aid to El Salvador is an unconstitutional violation of the War Powers Act.[3]
References