Chip Smith
Jump to navigation
Jump to search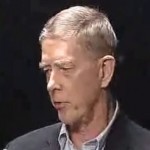 Template:TOCnestleft Chip (Richard) Smith (died 2018, age 75) was the director of a workers' center and an anti-war activist in Eastern North Carolina[1]. He is the author of "The Cost of Privilege".
Smith has been an international volunteer in Laos. His PhD dissertation at Temple University (1994) examined the impact of Philadelphia's de-industrialization on low wages, African Americans, and unionization. He is also a founding member of the Freedom Road Socialist Organization/Organizatión Socialista del Camino para la Libertad, a national group of organizers and activists working for social transformation.[2]
He left behind a partner of 42 years, Dr. Kim Eng Koo, a retired neurosurgeon, and two sons, Nathan J. Smith and Nicholas J. Smith.
Nathan resides with his fiancé, Hallie Goodman, in Melbourne, Australia. Nicholas and his wife, Nichole Rice Smith, live in Port Matilda, PA, along with Chip's four grandchildren: Alexander Smith, Dominic Smith, Isabel Smith and Logan Smith.[3]
CWP
Kim Eng Koo says, "My late husband Chip Smith and I were members of the Philadelphia Communist Workers Party in the 1970s. Our group had wanted to go to Greensboro to be part of the anti-Klan rally in 1979, but never made it. We were devastated to hear about the massacre in the news. We had admired the work of the CWP in NC, and wanted to learn from our NC comrades. After we moved to Rocky Mount, we started the Racial Justice Group in 2015 in response to the killing of nine people at the Mother Emanuel AME Church in Charleston on June 17, 2015. It has become a coalition of groups involved in racial, social and environmental justice issues in Rocky Mount and the surrounding area."[4]
Memorial
Guests at Chip Smith's March 2018 memorial service included Dave Austin, Bridgette Burge, Bryan Proffitt, Saladin Muhammad, Ajamu Dillahunt, Rukiya Dillahunt, Susan Perry Cole (Racial Justice Group), Marcus Thomas (Racial Justice Group), Susan Ayers (PFlag), Don Cavalini, Lois Anderson, Charlie Orrock, State Senator Angela Bryant "a comrade of Chip's", a letter from Marvin Winstead, and a messages Meizhu Lui, Michelle Foy, Bill Fletcher, Jr. as Freedom Road Socialist Organization members.
Left Unity
Chip Smith was a Committees of Correspondence for Democracy and Socialism member for many year. He was active in the NC peace movement (with military families at Quaker House in Fayetteville, where Fort Bragg is) and in the NC civil rights movement. He and his wife, Kim Eng Koo, who survives him, were active participants in the Greenville Socialist Social Hours, even though it meant a long drive from Rocky Mount. Chip was also a member of Freedom Road Socialist Organization, and a great believer in left unity.[5]
Activism
Born in Harrisburg, PA on August 13, 1942, he was the son of the late Dr. Richard T. Smith, Sr. and Dorothy Long Smith.
Chip grew up in Narberth, PA, and he attended Lower Merion High Schoolin Ardmore, PA. He graduated with a B.S. from Wesleyan University in Middletown, Conn., Class of 1964. He took a year off to provide volunteer activities in Laos with the International Voluntary Services before entering University of Pennsylvania Medical School. He left medical school without completion in protest of a profit-oriented health care system.[6]
Smith has been active in anti-war, labor and community movements for more than 40 years. As a volunteer in Laos from 1964-'66 he gained a first-hand understanding of U.S. intervention gone wrong -- and then worked to end the war in Vietnam. Influenced by the Black Panther Party and Students for a Democratic Society, Smith left medical school in 1969 to better ground himself in the social movements. He worked as a hospital lab tech and then ran a metal lathe for ten years -- serving as a departmental steward and representative to the Philadelphia Central Labor Council for his local of the International Association of Machinists.
Smith was the main care provider for his two sons Nathan Smith and Nicholas Smith, while his wife, Kim Eng Koo M.D., trained to become a neurosurgeon. He also began pursuing a Ph.D. in economics at this time, authoring a dissertation (Temple University, 1994) on the impact of Philadelphia's de-industrialization on low wages, African Americans and unionization. A long-time advocate of community-labor alliances, Smith drew on his decades of activism in 1999 to staff the start-up of Philadelphia's Jobs with Justice coalition.
After moving to Fayetteville, N.C. with his wife of 30 years, Smith co-initiated the formation of Fayetteville Peace with Justice in the fall of 2001. He moved to Rocky Mount, N.C., in 2008.[7]
He helped put together the Racial Justice Group in Rocky Mount, and was also a member of the Rocky Mount Sierra Club, PFLAG and the Unitarian Universalist Fellowship. Chip considered himself a Buddhist and practiced meditation, Tai Chi, and an avid bridge player. He also held a third-degree black belt in Shotokan Karate.[8]
Philadelphia activism
Chip Smith lived and worked in Philadelphia, PA, for many years, first as a lab technician at the defunct Philadelphia General Hospital, and later as a turret lathe operator at Philadelphia Gear, where he served as a shop steward for the International Association of Machinists . He also taught economics for a short period. Chip was a founding member of the Freedom Road Socialist Organization, and also co-founded the Philadelphia Public School Notebook newspaper.[9]
Forward Motion
Chip Smith, a graduate student at Temple University, and an economics instructor, contributed an article to Freedom Road Socialist Organization's Forward Motion, August 1990 issue.
Freedom Road magazine
Special thanks for Freedom Road Socialist Organization's Freedom Road magazine Number 1, Spring 2001 went to Cameron Barron, Scott Braley, Ajamu Dillahunt, Bill Capowski, Mike Meiselman, Rajiv Rawat, Vicky Menjivar, Michelle Foy, Jon Liss, Chip Smith.
"The Cost of Privilege"
A Community Discussion on White Privilege, Patriarchy, and Strategies to Get Free
Join local organizers and activists at the historic Hayti Heritage Center in Durham, Saturday, March 31st 2008, for a night of art, performance, discussion, and community. We'll be talking about the barriers that prevent us from making the revolution that we all need, and share strategies with each other for how to tear them down. Here's just a few of the highlights:
Author and long-time community organizer and activist Chip Smith will be on hand to talk about his new book, The Cost of Privilege: Taking On the System of White Supremacy and Racism.
Performance from Dasan Ahanu's new album The Jim Crow Jackson Experiment.
A dynamic discussion including noted activists and organizers like Manju Rajendran, Tema Okun, Kai Barrow, and others.
This event is being sponsored by Freedom Road Socialist Organization/OSCL and the Cost of Privilege Outreach Committee.[10]
Brecht Forum event
3/27 2007, - Book party/forum: "The Cost of Privilege." With author Chip Smith (Freedom Road Socialist Organization, founder, Fayetteville Peace with Justice, Machinists Union past steward), Bill Fletcher, Jr., (TransAfrica Forum, past pres), Harmony Goldberg (Bay Area activist, Anthro at CUNY Grad Ctr). Chip Smith makes case for role of system of racial advantages in preventing united challenge by US working people to the rule of capital. At Brecht Forum, 451 West St. Sponsors: Brecht Forum, Nation Books. [11]
FRSO member
Chip Smith is a member of the Freedom Road Socialist Organization[12].
References