Chester Hartman
From KeyWiki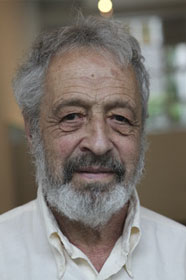 Chester Hartman, an urban planner and author, is Director of Research for the Poverty & Race Research Action Council (where he was founding Executive Director from 1989-2003) in Washington, DC, and Adjunct Professor, Dept. of Sociology, George Washington University.
Prior to taking his present position, he was a Fellow of the Institute for Policy Studies in Washington, and of the Transnational Institute in Amsterdam. [1]
He is married to Amy Fine.
Education
Hartman holds a Ph.D. in City and Regional Planning from Harvard and served on the faculty there as well as at Yale, the University of North Carolina, Cornell, the University of California-Berkeley, American University, and Columbia University.[2]
Long term political consequences of the Hughes campaign
Opposing Ted Kennedy in the 1962 Massachusetts Democratic Primary was Edward McCormack, nephew of House Speaker John McCormack; Kennedy's Republican opponent was Yankee scion George Cabot Lodge; and on the left was Independent peace candidate Harvard Prof. H. Stuart Hughes, chair of the Committee for a Sane Nuclear Policy.
Jerome Grossman was Hughes' Campaign Manager and Chester Hartman was the organizer of the massive signature drive required to place Hughes on the ballot. According to Grossman;[3]
Hughes needed 72,000 signatures, a purposely prohibitive number in that era of McCarthyism and nobody in fact had tried to reach it since the law had first been passed.
In this talented field, Hughes polled 50,013 votes, 2.3% of the votes cast. However, we collected a startling 149,000 signatures in ten weeks for a "peace candidate." The Cuban Missile Crisis arrived in October just before the election. With the integrity that was his hallmark, Hughes went against the popular hysteria: he accused President Kennedy of acting over hastily in imposing the blockade of Cuba, of bypassing the United Nations, and unnecessarily stirring up an atmosphere of national emergency. His position cost Hughes thousands of votes.
In the process we built a town-by-town organization all over the state, a structure that remains in place today. A clear result has been the election over recent decades of so many progressive voices to the state's first-rate Congressional delegation, including Michael Harrington, Father Robert Drinan, Gerry Studds, Jim McGovern, Barney Frank, Ed Markey, John Tierney, Michael Capuano and John Kerry.
The Hughes campaign built the strongest statewide peace movement in the country, a movement that changed the face and reputation of Massachusetts politics.
Institute for Policy Studies
In 1993 Chester Hartman was listed among "former fellows, project co-ordinators and staff" of the Institute for Policy Studies, Washington DC.[4]
Recommended appointees for a new Administration
In the 1988 book "Winning America: Ideas and Leadership for the 1990s" edited by Marcus Raskin, Chester Hartman, Sean Gervasi recommended Barry Bluestone, Gar Alperovitz, Donald Harris, Robert Browne, Jeff Faux, Carol O'Cleireacain, Jamie Galbraith, Howard Wachtel, Bennet T. Harrison, Michael Tanzer and Arthur MacEwan as recommended appointees for a new Administration page 24, 25).
Campaign for America's Future
In 1996 Chester Hartman, PRRAC was one of the original 130 founders of Campaign for America's Future.
War Times
In January 2002, a group of San Francisco leftists, mainly involved with STORM or Committees of Correspondence, founded a national anti-Iraq War newspaper War Times.
Endorsers of the project included Chester Hartman, executive director, Poverty & Race Research Action Council.[5]
DataCenter Donor
In 2007 Chester Hartman and Amy Fine were listed on the DataCenter's annual report as donors to the organization. The Oakland, California based DataCenter is widely regarded as the intellegence wing of the United States Left and has close ties to Cuba.[6]
Left Forum
The Crisis - A Long View from the Left: Embedding Radical Visions and Democratic Potentials in Reform Campaigns:
References