Charlene Teters
Jump to navigation
Jump to search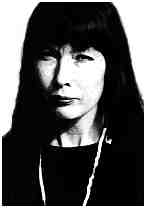 Template:TOCnestleft Charlene Teters is an artist and Professor at the Institute of American Indian Arts in Sante Fe, and senior editor of Indian Artist Magazine. She is on the board of the National Coalition on Racism In Sports & Media.
Charlene Teters is a Spokane, indigenous to the plateau region of what is now Washington state and works to support Indian children striving to transcend poverty and unemployment. Her politically powerful art attacks racist stereo-types that undermine Indian self esteem. "Indians are human beings, not mascots. Warriors within our society are about peace and life."[1]
Activism
Teters , Vernon Bellecourt, Mike Haney and other American Indian Movement people were "assaulted by fans and U of Minnesota Police at a 1992 basketball game for peacefully demonstrating against the U of Illinois mascot - a dancing white student in an eagle-feathered headdress called Chief Illiniwak." Teters also established the Office of Racial Justice for the National Congress of American Indians. Charlene is an accomplished artist featured in over 21 major exhibitions, commissions & collections.[2]
MDS Board member
On February 17, 2007, the Movement for a Democratic Society held a well attended conference[3]at New York City's New School University.
The business portion of the meeting followed with each board nominee introducing themselves to the conference. The board, a very diverse group, was voted in by acclamation... Board nominees where were not able to attend the conference were included in the appointment by acclamation. The list included Elliott Adams, Panama Vicente Alba, Tariq Ali, Stanley Aronowitz, David Barsamian, Rosalyn Baxandall, John Bracey, Jr., John Brittain, Robb Burlage, Noam Chomsky, Jayne Cortez, Carl Davidson, Angela Davis, Bernardine Dohrn, Barbara Epstein, Gustavo Esteva, Lawrence Ferlinghetti, Stephen Fleischman, Bill Fletcher Jr, Tom Hayden, Gerald Horne, Florence Howe, Mike James, Robin D G Kelley, Alice Kessler Harris, Rashid Khalidi, Mike Klonsky, Betita Martinez, Ethelbert Miller, Roxanne Dunbar-Ortiz, Barbara Ransby, Patricia Rose, Michael Rossman, Studs Terkel, Charlene Teters, Jerry Tucker, Immanuel Wallerstein, Cornel West, Leonard Weinglass and Howard Zinn.
References