Cesar E. Chavez National Holiday
From KeyWiki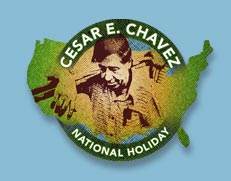 Cesar E. Chavez National Holiday is a Los Angeles based organization dedicated to winning a national holiday in honor of Cesar Chavez.
The organization is closely allied to the Communist Party USA.
About
Cesar E. Chavez National Holiday was established by Los Angeles volunteers who organized and led the effort in California that won Cesar Chavez Day, the first legal state holiday and day of service and learning in honor of farm worker leader Cesar Chavez. The legal holiday bill introduced by then State Senator Richard Polanco (Los Angeles-D) was signed into law by then Governor Gray Davis (D) on August 18, 2000. The holiday is celebrated in California on Cesar E. Chavez's birthday March 31st. This marked the first time that a labor leader or Latino has been honored with a public legal holiday.
The California legal holiday set into motion a wave of initiatives resulting in optional and commemorative Cesar Chavez Days in nine additional states (Arizona, Colorado, Illinois, Michigan, New Mexico, Texas, Utah, Wisconsin and Rhode Island.)
Cesar Chavez Day brings together hundreds of thousands who engage in celebrations, service and learning projects, and other actions that further the many causes which Cesar Chavez worked for.
The mission of Cesar E. Chavez National Holiday, a public benefit organization, is to work for national recognition of Cesar E. Chavez on his birthday March 31. We are forming national, state and local coalitions; organizing volunteer committees; and providing education about the value to our nation of honoring Cesar E. Chavez,[1].
Communist campaign
The Cesar E. Chavez National Holiday is a campaign of the Communist Party USA. this was confirmed in a 2001 report Building the Communist Party USA in the South (PART 2) by Russell Pelle, Chair Communist Party of Jacksonville, Florida;[2]
The Party could do much more with agricultural workers, again there is the objective impediment of our small size, which of course can not be overcome without active mass work. Tactically, we can be more open as communists with these workers and their organizations than might be prudent with other unions, especially at the onset. Thanks to the outstanding, historic work of comrades in California winning the Cesar Chavez Holiday, we have a special edge in working with agricultural workers unions. The Party should organize a southern tour by Comrade Evelina Alarcon to promote the Chavez holiday; comrades should initiate work to build a movement to win a national holiday. Such a project is an avenue for comrades outside the unions to establish working relations with union labor in general and farm labor and the Spanish-speaking community in general.
Barack Obama calls for National Holiday for Cesar E. Chavez

April 1, 2008 Washington DC--Evelina Alarcon, Executive Director of Cesar E. Chavez National Holiday welcomed the backing for a Cesar Chavez national holiday from Presidential candidate Senator Barack Obama who issued a statement on Cesar Chavez's birthday Monday, March 31, 2008. "We at Cesar E. Chavez National Holiday appreciate the backing of a national holiday for Cesar Chavez from presidential candidate Senator Barack Obama. That support is crucial because it takes the signature of a President to establish the holiday along with the Congress's approval," stated Evelina Alarcon. "It is also encouraging that Senator Hillary Clinton who is a great admirer of Cesar Chavez acknowledged him on his birthday. We hope that she too will soon state her support for a Cesar Chavez national holiday."
Alarcon's remarks were part of a statement made at a press conference at our nation's Capitol on April 1st called by Chair of the Hispanic Congressional Caucus Rep. Joe Baca (D-CA) in support of HR 76, a resolution he authored with 62 Co-Sponsors that encourages the establishment of a Cesar Chavez national holiday by the Congress[3].
Barack Obama's statement for a Cesar Chavez national holiday:
"Chavez left a legacy as an educator, environmentalist, and a civil rights leader. And his cause lives on. As farmworkers and laborers across America continue to struggle for fair treatment and fair wages, we find strength in what Cesar Chavez accomplished so many years ago. And we should honor him for what he's taught us about making America a stronger, more just, and more prosperous nation. That's why I support the call to make Cesar Chavez's birthday a national holiday. It's time to recognize the contributions of this American icon to the ongoing efforts to perfect our union."
Senator Barack Obama March 31, 2008.
Personnel
Executive director
Advisory Council
State Senator Richard Polanco (Ret.), Chairman, California Latino Caucus Institute & author of the California holiday bill for Cesar Chavez
Sponsors, partners and endorsers
Founding Sponsors
International Longshore & Warehouse Union (ILWU) AFL-CIO
International Longshore & Warehouse Union (ILWU) Coast Committee
Utility Workers Union of America AFL-CIO Local 132
Service Employees International Union Local 535 (CA)
Labor Council for Latin American Advancement
Los Angeles City Employees Chicano Association (LACECA)
Partners
Southern California District Council of Laborers
Northern California District Council of Laborers
SEIU Local 721 (Southern CA)
Endorsers of a Cesar E. Chavez National Holiday (Partial List)
Philadelphia City Council
Board of Education of the City of Los Angeles
Los Angeles County Federation of Labor
San Francisco Central Labor Council
King County Central Labor Council
Pastor Warren Stewart, led state holiday effort for Dr. Martin Luther King, Jr. in Arizona
References