Center for Progressive Leadership
Jump to navigation
Jump to search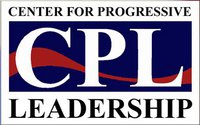 Template:TOCnestleft The Center for Progressive Leadership
About
The Center for Progressive Leadership is a national civic training institute that seeks to develop diverse leaders who can effectively advance progressive political and policy change. The Center has trained over 6,000 leaders through intensive, nonpartisan leadership programs primarily in our state offices (currently Arizona, Colorado, Michigan, Ohio, Pennsylvania, and Wisconsin).
In each area, CPL targets and recruits leaders from communities which have traditionally lacked access to political power, including women, people of color, and GLBT individuals.[1]
Personnel
As at Jan. 31, 2011, the following worked for National Office:[2]
Board of Directors
National Team
Partner Programs
The Center is "proud to support and promote the important work" of the following organizations:[3]
Michigan
Staff
As at Jan. 31, 2011, the following worked for the Michigan office:[4]
2007-2008 Fellows
The following participated in the 2007-2008 Michigan Political Leaders Fellowship, a 9-month, part-time program that focuses on providing the long-term resources and skills necessary for emerging leaders to become powerful political advocates for their communities.[5]
References