Catie Leary
From KeyWiki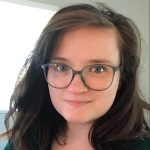 Catie Leary was introduced to Socialist politics in 2009 as a student at Georgia State University. For more than a decade, she has poured her energy into organizing for labor, universal healthcare, reproductive justice, immigrant rights and LGBTQIA+ rights.
2019 Metro Atlanta DSA leadership
This September, the Atlanta Chapter of the Democratic Socialists of America (MADSA) — the Southeast's largest Socialist organization — elected its youngest, most diverse Executive Committee in history. The new leadership went straight to work in an all-day retreat, auditing organizational policies, assets and accounts. The new Executive Committee has made increasing engagement with its members a priority.
Even as MADSA joins Democratic Socialists chapters around the country mobilize for Bernie Sanders' 2020 presidential campaign, Atlanta's new executive team — lead by City of South Fulton Councilman khalid — vows to take a more active role in local elections and legislation. Pictured from left to right:
Rear: Brandyn Buchanan, Rara Imler, Catie Elle, Q Benford
Front: Cole Reardon, Councilman Khalid Kamau, Nate Knauf.
Rainbow Roses Atlanta
Members of Rainbow Roses Atlanta Closed Facebook Group, as of April 28, 2018 included Catie Leary.
Personnel changes 2019
Metro Atlanta Democratic Socialists of America Chair Erin Parks led the March membership meeting, with help from Resolutions and Elections Working Group Chair Jen Garcia for items requiring votes.
The group elected Catie Leary to be their third harassment and grievance officer, along with Anaia Jolie and Rachel Kahn .
Starting a new tradition of including a brief political education presentation at each of our general meetings, our new Communications Secretary Quentin Benford spoke on the definition of democratic socialism In the discussion which followed, Benford said members expressed great interest in "how to combat propaganda, how to convey our vision to people who are on the other side, and generally what to say to people in those crucial interpersonal moments."
Evan Seeds will head up "Air Bread and Roses," to plan housing solidarity for delegates who can't afford the hotel (more info at our April meeting). Catie Leary will lead a committee to research and produce two information pieces for delegates: A handout on places near the hotel where they can "eat, drink and be Marxist", and a "people's radical history tour" of Atlanta sites (thanks to GSU history prof and long-time MADSA member Ian Fletcher for offering to help). Wendell Bohannan will lead a group to hold a social and fundraising event on the Friday night of the convention. they are already exploring an exciting possibility.[1]
References