Catherine Pino
From KeyWiki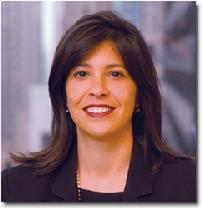 Catherine M. Pino is a Washington DC base lobbyist and political activist. She and her business and life partner Ingrid Duran run D&P Creative Strategies and the pro Latina, Political Action Committee, PODER PAC. Their lobbying clients include Wal-Mart[1].
If you're thinking power couple, you're right on. Duran and Pino are partners in real life, making their countless board appointments and prestigious career tracks even harder to ignore when they set their collective minds to something, like transforming the face of Capitol Hill through PODER PAC, or lobbying on Capitol Hill for major corporations like Wal-Mart through D&P Creative Strategies. "One of the reasons we decided to start our business was to empower communities that we care about most, like Latinos, the LGBT community and women," says Duran.
Early life/career
Catherine Pino's "desire to help the disadvantaged" took root at an early age, and was fostered through numerous volunteer activities in her hometown of Albuquerque. After college, she worked in the Capitol Hill office of New Mexico Senator Jeff Bingaman, where she learned first hand how public policy and legislation intersect with nonprofit efforts[2].
Education
Pino earned a B.A. in Political Science and Criminal Justice from the University of New Mexico, and holds a Master's in Public Policy and Administration from New York University. Catherine is a graduate of the executive program at Harvard's JFK school of government, corporate governance program of Harvard business school, the center for creative leadership and is a 2006 fellow of the National Hispana Leadership Program[3].
La Raza
Pino has served on the National Council of La Raza, the nation's oldest Hispanic civil rights organization, where she worked as a liaison to the organization's board and corporate advisors, cultivating valuable, long-lasting professional relationships[4].
Activism
Catherine Pino sits on the Victory Fund board, which provides financial and campaign support to gay and lesbian political candidates.
At the Washington, DC-based Independent Sector, Pino represented nonprofit interests on a broad range of issues on Capitol Hill and was the liaison to the Congressional Hispanic Caucus. She co-created Independent Sector's Future Leadership Initiative, which focused on efforts to attract, retain and develop young leaders in the non-profit sector. Her entrée into the foundation world began soon after at the DeWitt Wallace-Readers Digest Fund, where she managed a $48 million youth development and education portfolio.
She is a board member of the Congressional Hispanic Caucus Institute and the National Gay and Lesbian Chamber of Commerce. Catherine Pino is the first Latina co-chair and board member of the Hetrick-Martin Institute in New York City. She also serves on various philanthropic committees including Hispanics in Philanthropy, Grantmakers for Education, Donors Education Collaborative and Latino Fund of the Tri-State[5].
Education reform
Most recently, Pino served as the Deputy Director of Urban School Reform for the Carnegie Corporation of New York. There she managed a $60 million high school reform initiative, a multi-million dollar portfolio, and a $25 million Bill & Melinda Gates Foundation grant[6].
Nielsen U.S. Hispanic/Latino Advisory Council
In February 2008 27, 2008, Nielsen Company, a global media information company with international trade shows and business publications (Billboard, The Hollywood Reporter, Adweek), announced the formation of a Hispanic/Latino Advisory Council, a new independent advisory group established to help inform and enhance the company's efforts to recruit, measure and accurately report on Hispanic television households in the US. The first meeting of the HLAC was scheduled for March 4, 2008 in New York.
The HLAC members included;
Jenny Alonzo, executive vice president, Marketing/Brand of Mio.TV, Dr.Juan Andrade, president and executive director of the United States Hispanic Leadership Institute, David Hayes-Bautista, PhD, professor of medicine and director of the Center for the Study of Latino Health and Culture at the School of Medicine, UCLA, Ernest W. Bromley, chairman and CEO of Bromley Communications, Jose del Cueto, CEO of Del Cueto Media Group, Guarione M. Diaz, president and chief executive officer, Cuban American National Council, Inc., Dr. Henry Flores, senior policy analyst, William C. Velasquez Institute, Luis A. Miranda, Jr., managing partner of The MirRam Group, Inc., Lillian Rodriguez Lopez, president of the Hispanic Federation, Catherine Pino, co-founder & principal of D&P Creative Strategies, Susana Valdez, chief of staff to Mayor Manny Diaz, City of Miami[7].
PODER PAC
Ingrid Duran and Catherine Pino established PODER PAC in 2008 to increase the number of Democratic Party Latina elected officials in the USA[8].
On June 7, 2008, Ingrid Duran and Catherine Pino, like many women across America, were glued to a television set as then-U.S. presidential candidate Hillary Clinton gave a historic speech supporting her opponent, Barack Obama, in a thrilling and unforgettable primary election. And like most women, they weren't focused on a "failed candidacy." Rather, the two watched a woman who had profoundly altered and enhanced the role of women in American political life.
Duran and Pino, two of the most influential advocates for Hispanic and LGBT issues in Washington, D.C., decided that the journey for women vying for the highest levels of office shouldn't stop with Clinton's speech. And it didn't. Clinton's remarks would spark a lobbying effort of a different sort for the co-founders of D&P Creative Strategies. And it would reach deep into the Hollywood Hills, not just Capitol Hill.
Duran and Pino would form a political action committee (PAC), which, in plain terms, is a way for individuals, interest groups, unions, or corporations to contribute dollars to candidates running for public office. In other words, it can mean big money for someone running for a school board, mayoral, congressional or presidential seat. PACs are old as time, but one never existed to support Latina candidates. "They were never considered viable by mainstream organizations," says Duran.
PODER PAC President's Council
In 2014 the PODER PAC President's Council consisted of Mari Del Carmen Aponte, Juana Bordas, Ingrid Duran, Grace Garcia, Comm. Sylvia Garcia, Susan Gonzales, Choco Gonzalez Meza, Laura Hernandez, Cynthia Jasso Rotunno, Lydia Madrigal, Joelle Martinez, Regina Montoya, Rep. Grace Napolitano, Maria Teresa Petersen, Laura Pena, Catherine Pino, Julissa Reynoso, Rep. Lucille Roybal-Allard, Rep. Linda Sanchez, Rep. Loretta Sanchez, Rep. Hilda Solis, State Sen. Leticia Van de Putte, Rep. Nydia Velazquez.
References