Catherine Murphy
From KeyWiki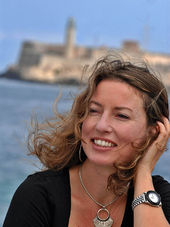 Catherine Murphy is from San Francisco, California, She is a U.S. filmmaker, activist and educator, best known for her documentary film MAESTRA about the 1961 Cuban Literacy Campaign. Her work principally focuses on social justice and literacy in the Americas. Murphy founded The Literacy Project in 2004 and Tres Musas Producciones in 2009.
Early life
Murphy was raised on the campus of Stanford University, where her parents both studied. Growing up, she was influenced by her grandmother and great-aunt, both of whom had lived in Cuba at the turn of the 20th century.
Time in Cuba
Murphy studied in Havana during the 1990s in what is known as Cuba's Special Period. While living in Havana, Murphy earned a master's degree in sociology from the Facultad Latinoamericano de Ciencias Sociales.
Teaching
Murphy is an adjunct professor at New York University's Center for Global Affairs, where she teaches a graduate course on the culture and history of Havana.
Education
Career/activism
Gillum supporter
Double Feature
Catherine Murphy September 24 2018:
Three days to go!! — with Poonam Srivastava, Jennifer Wager, Eve Goldberg, Alicia Jrapko, Sergei Kostin, Olivia Burlingame Goumbri, Marcy Fink Campos, Netfa Freeman, Ana Laura Pereira, Blanca Rosa Monett, Norma Rita Guillard Limonta, Luisa Campos and Griselda Aguilera.
Timba Republic
Catherine Murphy September 25 2018:
Arriving WPFW for Timba Republic live with the one-and-only Mimi Machado-Luces - and our friend Hassan El-Tayyab who took a break from lobbying on the hill where he is working hard to stop the war on Yemen — with Hassan El-Tayyab and Norma Rita Guillard Limonta.
Cruz Soto connection
Catherine Murphy April 18 near Mount Rainier, MD:
With Teaching for Change staff member Faye Colon & the amazing mayor of San Juan, Carmen Yulín Cruz Soto, who is about to receive The Nation Institute's Ridenhour Prize for Truth-Telling!! Mayor Cruz is holding a book from the Teaching for Change collection of readings for students on Puerto Rico. Thank you Deborah Menkart and Teaching for Change for all that you do!
Highlander
Catherine Murphy was at the Highlander Research and Education Center in 2014.[1]
She returned in 2017, 2018.
Catherine Murphy September 14 2018:
It's time for Highlander Center Homecoming! I will Skype into a workshop with Susan Williams about the Highlander Archives tomorrow, but sad to miss all the justice workers from Appalachia, the South & around the world who journey from far & wide to gather here each year! Photo from last year with Ms. Edna Muhammad, Hollis Watkins and Pamela Jean McMichael.
Maestre Highlander screening
Catherine Murphy September 21, 2014:
Highlander screening! Highlander Center #literacyisliberation #educationforliberation #civilrights #socialjustice #maestrathefilm #knowledgeispower — with April Amanda Caddell, Diana Balboa, Krystal Reddick-Pollard and Norma Rita Guillard Limonta at Highlander Center.
Maryland comrades
Catherine Murphy July 21, 2017:
Last night at Mediterranean Cafe with Jimmy Tarlau, Ray Watkins, Delegate Diana Fennelll, Matthew White & Sadara Barrow, the lovely mayor of Colmar Manor!
Maestre screening
Catherine Murphy October 24, 2016:
Howard University Education Department will present Maestra this Thursday at 2pm - free & open to the public!
Come on over friends in the DMV! — with James Early, Kymone Tecumseh Freeman, Medea Benjamin, John Lists, Deborah Menkart, Paul Ortiz, Makani Themba, Karen Hampton, Karen Mafundikwa, Doris Derby, Luisa Crespo, Talaya Grimes, Annette Martin, Rhone Fraser, Mimi Machado-Luces, Saad Hayes Sodaye, Matthew White, Lisa Brock, Netfa Freeman, Sira Orozco, Luisa Campos, Eve Goldberg, Luci Murphy, Alison Kibbe, Curtis Muhammad, Mwiza C K Munthali, Mia Henry, Michelle Darden Lee, Alli Jarrar, Banbose Shango, Shah Boo and U.S. Women and Cuba Collaboration at Howard University.
Sources of inspiration
Catherine Murphy November 15, 2015;
After yesterday's book reading with friends, mentors & sources of inspiration Pam Tau Lee, Cornelius Moore & Tony Ryan at the Howard Zinn Book Fair #howardzinnSF — at City College of San Francisco Mission Campus.
Women For Peace May 1st trip to Cuba!
Catherine Murphy May 5, 2015:
Alli McCracken and Jamila Brown boarding the plan after a fun & wonderful CODEPINK: Women For Peace May 1st trip to Cuba! — at José Martí International Airport.
In Havana
Catherine Murphy March 14, 2014:
Maestra screening in La Habana with four of the amazing Maestras present - Norma Rita Guillard Limonta, Blanquita Blanca Rosa Monett, Griselda Aguilera & Gina Rey. Bellas & inspiradoras!
Chavistas
Manuel Criollo March 19, 2017:
Look what I found Richard Moore Louis Head Catherine Murphy Pam Tau Lee I was so lucky to share that moment with many of you Lanita Morris Robert Battles Majora Carter Katynja McCory Roberto Roibal — with Shirley Pate, Esperanza Luzbert and Richard Moore.
References