Casey Kasem
Jump to navigation
Jump to search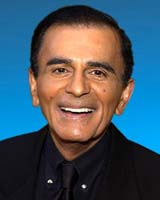 Template:TOCnestleft Casey Kasem
DSA potential donors list
On January 21, 1992 Steve Tarzynski, National Political Committee of Democratic Socialists of America, wrote a letter to "Harold" (probably Harold Meyerson).
"Following is the list of possible major donors I can think of to pledge support for Trish and our program in southern California. Additions and comments sorely needed."
Question marks in original list.[1]
Peace for Cuba Appeal
In 1994 Casey Kasem was an initiator of the International Peace for Cuba Appeal, an affiliate of the Workers World Party dominated International Action Center.
Other prominent initiators included Cuban Intelligence agent Philip Agee, academic Noam Chomsky, Congressman John Conyers and Charles Rangel[2].
Commission on Fairness in Media
In 1994 Eddie Wong, was Director, Commission on Fairness in Media, California Rainbow Coalition, Oakland.[3] Lisa Gibson was part of his team.
On October 10, Jesse Jackson, and members of the Rainbow Coalitions's Commission for Fairness in the Media, met with Fox News President Joe Matolan to push for more minority inclusion in recruitment, training and protion of minorities.
The delegation included Casey Kasem, Assemblywoman Marguerite Archie-Hudson, Sonny Skyhawk, Josefa Salinas and others.
Not In Our Name
In August 2004 Casey Kasem a radio personality endorsed an anti "Bush Team" Protest at the Republican National Convention in New York, organized by Not In Our Name, an organization closely associated with the Revolutionary Communist Party[4].
References