Carole Travis
Jump to navigation
Jump to search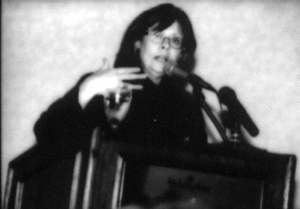 Carole Travis is a California activist, previously from Chicago.
Travis was on the National Mobilization Committee to End the War in VietNam (MOBE) staff in NY for about a year, the Demonstration staff for the 1968 Democratic Convention, the Conspiracy Trial staff, President of a United Auto Workers General Motors local (UAW Local 719, "we built locomotives) and then was picked up by SEIU and worked for them 13 years in various capacities. I wasn't at Woodstock, but I was in Haight Ashbury for a few moments here and there."
Tribute to Golub and Montgomery
On November 16, 1989, Carole Travis served on the Tribute Committee for the Chicago Committee to Defend the Bill of Rights Tribute to Leon Golub and Lucy Montgomery, held at the Congress Hotel, Chicago.[1]
United Auto Workers
Travis was listed as being associated with United Auto Workers.[2]
Radical Scholars & Activists Conference
In 1993 Carole Travis was a featured speaker at the Midwest Radical Scholars & Activists Conference. The theme of the conference was, "Popular Empowerment in the Clinton Era". The conference was held between Oct. 29 - 30, 1993 at Loyola University, Chicago.[3]
Progressive Chicago
A Progressive Chicago report to Keith Kelleher, dated October 27, 1993 listed several more contacts and potential members of the organization.
It stated that Alderman Joe Moore had agreed to participate and that State senator Alice Palmer was interested and was awaiting a call from Peter McClennon.
Members had been allocated people to contact;
Others targeted for contact, but not assigned, included Clem Balanoff, Sue Purrington of NOW, Jane Ramsey at JCUA, Erlean Collins, Westside Black elected officials and PUSH, TWO and Joe Gardner's Project Hope.[4]
Jack Siegel tribute
Chicago Committees of Correspondence held a tribute banquet to 88 year old member Jack Spiegel, on October 3, 19993, with 250 in attendance.
special guest included State Senator Jesus Garcia, Alderman Helen Shiller, Harold Rogers from the Coalition of Black Trade Unionists, Carole Travis from the UAW, Larry Reagan from the Amalgamated Clothing and Textile Workers Union, Bernice Bild from the Coalition for New Priorities, Camille Odeh, from the Coalition of Palestinian Women and Meca Sorrentini from the Puerto Rican Socialist Party
Keynote speakers CoC co-chair Manning Marable. Illinois CoC co-chairs Sandy Patrinos and Mildred Williamson presented the awards. Maggie Brown sang songs, some written by her father Oscar Brown.[5]
Debs Dinner
The Chicago Democratic Socialists of America organized 2001 Debs - Thomas - Harrington Dinner was held Friday, May 4th at the Holiday Inn Mart Plaza in Chicago. The honorees were Kim Bobo and Henry Bayer. The featured speaker was Miguel del Valle. The MC for the evening was Carole Travis[6].
Iraq War "teach-in"
1968 The Great Rehearsal was a " Symposium and Week of Events on the Long '68 " held at the University of California, Berkeley September 17-25, 2008.
The revolutionary upheaval of 1968 was seen as a 'rehearsal' for the looming revolutionary events of the coming era.
The "National Teach-In on the Iraq War" event was run by a Working Group, consisting of;
Open Letter to Obama on Iran
In 2008 Carole Travis of Pleasant Hill, CA signed an online petition "A Open Letter to Barack Obama on Iran".[8]
References