Cameron Kerry
From KeyWiki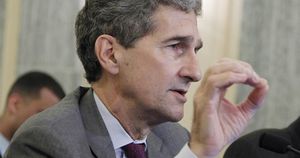 Cameron Forbes Kerry is an Obama appointee, "served as general counsel and acting secretary of the U.S. Department of Commerce", has served as "a close adviser and national surrogate" for his brother John Kerry and works at the Brookings Institute. He is on the board of the National Archives Foundation. He is a visiting scholar at the MIT Media Lab.
Bio
Verbatim from the Brookings Institute:[1]
"Cameron Kerry is a global thought leader on privacy and cross-border information flows. He joined Governance Studies and the Center for Technology Innovation at Brookings in December 2013 as the first Ann R. and Andrew H. Tisch Distinguished Visiting Fellow. Previously, Kerry served as general counsel and acting secretary of the U.S. Department of Commerce, where he was a leader on a wide of range of issues including technology, trade, and economic growth and security. He continues to speak and write on these issues, focusing primarily on privacy and information security, along with the international digital economy. During his time as acting secretary, Kerry served as chief executive of this Cabinet agency and its 43,000 employees around the world, as well as an adviser to former President Barack Obama. His tenure marked the first time in U.S. history two siblings have served in the president's Cabinet at the same time.
As general counsel, he was the principal legal adviser to the several Secretaries of Commerce and Commerce agency heads. As co-chair of the National Science and Technology Council Subcommittee on Privacy and Internet Policy, Kerry spearheaded development of the White House blueprint on consumer privacy, Consumer Data Privacy in a Networked World: A Framework for Protecting Privacy and Promoting Innovation in the Global Digital Economy. He then led the administration's implementation of the blueprint, drafting privacy legislation and engaging in privacy issues with international partners, including the European Union. He was a leader in the Obama administration's successful effort to pass the America Invents Act, the most significant overhaul of the patent system in more than 150 years. He helped establish and lead the Commerce Department's Internet Policy Task Force, and was the department's representative on cybersecurity issues and similar issues in the White House "Deputies Committee." Kerry also played a significant role on intellectual property policy and litigation, cybersecurity, international bribery, trade relations and rule of law development in China, the Gulf Oil spill litigation, and many other challenges facing a large, diverse federal agency. He travelled to the People's Republic of China on numerous occasions to co-lead the Transparency Dialogue with China as well as the U.S.-China Legal Exchange and exchanges on anti-corruption.
In addition to his Brookings affiliation, Kerry is a visiting scholar at the MIT Media Lab. He also served as senior counsel at Sidley Austin LLP in Boston, Massachusetts and Washington, D.C., where his practice involved privacy, security, and international trade issues. Before Kerry's appointment to the Obama administration in 2009, he practiced law at the Mintz Levin firm in Boston and Washington and taught telecommunications law as an adjunct professor at Suffolk University Law School. Kerry has also been actively engaged in politics and community service throughout his adult life. During the 2004 presidential campaign, he was a close adviser and national surrogate for Democratic nominee John Kerry, traveling to 29 States and even Israel. He has served on the boards of nonprofits, and is currently on the board of the National Archives Foundation.
The Ann R. and Andrew H. Tisch Distinguished Visiting Fellows in Governance Studies are individuals of particularly noteworthy distinction. The fellowship is designed to bring distinguished visitors from government, business, journalism, and academia to Brookings to write about challenges facing the country. Kerry is the first to be named to this prestigious fellowship.
Obama appointment
In April 2009 Cameron Kerry was nominated[2]by the Obama administration for the position of General Counsel in the DOC and confirmed in May 2009.
Bio
Born in 1956, Corrigan is an attorney, and Democratic Party consultant. He rose to prominence within the Party when he served as a senior member of Governor Michael Dukakis' 1988 campaign for President. In 2000, Corrigan was a member of Vice President Al Gore's legal team, heading a group of attorneys focused on disputed ballots in Palm Beach County. As the recount drew to a close, Corrigan was appointed lead attorney in the state of Florida for the Gore campaign. Following his work on the 2000 election, Corrigan played a key role in organizing the 2004 Democratic National Convention in Boston, where he served as Convention manager. He is known as the man who selected Illinois State Senator Barack Obama to give the keynote address which thrust him into the national spotlight.
Bush v. Gore
An article written by John Kerry's brother Cameron Kerry in 2005 titled "Counting every vote" cited Jack Corrigan as the attorney who "helped fight Bush v. Gore in the courts and the precincts":[3]
Excerpt:
SO NOW the votes in Ohio have been recounted, and it's time for Congress to tally the Electoral College. But while the election is over, a fight goes on to protect everyone's right to vote and make sure every vote is counted.
I wish it weren't so, but the final facts look like the picture on the morning of Nov. 3 when my brother, John Kerry, ended his campaign for president. As campaign leaders sat in a Boston war room overlooking a dwindling Election Night rally in the plaza below, on the phone was a team of smart, tough veterans who know how to count votes and how votes get counted. All were veterans of Florida in 2000 who would have jumped at a rematch with Karl Rove and James Baker III.
In the room was Deval Patrick, former assistant attorney general for civil rights. In Washington was Michael Whouley, the never-say-die loyalist who stopped Al Gore from conceding; Jack Corrigan, who helped fight Bush v. Gore in the courts and the precincts; and Robert Bauer and Marc Elias, leading election lawyers and Kerry campaign counsel. On the phone from Ohio was the chief of the legal team there, David Sullivan, longtime election counsel for the Massachusetts secretary of state, who himself was a plaintiff more than 30 years ago in a lawsuit to register college students and -- with me -- a defendant in unsuccessful lawsuit brought against us for properly challenging vote fraud.
They were backed by 3,300 lawyers on Ohio's election protection team, part of more than 17,000 Kerry-Edwards lawyers nationwide. They were joined by 8,000 lawyers with the nonpartisan Election Protection Coalition of the NAACP, the Lawyers Committee for Civil Rights, People for the American Way, and other organizations and thousands more lay volunteers and observers.
The Election Protection Coalition describes its effort alone as "the largest ever voting rights mobilization" in history. As a lawyer who early on advocated a massive effort to protect the vote, I am proud that so many answered the call.
References