CAIR - Houston
Jump to navigation
Jump to search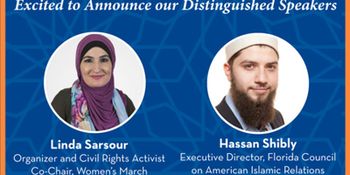 CAIR - Houston is a Texas affiliate of Council on American-Islamic Relations.
ISNA convention
In Houston August 2019, an annual Islamic convention hosting presidential hopefuls Bernie Sanders and Julian Castro braced for an armed far-right protest and a counter-demonstration.
The 56th Islamic Society of North America (Isna) convention was billed as one of the largest yearly events held by Muslim American advocacy groups. Castro and Sanders were slated to take the stage for one-on-one presidential forums. Organizers estimated around 30,000 would attend the three-day event.
"We are really happy [Castro and Sanders] are coming in to address our community," Lubabah Abdullah, an Isna board member, told the Guardian. "We've recently realized the Muslim community has a strong voting bloc, if we do go out and register and actually show up to vote."
In the 2018 midterm elections, Muslim Americans in four key states – Florida, Michigan, Ohio and Virginia – showed up to the ballot box at a rate of 25% higher than the 2014 midterms, according to a study by the advocacy group Emgage.
Abdullah, also executive director of CAIR - Houston, said organizers of the convention had worked closely with local and federal law enforcement.
"Unfortunately [anti-Muslim sentiment] has become the norm … and unfortunately we've seen a dramatic rise in hate crimes and Islamophobia," she said.
Liza Acevedo, deputy press secretary for Castro, told the Guardian American Muslims "play a critical role in shaping our nation's culture, economy and political process".
"At a time when our president continually scapegoats and vilifies the Islamic faith for political gain, candidates should show up and speak directly to these communities about their plans to support them in the years ahead," she added.
In the weeks leading up to the convention, the Texas Patriot Network and local radio host James "Doc" Greene called for a demonstration against what it claimed was evidence of collusion between "leftists" and the "Muslim Brotherhood", according to a now-defunct Facebook page.
In response to Saturday's anti-Muslim rally, civil rights groups, anti-racist organizations and anti-fascist activists announced a counter-protest. The coalition included the Houston Socialist Movement (HSM), the National Domestic Workers Alliance and Familias Inmigrantes y Estudiantes en la Lucha (Fiel), among others.
The counter-demonstrators hoped to "out-shout" their counterparts, said David Michael Smith of HSM.
"This is nothing but racism and religious bigotry on the part of the fascists," he told the Guardian. "Beyond that, we don't think fascists should have a platform … so we'd like to basically drive them off the streets on Saturday."
On the anti-fascist side, a handful were armed with rifles and some wore masks.
"No hate, no fear, Muslims are welcome here," they chanted.
Falko Mueller, an activist with Houston United Front Against Fascism, said the demonstration was a "show of solidarity".
"I'm not Muslim, but I'm here to stand with people under attack," he said.[1]
CAIR - Houston Banquet 2018
Hassan Shibly and Linda Sarsour spoke at CAIR - Houston's 17th annual banquet in December 2018 along with U.S. Rep.Sheila Jackson Lee of Texas and with Roula Alouch as "Master of Ceremonies."
From the invitation:[2]
"We are excited to invite you to our 17th Annual CAIR - Houston Banquet!
Please join us in celebration and review of the progress that our outstanding team has made this year. We are also excited to have Linda Sarsour and Hassan Shibly as our special keynote speakers with Roula Alouch as our Master of Ceremonies.
Invited
References