CAIR - Alabama
From KeyWiki
CAIR - Alabama is the Alabama affiliate of Council on American-Islamic Relations.
Muslim support for Doug Jones
"Alarmed by Roy Moore's derogatory comments about Islam", Alabama Muslims turned out in large numbers to vote for Democratic candidate Doug Jones.
More than 20,000 Muslim voters - about the margin of victory for Jones - turned out and voted almost without exception for Jones, said Khaula Hadeed, executive director of the Council on American-Islamic Relations in Alabama.
"This is a remarkable moment for the Muslim community in Alabama," said Hadeed. "We found hope, empowerment and fellowship amidst a year of derision and discrimination. Thankfully the people spoke and rejected bigotry and racism in favor of solidarity with the most vulnerable among us."
Hadeed joined other minority leaders at Greater Birmingham Ministries on Thursday December 14, who worked to get out the vote in an election that brought together the most marginalized groups, they said.
"It took a whole group of us working together," said Isabel Rubio, executive director of the Hispanic Interest Coalition of Alabama.
"We touched as many people as we could," said Scott Douglas, executive director of Greater Birmingham Ministries, speaking on behalf of the Stand As One Coalition.
"What happened on Tuesday wasn't an accident; it was hard work," said Daniel Schwartz, executive director of Faith in Action Alabama. "When the impossible happens it only whets your imagination for the other things that are impossible."[1]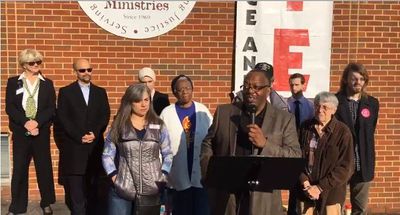 The press briefing held by a Stand As One Coalition included Scott Douglas of Greater Birmingham Ministries, Isabel Rubio: National Council of La RazaGeneral Board of Directors and Hispanic Interest Coalition of Alabama, Daniel Schwartz of Faith in Action Alabama, CAIR-Alabama Executive Director Khaula Hadeed, and Pastor Winfield Burks of the Burns Seventh-day Adventist Church.[2]
CAIR: Vote 'No' on Islamophobic Alabama Judicial Nominee Brett Talley
On November 30 2017, The Council on American-Islamic Relations (CAIR), "along with 43 other civil society, civil rights organizations, faith groups, and law offices sent a letter to every Senate office today strongly requesting a "NO" vote on the confirmation of Brett Joseph Talley for the position of United States District Judge for the Middle District of Alabama."[3]
National Organizations
State Organizations
DSA connection
Birmingham Democratic Socialists of America works with CAIR-Alabama.
Statement on Orlando massacre
"Alabama Muslims join their fellow Americans in unequivocally and unconditionally denouncing Sunday's mass shooting at a nightclub in Orlando," said Council on American Islamic Relations Alabama Chapter (CAIR- AL) Executive Director Khaula Hadeed. "Individuals like Muhammad Ali represent true ideals of Islam, whereas the mass murderer Omar Mateen represents the enemies of the faith and indeed, of humanity. Our hearts go out to the victims and their families at this time of great pain, horror, and tragedy."
In a joint statement interfaith and community leaders said, "Much remains to be learned about the horrific shooting at the Pulse night club in Orlando last night, but there are some things that can be said without qualification.
Ashfaq Taufique, President of Birmingham Islamic Society, said, "Like the rest of America, the Muslim community in Birmingham, Alabama woke up today to the devastating news of the horrific attack that happened in Orlando last night. Evil, pure and simple. Our deepest sympathies and prayers are with the innocent victims in Orlando. We stand in complete solidarity with our fellow Alabamians and Americans in the collective fight against hate through its many evil manifestations."
Diane McNaron, Birmingham Peace Project Chair, said, "Donald Trump's tweets notwithstanding, this heinous act is no different in character from so many other hate crimes, like Dylann Roof's murder of nine church members in Charleston, South Carolina one year ago, Eric Robert Rudolph's bombing of a Birmingham women's clinic and two lesbian night clubs in 1988 and the bombing of a Target rest room in Illinois just three days ago."
Scott Douglas, Executive Director of Greater Birmingham Ministries said, "The tremendous grief and pain brought about by this heinous, homophobic act of intolerance and hate cannot be allowed to become a political profit center whose purpose is to energize even more hate under the banners of homophobia on one hand and Islamaphobia on the other. As law enforcement works to uncover the origins of this crime, we embrace with an abundance of love the families, friends and loved ones of those touched personally by this atrocity."
CAIR delegation Congress
Birmingham, AL, 5/4/2017 - CAIR-Alabama, the state chapter of the Council on American-Islamic Relations (CAIR), led a delegation of five Alabamian Muslims to meet with Congress members and staff on issues important to American Muslims and other minority communities. The delegation joined over 400 delegates from 30 states who met with some 230 elected officials and congressional staff on Monday and Tuesday, during the record-breaking third annual National Muslim Advocacy Day on Capitol Hill in Washington, D.C.
The largest congressional Muslim advocacy event in the country, Muslim Hill Day was sponsored by the US Council of Muslim Organizations (USCMO), a coalition of leading national and local American Muslim organizations of which CAIR is a founding member.
Alabama's delegation met with Representatives Terri Sewell and Gary Palmer, and with congressional staff from the offices of Senators Richard Shelby and Luther Strange and Representatives Bradley Byrne and Martha Roby. "In this divisive political climate where reaching an agreement on policy appears to be far fetched, Muslim Hill Day was more important than ever. Each person in our delegation had compelling personal stories to tell. We had constructive dialogue that achieved the real goal of having our voices heard. We hope our lawmakers felt better educated about serious issues facing our communities and policies that can assist in bettering the lives of all Alabamians," said CAIR-Alabama Executive Director Khaula Hadeed.
The delegates outlined the domestic priorities of the American Muslim community, advocating for an endorsement of all legislation pushing back against federal policies and programs wrongfully targeting Muslims. They also advocated for legislation supporting DREAMers and protecting the rights of immigrant and minority communities by ending racial and religious profiling. Specifically, delegates promoted a legislative agenda that includes support for:
• The SOLVE Act 2.0 (H.R. 724) – Declares that the Muslim Ban 2.0 is "null and void, shall have no force and effect, and may not be implemented or enforced" and prohibits federal funding of the executive order.
• Freedom of Religion Act of 2017 (H.R. 852) – Amends the Immigration and Nationality Act to provide that non-American citizens may not be denied admission or entry to the U.S., or other immigration benefits, because of their religion, and for other purposes.
• No Religious Registry Act of 2017 (H.R. 489) – Ensures that individuals of all faiths are protected from the establishment of a national religious registry and prohibits surveilling certain U.S. persons and other individuals based on religious affiliation.
• S.248 – Blocks all federal funding for the Trump Administration's first "Muslim Ban" executive order.
• Access to Counsel Act (S. 349) – Guarantees legal counsel to those detained on entry to the U.S., and clarifies the rights of all persons who are held or detained at a port of entry or at any detention facility overseen by CBP or ICE.
• Protect American Families Act (S. 54) – Would prohibit the creation of an immigration-related registry program that classifies people based on religion, race, age, gender, ethnicity, national origin, nationality, or citizenship.
• The Bar Removal of Individuals Who Dream and Grow our Economy Act (H.R. 496/S.128) – The BRIDGE Act would protect undocumented young people brought to the U.S. as children, commonly referred to as DREAMers, should the Deferred Action for Childhood Arrivals (DACA) program be discontinued under the Trump Administration.
• The No State Resources for Immigration Enforcement (NSRIE) Act (H.R.1446) – Would amend section 287(g) of the Immigration and Nationality Act, also known as the Secure Communities Program, to prohibit state and local law enforcement officers and employees from performing the functions of an immigration officer in relation to "the investigation, apprehension, or detention" of undocumented immigrants in the U.S.
• The End Racial and Religious Profiling Act of 2017 (S. 411), and its companion bill introduced in the House, the End Racial Profiling Act (H.R. 1498) – These companion bills would effectively eliminate racial, religious, and other forms of discriminatory profiling by law enforcement.
Delegation members were David Gespass, CAIR-Alabama board chair Khaula Hadeed, CAIR-Alabama executive director Mohammad Haq, Anniston Islamic Center Imam Ali Massoud, Ream Shoreibah, CAIR-Alabama communications director.[5][6]
Sarsour connection
On November 5 2017 Democratic Socialists of America member Linda Sarsour addressed a CAIR-Alabama annual benefit event in Birmingham. Red/Green Axis
References