Bryan Pfeifer
From KeyWiki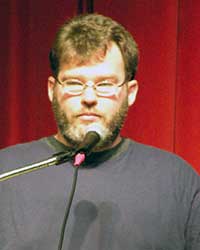 Bryan G. Pfeifer is a Michigan activist.
Student activism
Bryan Pfeifer is a UW-Manitowoc and UW-Milwaukee alumnus. He was editor-in-chief of the UWM Post and co-coordinator of the Progressive Student Network at UW-Milwaukee.[1]
Hands off Venezuela!
In May 2005 Hands off Venezuela! circulated an internet petition: "from American trade unionists and workers to the appeal to the U.S. government to stay out of Venezuela." Bryan Pfeifer of the Graduate Employee Organization, UAW and Local 2322 endorsed the petition.[2]
WWP member
Bryan G. Pfeifer, a contributing editor of Workers World, gave a talk to the May 13-14 2006 Workers World Party conference on "Preparing for the Rebirth of the Global Struggle for Socialism" [3]
Endorsed SB 1306
As at Feb. 10, 2011, Bryan Pfeifer, Staff Organizer, Union of Part-time Faculty-AFT (WSU) had endorsed State Senator Hansen Clarke's Senate Bill 1306, "which would stop all mortgage foreclosures and evictions for two years." The bill is being supported by the Workers World Party-front, Moratorium NOW!.[4]
Committee to Defend Diane Bukowski and Freedom of the Press
In 2009 Bryan Pfeifer was listed as a supporter of the Committee to Defend Diane Bukowski and Freedom of the Press[5]
May 1 Put the People First rally
Put the People First, Knoxville Thursday 1 May 2014. Organized by : Karly Safar.
Gov. Haslam and his elite allies, have abandoned everyday people in Tennessee. Our coalition's response is simple: put the people first! We want living wage jobs, good public schools, and a good democracy that encourages participation!
Join us for a May Day parade and BBQ celebration by and for the people! Meet us in Market Square at 6pm and we'll march to Vine Middle School on MLK Blvd and end at Harriet Tubman Park for a BBQ and celebration!
Endorsers include:
United Campus Workers | Knoxville NAACP | Knox County Education Association | Seeed Knox | SOCM | Jobs with Justice of East Tennessee | Knox County Democrats.
Those giving notice of intention to attend on Wherevent included: Kristin Baksa, Christina Louise Belge, Lee Dunham Sessions, Kathryn Davis, Elizabeth Wright, Jenn Wallis, Jess Welch, Anne Barnett, Suz Seaton, Kaitlin Malick, Sol Msr, Linda Haney, Brittany Bender, Erica Davis, Christina Catherine Gore, Megan Clifton, Kim Webber, Vivian Swayne, Miriya Bollenbacher, Jennie Spanos, Shelagh Leutwiler, Taimi Olsen, Donna Maxwell, Janet Miles, Nicky Primo Allen, Natalie McGee, Leslie Principe, Tonya Hill, Tanya T. Coats, Cassie Watters, Kassie Ernst, Diana Moyer, Bonnie Swinford, Rose Attea, Maggie Gardner Tankersley, Jane Johnson Skinner, Amelia Taylor, Melanie Barron, Kristi Larkin Havens, Camillee Dyin'ices Perrett, Anna Masson, Jessica Pittman, Angie Max, Jonnie R. Hagan, Genny Petschulat, Laura Megan Stewart, Nickie Hackenbrack, Casey Self, Shamika Cook, Viviane Manigat Jackson, Xylina Marshall, Courtney Anderson, Leslie Anderson Pignataro, Sally Buice, Amelia Parker, Sistufara Muhammad, Amber Matthews, Janine Al-Aseer, Judith Petree, Deborah Bahr, Joy Coffey, Rebecca Stefanescu, Donna Laxson, Kate Elgammal, Karen Principe, Holly Smarr, Natasha Carina, Melissa Slayton, Elizabeth Owen, Megan Brockett, Robert Naylor, Mark Mohundro, Alex Falk, Conrad Charleston, Ben Wright, Cameron Brooks, Jim Wallace, Andrew Beamer, Andre Canty, Isaac Brandt, Adam Alsamadisi, Alex Fields, Ben Allen, Ryan Brown, Axel Ringe, Bryan G. Pfeifer, Prince Abed Oduro, James Gullett, James R. Golden, Bob Hutton, Gerry Moll, Alexander Thumler, Young Rome, Brad Wright, Elias Attea, Josh Smyser, Sam Petschulat, Jordan Welsh, Donald Fritz, Josh Stovall, David Alex Hayes, Ed Borum, Shaun Scenard, William Isom, Alejandro Guizar, Alex Pulsipher, Thomas Wayne Walker, John Mayer, Micheal Freeman, Angel Ibarra, Donte Samoa, Robert Boyd, Tom Torres, Rodolfo Urquieta, Andrew Sexton, Dustin Moore, Kacper Fryderyk Grass, Matt Ellison, Richard Murray, Maurice L. Clark, Sr., Justin Marcel Leduc, Lee Owen, Zach Blume, Mitch Thompson, Ramez Elgammal, Brandon Ray Darr, Tres Daugherty. [6]
Black Lives Matter event
Gilbert Johnson January 24, 2015:
With Maureen W. Keyes, Gwendolynne Moore, Pat A. Robinson, Brandi Grayson, Solana Patterson-Ramos, Maria A. Hamilton, Brian Woods, James Edward Cunningham, Bryan Pfeifer, Milele A. Coggs, Anthony Rainey, Emily Sunshine, Lena C. Taylor, Brian Verdin, Jonathan Brostoff, David DB Bowen, Mandela Barnes, Mike Maass, Alan Eisenberg, Jennifer Epps-Addison, Gary Goyke, Ron Taylor, Nate Hamilton, Emilio De Torre, Jayme Montgomery, Rob Biko Baker, Sowande Omokunde, Robert Smith, Jeremy Anapto Triblett, Khalil Coleman, Gary Cooper-Sperber, Mike Erdmann, Berthina Joseph, Babette Grunow, David Muhammad, Gail Williams, Joan Prince, Angela Lang, Gary Mitchell, Eric D. Graff, Martin Weddle and American Federation of State, County, Municipal Employees Local 82.
Workers World comrades
Bryan Pfeifer July 8, 2016:
With Andrea Banuelos, Teresa Gutierrez, David Sole, Babette Grunow, Adjoa Nkrumah, Scott Michael, Mike Shane, Gerry Scoppettuolo and Andy Koch.
References