Bonnie Shoultz
From KeyWiki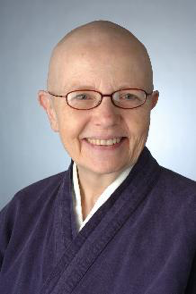 Bonnie Shoultz is a disability activist and the Buddhist chaplain and head of the Syracuse University Student Buddhist Association.
"She has been offering these services for almost 10 years after retiring from the research center in the School of Education in 2005."[1]
Education
Bonnie Shoultz received her doctorate from Syracuse University.
CNY Solidarity Coalition
Bonnie Shoultz is "a veteran member" of Alliance of Communities Transforming Syracuse (ACTS) who is closely aligned with the CNY Solidarity Coalition, "a non-profit alliance of individuals and organizations which strives to protect 'People of color, immigrants, refugees, all faith communities, women, LGBTQI...and all other marginalized...groups...likely to be targeted in these uncertain times.'"
"I became active when ACTS began because of its interest in addressing violence...in the past two-three years, I've been active with the Criminal Justice Task Force," she said. "She has worked with the task force on many of their topic issues, such as Youth Solitary Confinement. As a representative at the ACTS Leadership Counsel for the Zen Center of Syracuse and the Hendrick's Chapel, she is always on watch for opportunities to hone our effectiveness in social justice. CNY Solidarity Coalition, according to her, is a decisive ally: "[the] Coalition provides a way for individual ACTS members...to learn about and engage in forms of advocacy that are immediate as well as long-ranging."
""To me, the most important [issue] is poverty and income disparity, because as ACTS says, structural injustice lies behind the problems we have," concluded Bonnie.
Dear ACTS Members and Others Dedicated to Social Justice
Bonnie Shoultz wrote an open letter to ACTS members:
"After the election, I wanted to find a way to get more involved in local, state, and national action that reflected my values, was powerful as well as peaceful, and had a good chance of succeeding against what I felt were scary, racist, sexist, and classist forces that became more visible than ever during and after the presidential campaign. I went to my first meeting of the CNY Solidarity Coalition in January, and was stunned to find a room full of 150 or more people, many of whom were relatively new to protest, rallies, and organizing of any kind. I've gone to almost all of the well-attended weekly meetings since, and have participated in rallies, called officials, received training, and much more.
"For me, perhaps the most valuable aspect of the coalition's work is the way it provides information that allows for rapid response when something happens—a deportation hearing, a town hall meeting, a call to action of any kind. It's my choice as to whether to respond, but without the notification I might not know what is going on, and be unable to make that choice. I've learned that hundreds, perhaps thousands, of people in CNY want to know more and to do more to stand up for each other. We, along with like-minded people all over the country, have made a big difference already. As we go forward, we will feel our strength grow as we live out the values we profess."[2]
Arrests in 2002
Below is a first-hand account from Bruce Darling about a "direct action" protest in 2002:[3]
"Some of us were able to put into practice what we learned about civil disobedience from Bob and Stephie a few days later when we went to Albany and were part of the ADAPT action there. The action turned out to be very exciting and quite effective. Our message was heard --loud and clear. For the first time we had a large crowd. In past Olmstead actions, in Albany, we never had more than 50 people. This time, because many of the (independent living) people that attended the "Our Homes Not Nursing Homes" Conference joined us, we had about 200 people. And for the first time there were arrests. Eight people were arrested, two of us from NYC - myself and Dina Niedelman (with her little dog Tiny). So the State officials now know how serious we are. We also got lots of media coverage, most of it very positive."
[...]
"Mel Tanzman, Nadina LaSpina, T.K. Small and I (Bruce Darling) went to meet with Mr. Wolner. At this point, it seems someone from the state decided to 'show us' that direct action doesn't work. Mr. Wolner didn't show up for the meeting. We waited nearly 45 minutes for him and then returned to the Health Department Tower where we instructed everyone to leave the building.
"We exited the building and lined up in the Concourse. Kathleen Paultler was shouting, 'Grab a sign. Get in Line!' as loud as she could. We began marching to the Capital. It was awesome. The line seemed to go on forever. Looking back you were struck by the large numbers of people.
"We got to the elevators that took us up into the Capital Building and a group of about a dozen people got to the first floor before the elevators were shut down. Four people had made it up to the Governor's floor by elevator when State Troupers shut it down. Nadina LaSpina (NYC), Chris Hilderbrant (Rochester), Spitfire Sabel (Philadelphia, PA), and Ann Kaplow (Rochester). Four more came up by the stairs. Dina Niedelman (NYC) crawled with assistance from Larry Fein (Buffalo). Debbie Bonomo (Rochester) was carried part of the way by Bruce Darling (Rochester) and crawled the rest. In all, eight people got up to the second floor."
"The group was waiting in the Concourse and cheered as each arrestee came out of the State Police Station. I was touched that Bonnie Shoultz was there waiting for us. We walked back to the hotel in single file where we got rooms for the extra people who stayed, including Larry and Todd Vaarwerk from Buffalo. We didn't get a meeting, but we knew we raised community awareness."
Policy Bulletin 2: Disability and Family Policy
Bonnie Shoultz was listed as the editor for the Spring 1992 "Policy Bulletin 2: Disability and Family Policy" published by Syracuse University Center on Human Policy.[4]
From the introduction:
"Contributors include Rannveig Traustadottir and Susan O'Connor. Like everyone who considers gender, culture, and class, we are influenced by our own cultural, class, gender and racial identities, and our work reflects these influences. Bonnie Shoultz is a U.S. citizen of European ancestry, and has worked at various times with people and organizations in low income communities. Rannveig Traustadottir is an Icelandic citizen who has lived in this country for five years to study and conduct research on gender issues. Susan O'Connor is a U.S. citizen of European ancestry, and spend many years working in Morocco and with Palestinians on the West Bank."
[...]
"We wish to express our appreciation to our informants and the many other people who have contributed to our thinking about how gender, culture and class issues play out in disability and family policy. We would especially like to thank Steve Taylor, Bob Bogdan, Zana Lutfiyya, Julie Ann Racino, Pam Walker, and the other members of the research team at the Center on Human Policy. We would also like to thank Rachael Zubal for preparing the bulletin for publication.
"This bulletin was prepared by the Research and Training Center on Community Integration, Center on Human Policy, Division of Special Education and Rehabilitation, Syracuse University, with support from the U.S. Department of Education, Office of Special Education, National Institute on Disability and Rehabilitation Research, through Cooperative Agreement H133B00003-90 and Contract Number H133B80048. No endorsement by the U.S. Department of Education of the opinions expressed herein should be inferred."
References