Black Workers for Justice
Jump to navigation
Jump to search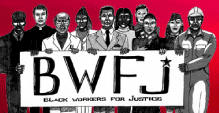 Template:TOCnestleft Black Workers for Justice (BWFJ) is an organization of black workers in North Carolina that works to build the African-American "workers' movement as a central force in the struggle for Black Liberation and Worker's Power." It formed in 1981 when black women workers at a K-mart store in Rocky Mount, North Carolina battled race and gender discrimination. The women organized a boycott of the store and in Fremont, NC in June 1982, they formed BWFJ as a statewide organization.[1]
The organization is close to Freedom Road Socialist Organization.
Union work
Starting in 1981, Black Workers for Justice, a civil rights, labor and community-based organization, laid the foundation for forming United Electrical (UE) Local 150, the North Carolina Public Service Workers Union. BWFJ had as a cornerstone of its political program the centrality of Black workers. This was a perspective shaped by revolutionaries who worked in the auto plants and other industries with large concentrations of Black workers.
It recognized that trade union consciousness would be narrow and only oriented to the economic issues, and wouldn't address the structural racism that saw Black workers being victimized by superexploitation at work and denial of real democratic rights in the larger society.
The year 2010 marks the 20th anniversary of the organization of the Consolidated Diesel Co. Workers Unity Committee. Members of BWFJ and other workers collected the signatures of 210 CDC workers demanding a paid holiday for Martin Luther King Jr.'s birthday, again bringing together white and Black workers to overcome racism caused by the bosses. The workers delivered the petitions to CDC management on Jan. 15, 1990.
This began an eight-month campaign for a paid holiday, which was won on Aug. 1, 1990. The CDC Workers Unity Committee then joined with the Bloomer Hill community to host the annual MLK Day celebration, first held in January 1991. This struggle helped attract UE to North Carolina. Short of enough votes to win a National Labor Relations Board union recognition election, the workers began organizing a non-majority union at CDC.[2]
Solidarity with Sept. 24 FBI Raid Activists
The Committee to Stop FBI Repression lists Black Workers for Justice as one of the organizations that has issued a statement of solidarity in support of the activists raided in the September 24, 2010 FBI Raids.[3]
Grassroots Global Justice Alliance Coordinating Committee
Grassroots Global Justice Alliance Coordinating Committee, as of 2015;[4]
External links
References