Bill Sorro
Jump to navigation
Jump to search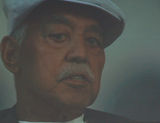 Template:TOCnestleft Bill Sorro (1939-2007) was San Francisco activist and the husband of Giuliana Milanese.
Early life
Bill Sorro was born, to a Filipino father and a Spanish/Scottish mother and raised in San Francisco's Fillmore District among African Americans and Asian Americans, and raised his family in Bernal Heights[1].
Venceremos
Bill Sorro danced with the Performing Arts Workshop and planned to make it a career until a trip to Cuba convinced him to work for social change instead.
Sorro and Giuliana Milanese met in Cuba in 1970. They were part of the second Venceremos Brigade, a U.S. group that took trips to Cuba to support the revolution and work side by side with Cubans. The two married in the I-Hotel in 1973[2].
Activism
Sorro was a 25 year trade unionist, socialist and founding member of Ironworkers for Union Democracy in Oakland. He helped build the Asian American Movement as a member of the Kalayaan Collective and the Union of Democratic Filipinos[3].
International Hotel
Bill was best known as a leader in the struggle to save and rebuild SF's International Hotel ('I-Hotel.')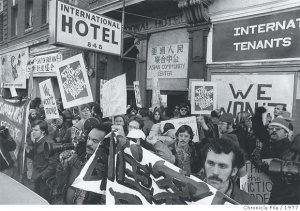 In the late 1970s Bill Sorro helped establish the I-Hotel Tenants Association which fought for years against the evictions of the mostly senior Filipino and Chinese tenants who were forcibly evicted from their homes on the night of August 4th 1977. Afterwards Bill worked with Emil de Guzman, Al Robles and others to establish the Manilatown Heritage Foundation which successfully secured the former I-Hotel site for low-income housing and the new Manilatown Center which opened in 2005[4].
In 1968, the hotel's owner started eviction proceedings against the residents, largely poor and elderly, in order to build a parking garage. Sorro became a major force in one of San Francisco's most memorable and protracted conflicts. The nine-year battle ended in the middle of the night on Aug. 4, 1977, when tenants were dragged into the street. The building was demolished two years later, but the fight over the site's future didn't end[5].
"Bill worked so hard to help get the building up," said Emil de Guzman, president of the Manilatown Heritage Foundation, where Sorro served as vice president. "It's good that he could leave us knowing we accomplished that."
I-Hotel reunion
Eric Mar January 9 2019·
Unity/Solidarity - I-Hotel & Tenant Leaders @mid-late 1990's Immigrant Pride Day in SF SOMA near Dimas-Alang House. Emil de Guzman (holding Kawayan), Estella Habal, Bill Sorro, Eric Mar, Al Robles, Bao Yan Chan (Yu) of Community Tenants Association and Chinese Progressive Association (San Francisco) and Clara Luz Navarro of Mujeres Unidas y Activas (MUA).
Filipino Jackson supporters 1984
Filipino Jesse Jackson supporters in 1984 included Bay Area: Luisa Blue SEIU, Paul Estabalaya, church and community groups, Roger Estrella, Phd, Lillian Galedo, director Filipino Immigrant Services, Remy Galedo, Union of Democratic Filipinos, Emil de Guzman, Senior Escort Program, Mila de Guzman, coordinator Bay Area Coalition Against the Simpson/Mazzoli Bill, Ed Ilumin, San Francisco Human Rights Commission, Leni Marin, West Coast coordinatoe CJDV, Sr. Felicia Sarati, OSJ, Bill Sorro, trade unionist, Bill Tamayo, attorney, coordinator BACASM, Jing Villareyes, Committee for a Democratic Union, Becky Villones, Human Relations Commission, Santa Clara County. Los Angeles: Paul Daza, student UCLA, Raul Daza, attorney, Antonio de Castro, cordinator Early Outreach UC Irvine, Sumi Haru, Mel Ilumin, director Asian Coalition, chairman Southern California Filipino-American Student Association, Andrea Aquino-Luna, Cas Tolentino, president Filipino Lawyers of Southern California.
Communist Party reformer
In 1991 Bill Sorro, Northern California, was one of several hundred Communist Party USA members to sign the a paper "An initiative to Unite and Renew the Party" - most signatories left the Party after the December 1991 conference to found Committees of Correspondence.[6]
CoC National Conference endorser
In 1992 Bill Sorro, housing activist, San Francisco, endorsed the Committees of Correspondence national conference Conference on Perspectives for Democracy and Socialism in the 90s held at Berkeley California July 17-19.[7]
Conference on Perspectives for Democracy and Socialism in the 90s
The Conference on Perspectives for Democracy and Socialism in the 90s was the Committees of Correspondence's first national conference held in Berkeley, California July 17-19, 1992.[8]
Workshops that were held at the conference on Saturday, July 18 included:[9]
Economic Crisis Homelessness, joblessness, poverty & the enduring economic crisis. What should be the role of the left in shaping strategy and building an effective fightback.
Court case
Carl Bloice, Esther Brown, Mary Idosidis, Bill Sorro, Sally Sweet and Lloyd Vandever were all Communist party USA members who left the party to form Committees of Correspondence. In 1995, they were taken to court by the party for control of the property at 522 Valencia St San Francisco. Communist Party v. 522 Valencia, Inc. (1995) 35 Cal.App.4th 980 , 41 Cal.Rptr.2d 618.[10]
Center for Political Education
In 1999 Estella Habal, Emil de Guzman and Bill Sorro, former I-Hotel Tenants and KDP activists gave talks entitled "Black Liberation Movements in America: A Marxist Analysis". The talks were sponsored by the Committees of Correspondence for Democracy and Socialism linked organization, the Center for Political Education.[11]
Housing activist
In the 2000s Bill Sorro anchor for a growing housing justice movement in San Francisco, from the Mission Anti-displacement Coalition to the South of Market Community Action Network[12].
References
Template:Reflist Template:Endorsers of the Conference on Perspectives for Democracy and Socialism in the 90s