Bill Nelson
From KeyWiki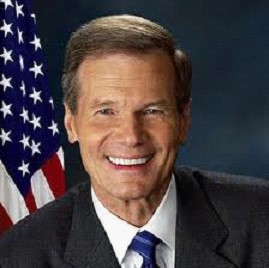 Bill Nelson is a Democratic member of the United States Senate, representing Florida.
Support for the Council on American Islamic Relations
Bill Nelson wrote a letter of support to the Council on American-Islamic Relations (CAIR) on the occasion of their 24th anniversary in September 2018.[1]
Help on Iranian visas
In October of 2002 Iranian American Political Action Committee met with Senator Chuck Schumer (D-NY), the then Chairmen of the Senate Judiciary Sub-committee on Immigration, to discuss the immediate impact of the implementation of the Section 306 of the Enhanced Border Security & Visa Enter Reform Act. Section 306 of the law contemplates a ban on the issuance of all non-immigrant visas to residents or nationals of the seven countries that appear on the Department of State's list of state sponsors of international terrorism - including Iran...IAPAC spoke to Senator Schumer about the unfairness and short sightedness of the legislation and presented to him specific recommendations drafted by the Iranian American Bar Association on how Section 306 should be interpreted. Senator Schumer agreed to hold and chair a meeting with the Department of Justice, the Department of State and the Central Intelligence Agency to discuss the regulations that will be applied regarding the implementation of Section 306.
IAPAC also requested the following Senators to attend the meeting - Sen. Barbara Boxer (D-CA), Sen. John Kerry (D-MA), Sen. John Edwards (D-NC), Sen. Thomas Carper (D-DE), Sen. Hillary Clinton (D-NY), Sen. Kay Bailey Hutchison (R-TX), Sen. Joe Biden (D-DE), Sen. Bill Nelson (D-FL), Sen. Joe Lieberman (D-CT) and Sen. Richard Lugar (R-IN). All sent representatives to the meeting and were in agreement with our proposals. The first meeting was held in November of 2002 and the second meeting was held in March of 2003.
In addition, IAPAC asked for and received a press release from Senator Schumer regarding visa policy for non-immigrants. Senator Schumer summed up his concerns by stating that "we do not want our non-immigrant visa policy to impose an undue hardship on American citizens, including Iranian Americans, many of whom have made and continue to make outstanding contributions to the economic and social life of our country."[2]
Anti "speculator" bill
in April 2012 Ben Cardin joined a group of his Senate colleagues in sponsoring a bill, S. 2222, which "will give federal regulators immediate authority to invoke emergency powers to rein in speculators who are responsible for rapidly rising gasoline prices".
There is broad agreement among energy experts and economists that speculators are one of the causes for the rapidly rising price of gas. Domestic oil production has risen to its highest level in a decade, oil supplies are greater today than they were three years ago and demand for oil in the United States is lower today than it was in 1997. Yet gas prices continue to soar.
There is something wrong with this equation. There is no logical reason why gas prices should continue to rise if oil supplies are up and demand is down.
The American Trucking Association, Delta Airlines, the Petroleum Marketers Association of America, the Federal Reserve Bank of St. Louis, and other experts all say excessive oil speculation in the futures markets significantly increases crude oil and gasoline prices. A Feb. 27, 2012 article in Forbes Magazine cited a recent report by the investment bank Goldman Sachs pointing out that excessive oil speculation adds 56 cents to the price of a gallon of gas.
This "speculators" bill would set a 14-day deadline for the Commodity Futures Trading Commission (CFTC) to take emergency steps to stop excessive speculation by Wall Street traders in the crude oil, gasoline and other energy futures markets. Also co-sponsoring the measure were: U.S. Senators Bernie Sanders (I-VT), Richard Blumenthal (D-CT), Sherrod Brown (D-OH), Al Franken (D-MN), Amy Klobuchar (D-MN) and Bill Nelson (D-FL).[3]
Haitian Memorial Pyramid Project
The Haitian Memorial Pyramid Project was conceived in Jacksonville, Florida by Communist Party USA member Russell Pelle several months after the January 12, 2010 earthquake. In March 2010, it was presented to and supported by Florida State Senator and Communist Party USA sympathizer Anthony Hill at a Haitian-American beach party. An Executive Board was established and project incorporated November 10, 2010. The first formal endorsement came from Senator Hill Nov. 24, 2010.
In 2011, the project was endorsed by Jacksonville Fl, Mayor Alvin Brown, U.S. Congresswoman Corrine Brown, and U.S. Senator Bill Nelson.[4]
ARA endorsement, 2012
Alliance for Retired Americans endorsed Bill Nelson in 2012.[5]
Radical team member
Ida Eskamani, following graduation in 2012, worked for the Orange County Democratic Party at a time when they broke fundraising records with her support. She also joined Senator Bill Nelson's re-election campaign as a Press and Research Assistant, and the youngest member of the campaign team. [6]
Senate New Democrat Coalition members
The following Senators currently belong or belonged to the Senate New Democrat Coalition.[7][8][9]
Progressive Caucus
External links
References