Bill Comiskey
Jump to navigation
Jump to search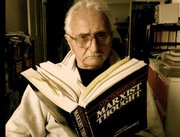 Bill Comiskey is a Minnesota activist.
Endorsed Communist Party Call
On March 30 2002 the Communist Party USA paper People's Weekly World called for a national holiday in honor of late Farm Workers Union leader Cesar Chavez. The article was followed by a long list of endorsers[1]including Bill Comiskey, Almost all endorsers were confirmed members of the Communist Party USA.
Communist Party USA
In September 2006 the Peoples Weekly World[2]listed several members of the Minnesota Communist Party USA.
Bill Comiskey, Carol Sorflaten, David Bednarczuk, Dean Gunderson, Doris Marquit, Erwin Marquit, Gerald Erickson, Gina Socha, Harry McAllister, Jane Thomson, Janet Quaife, Michael Wood, Mick Gardiner, Morgan Soderburg, Mostafa Chat, Peter Molenaar, Robert Lippert, Salam Bushra.
References