Bill Bradley
From KeyWiki
See other William Bradley articles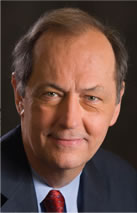 Bill Bradley is a Managing Director of Allen & Company LLC. He is a former three term Democratic U.S. Senator from New Jersey, and in 2000, he was a candidate for the Democratic nomination for President of the United States. He was an Olympic gold medalist in 1964 and a professional basketball player with the New York Knicks from 1967 – 1977.[1]
Supported by Council for a Livable World
The Council for a Livable World, founded in 1962 by long-time socialist activist and alleged Soviet agent, Leo Szilard, is a non-profit advocacy organization that seeks to "reduce the danger of nuclear weapons and increase national security", primarily through supporting progressive, congressional candidates who support their policies. The Council supported Bill Bradley in his successful Senate run as candidate for New Jersey.[2]
Soviet trip
In 1979, on one of his first trips to the Soviet Union, Biden listened to an argument from his Soviet counterpart, and replied, "Where I come from, we have a saying: You can't shit a shitter." Bill Bradley, then a fellow-senator on the delegation, later asked the American interpreter how he had translated Biden's comment into Russian. "Not literally," the interpreter said.[3]
DSA supporter
Democratic Socialists of America member Cornel West, was a co-chair of the Bill Bradley primary campaign in 2000. [4]
Wellstone Action
In 2009 Bill Bradley was listed as a member of the Advisory Board[5] of Wellstone Action, a Minnesota based organization based on the political legacy[6] of that state's late 'progressive" Senator Paul Wellstone.
Wellstone Action and Wellstone Action Fund combine to form a national center for training and leadership development for the progressive movement. Founded in January 2003, Wellstone Action's mission is to honor the legacy of Paul and Sheila Wellstone by continuing their work through training, educating, mobilizing and organizing a vast network of progressive individuals and organizations.
External links
References