Betty Friedan
From KeyWiki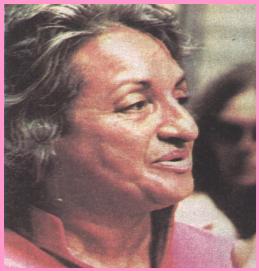 Betty Friedan (February 4, 1921 - February 4, 2006), nee Betty Naomi Goldstein, was the feminist author of the 1963 book The Feminine Mystique and the book Our Wayward Sons. She co-founded the National Organization for Women in 1966. She organized the nation-wide Women's Strike for Equality on August 26, 1970.
She joined other leading feminists, such as Gloria Steinem, Shirley Chisholm, Fannie Lou Hamer, Bella Abzug, and Myrlie Evers-Williams in founding the National Women's Political Caucus in 1971. Friedan founded the National Association for the Repeal of Abortion Laws (which became the National Abortion Rights Action League) before abortion was legalized in the United States in 1973.[1]
NOW
In 1966 Gerda Lerner joined fellow activists Betty Friedan, Pauli Murray, Aileen Hernandez, and others in founding the National Organization for Women (NOW).[2]
Communist influence
In 2010, Communist Party USA historian Norman Markowitz, attributed much of Betty Friedan's philosophy and activity to the influence of the Party, thogh she tended to "hide or simply ignore" the connection.[3]
Betty Friedan, for example, came from a middle-class Jewish American family in Illinois, attended an elite women's college during World War II, and then did graduate work at Berkeley. There she became involved with a variety of political struggles, some of which included Communist Party activists, and then went to work for the left labor Federated Press. This media outlet attempted to provide for working class media what the Associated Press did for capitalist media. Friedan later wrote for the UE News and supported the Progressive Party in 1948. Betty Friedan grew up politically in a left movement and culture in which the CPUSA played the leading role. Although the postwar repression ended her career as a left labor journalist, she continued to try to write for women's publications as she settled uncomfortably into the role of a suburban housewife.
Issues of male chauvinism inside the CPUSA were revived during the early Cold War era and discussed in party clubs and forums as the repression sought to build what French Philosopher Jean Paul Sartre called a ring of fire between Communists and the fellow citizens. Betty Friedan though her early 1960's work The Feminine Mystique played an essential role in articulating what in socialist and later Communist circles was called "the women question." She always went to great lengths to hide or simply ignore her past as she became a celebrity, and aimed her feminism initially at college educated women frustrated with their lives as housewives whose labor was both unpaid and undervalued.
But one can find in her work an analysis of and resistance to ideologies of oppression that was a foundation of the Communist movement in the period in which she came of age politically. One can also find in her later work as a founder of the National Organization for Women (NOW) an emphasis on building broad inclusive organizations and acting politically both inside and outside normal channels. She advocated lobbying for changes in the law, organizing mass protests to advance such changes and preparing the movement for future advances. This kind of strategic and tactical outlook also characterized the Communist Party and the larger left movement of which it was the leading force in her youth.
Friedan became a communist propagandist since her student days at Smith College (1938-1942)
Friedan dropped out of grad school to become a reporter for a Communist news service. From 1946 -1952 she worked for the newspaper of the United Electrical, Radio and Machine Workers of America, "the largest Communist-led institution of any kind in the United States." In 1947, Congress targeted the UE as a Communist front and its membership began a steady decline.
Daniel Horowitz, a History Professor at Smith with impeccable Liberal and Feminist credentials documents all this in his book, Betty Friedan and the Making of the Feminine Mystique: The American Left, the Cold War and Modern Feminism (University of Massachusetts Press 1999). Horowitz cites a union member who described how a Communist minority "seized control of the UE national office, the executive board, the paid-staff, the union newspaper and some district councils and locals."[4]
Campaign for America's Future
In 1996 Betty Friedan was one of the original 130 founders of Campaign for America's Future.[5]
References