Betty Arenth
Jump to navigation
Jump to search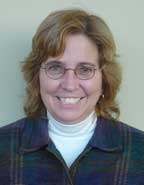 Template:TOCnestleft Betty Arenth is senior vice president at the Senator John Heinz History Center, where she supervises staff and assists the president/CEO in a variety of leadership functions.
Education
Betty Arenth graduated from the University of Pittsburgh with a B.A. in political science in 1979, and holds a master of public policy and management (with concentration in non-profit management) degree from the University of Pittsburgh.
New American Movement
In 1981, Betty Arenth, John Beverly, Stu Cohen, Paul Garver, Clint Geller, John Hallas, John Haer, Kate Luxemburg, Steve Kraisler, Susan Mead, Ed Meek, Sandy Mitchell, Joni Rabinowitz, Rob Shepherd and Jill Smudski of Pittsburgh NAM congratulated NAM on the occasion of its 10th anniversary. They commented,
Thanks to NAM for our share in bringing socialist-feminism to the U.S. left[1]
In 1982 Betty Arenth was a members of Pittsburgh New American Movement, a labor organizer and a member of Squirrel Hills NOW[2].
DSA Feminist Commission
In 1985, Betty Arenth of Pittsburgh, Pennsylvania was listed as a member of the Feminist Commission of the Democratic Socialists of America.[3]
Career
Betty Arenth has been with the Senator John Heinz History Center] since 1996, when she was director of advancement and managed fundraising programs and the publications program. From June 1997 through June 1998, Betty was acting executive director of the History Center.
Previously, Betty Arenth was a self-employed fundraising consultant, as well as executive director of ARC-Allegheny Foundation and executive director of Dollar Energy Fund, Inc.
Service
Betty Arenth has served on the boards of a variety of organizations, including ARC-Allegheny Foundation and Datatel Scholarship Foundation, and has volunteered with local organizations such as Neighbors in the Strip, Association for Retarded Citizens, The Hunger Task Force and was an appointed member of the Mayor's Task Force on Women and Renaissance II.
When Betty Arenth was 18, she became the youngest elected official in Indiana Township history, when she was elected to its Home Rule Study Commission.
References