Beth Huang
From KeyWiki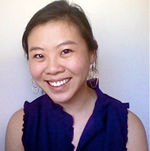 Beth Huang is Field Coordinator at Massachusetts Voter Table. She was, earlier in 2016, Student Labor Action Project (SLAP) Coordinator, for United States Student Association.
Beth builds grassroots, campus-based chapters of the Student Labor Action Project, a joint project of Jobs with Justice and the United States Student Association. After graduating from the University of Wisconsin-Madison, Beth organized at the American Federation of State, County, and Municipal Employees , primarily working on campaigns to improve language access for Medicaid patients and to win respect for emergency medical services professionals in California. Before working at AFSCME, Beth was a highly active student organizer on campus, orchestrating student mobilizations in support of public workers during the Wisconsin uprising in 2011. In addition, Beth served as the vice president and chair of the board of directors of United Council of UW Students, the statewide student association in Wisconsin, and helped lead a campaign that won an unprecedented two-year tuition freeze for 180,000 University of Wisconsin System students. At UW-Madison, Beth studied biochemistry and history.
Partner of Justin Bloesch.
DSA convention delegate
In 2021 Beth Huang was National Convention Delegate Candidate for Boston Democratic Socialists of America.[1]
DSA Members Organizing Against Trump
DSA Members Organizing Against Trump was a letter released early October 2010 to shore up Democratic Socialists of America support for Joe Biden.
Signatories included Beth Huang, Boston Democratic Socialists of America.
Open Letter to the Biden Campaign on "Unprepared"
Open Letter to the Biden Campaign on "Unprepared" was released May 12 2020.
":Our demands: The country's greatest priority at this moment is to beat the COVID-19 crisis, and this requires embracing principles of antiracist solidarity and international cooperation. The Biden campaign can and should beat Trump and the GOP with a message centered on our real public health needs and the progressive values that are required to meet those needs. The "Unprepared" ad must be taken down, and all campaign messaging that fuels anti-Asian racism and China-bashing must end. We refuse to allow the Biden campaign to sacrifice our dignity in the name of political expediency."
Signatories included Beth Huang Boston Democratic Socialists of America.
DSA
Beth Huang joined Democratic Socialists of America just after the 2016 election. In 2018 she was co-chair of Boston Democratic Socialists of America.[2]
DSA/Afrosoc training
Rosa Luxemburg Stiftung September 2017 with Maria Svart, Kristian Hernandez, Beth Huang, Jabari Brisport, Kazembe Balagun.
New England DSA conference
Eric Wimer March 25 2019·
I loved this conference. It was fantastic to see every chapter in New England (and they're all chapters, not OCs now, thanks Lisa!) show up in force. From the varied, interesting workshops, to a very comradley and productive debate, to every conversation had a lunch or the social, I really couldn't have imagined this conference going better. And it needed to, because the clock is ticking, and only the fundamental change that these organizers are fighting for will save us. We can win a better world!
Tag yourself, tag your friends! — with Trevor Hurlbut, Lisa Flores, Mie Inouye, Maria Svart, Bill Meyerson, Catherine Meyerson, Alex van Olden, Evan George, Sarah Ganong, Forrest Rapier, Clare Fitzgerald, Fitz Pucci, Beth Huang, Aimee Dupont, Jon Torsch, Sarah VH and Kit Cali.
Education
Studied Biochemistry at University of Wisconsin-Madison.
Massachusetts Voter Table
Massachusetts Voter Table staff as of November 2018:[3]
Fight Back Teach In
Fight Back Teach In held in New York City, a national teach-in on austerity, debt and corporate greed featuring Frances Fox Piven, Richard Trumka, and Cornel West on April 5, 2011
The following were featured speakers for the Teach In:[4]
"Wholesome Meme Stash"
Members of the Democratic Socialists of America Wholesome Meme Stash closed Facebook group, accessed November 14, 2017 included Beth Huang.[5]
Galvanize Chicago
Midwest Academy July 14, 2017.
Delighted to be at the opening reception for Galvanize Chicago with a wonderful group of women! — with Kweli Kitwana, Judy Hertz, Beth Huang and Jenn Brown.
Democratic Socialists of America Electoral Committee
In March 2018 Beth Huang was involved with the Democratic Socialists of America Electoral Committee.
Toward Radical Democracy
Toward Radical Democracy was a 2018 "Proposal for Internal Voting Reform in Boston DSA".
If you would like to sign on in support of this proposal, please click here. To date, over 100 members of Boston DSA have endorsed it. We also welcome support from DSA comrades in other chapters.
Signatories included Beth Huang.
Beyond Bernie
Beyond Bernie: Electoral Strategy for an Independent Left
April 2019 Organizing Upgrade pulled together leaders and activists from many of the most important movements of the left electoral upsurge to discuss both short- and long-term electoral strategy. The recent resurgence of electoral engagement amongst the social movement and party left in the US is inspiring and full of potential, but still lacks a shared strategy across the groups leading the charge. Moving past the mainstream media focus on the presidential horserace, we talk to organizers on the front lines about the current state of this movement sector, and critical interventions that independent left organizers can make to move this work forward.
The strategy session included*:
The discussion was moderated by Rishi Awatramani and Linda Burnham.[6]
Socialist Majority Caucus
DSA's Socialist Majority Caucus signatories list as of April 25 2019 included Beth Huang of Boston Democratic Socialists of America.
National Gathering
The DSA AfroSocialist and Socialists of Color Caucus National Gathering Planning Committee proposed a National gathering to take place June 7th-9th, 2019 in New Orleans, Louisiana at Loyola University.
The tentative planning committee was Bianca Cunningham NYC-DSA, Alyssa Pariah Portland-DSA, Kristian Hernandez NTX-DSA, Suzanne-Juliette Mobley New Orleans, Sumathy Kumar NYC-DSA, Maikiko JamesLA-DSA, Beth Huang -Boston-DSA, Marian Jones-NYC-DSA, Ashley Payne East Bay-DSA, Sasha Hammad-DSA national staff.[7]
Boston DSA Synthesis Slate
Introducing: the Boston Democratic Socialists of America Synthesis Slate Feb 22, 2018.
Synthesis is a group of committed DSA members with diverse perspectives and ideas who all share the strong conviction that pluralism is DSA's greatest strength. We are eager to make major changes in the American political landscape, including the elimination of all forms of oppression, imperialism, inequality, and suffering, and we understand that we must reflect those desires in our internal structure and choices as an organization. We value transparent, direct democracy, radical kindness, sincere debate and discussion, and empowering members to create the DSA (and world) that they want to see. We believe that we can achieve socialism in our lifetimes. We're running for Steering Committee and officer positions; meet us below!
Members Beth Huang, Maddie Howard, Kit Cali, Evan Lemire, Kathryn Anderson, Presley Pizzo, Valerie Young, Vaughn Allen Goodwin. Clyde Grubbs and Louise Parker withdrew their candidacies.[8]
References