Beth Becker
Jump to navigation
Jump to search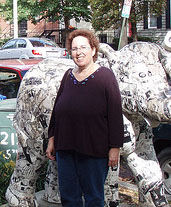 Beth Becker
Netroots Nation 2010
In 2010, Becker was a speaker at the Netroots Nation Conference.[1]
Progressive PST
Becker co-founded and works for Progressive PST, a company which engages in social-media activity for the benefit of progressive campaigns.[2]
Blog Workers Industrial Union
Becker is a member of the recently formed Blog Workers Industrial Union.[3]
PDA meeting, Maryland
Thursday March 15, 2012, PDA National Director Tim Carpenter, PDA National Vice Chair emeritus Stephen Shaff, PDA National Deputy Field Director Andrea Miller and Mike Hersh welcomed speakers Rep. Donna Edwards (Md-6), Professor Eric Kingson from Social Security Works, and Alex Lawson from We Act 1480 AM Radio to Busboys and Poets in Hyattsville, Maryland.
Current and former PDA National Board Members Medea Benjamin, Joe Libertelli and Steve Cobble, Healthcare NOT Warfare co-chair Donna Smith, and Maryland Senator Paul Pinsky also helped welcome progressives to Prince George's County's newest meeting place. The turnout included several important progressive leaders from Maryland's 4th, 6th, and 8th districts.
Special thanks to the Very Important Progressive Host Committee including--Stephen Shaff; PDA board member Bill Fletcher, Jr., Raucus Activist Writer; Alex Lawson, Social Security Works and WE ACT Radio; Heather Booth, Activist; Steve Cobble, PDA Political Advisor, and Institute for Policy Studies; Medea Benjamin; Tom Hucker, MD Delegate, D-20; Greg Moore, NAACP/Political Consultant; Beth Becker, Progressive PST; Naomi Bloch, Activist who donated a small library of books; David Hart, Physicians for Social Responsibility; Beth Schulman, IPS; Greg Smith, Activist; Joe Libertelli; Mark Dudzic; Jimmy Tarlau, Communication Workers of America; Kerren-Pope Onwukwe, Attorney/Activist; and Andrea Miller.[4]
People for Bernie
In 2016 Beth Becker of Occupy DC / McPherson was a leader of People for Bernie.
References