Benjamin Barber
From KeyWiki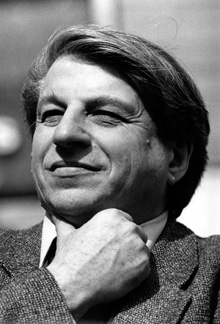 Benjamin R. Barber is a scholar and political theorist. He is the author of many books including the bestseller "Jihad vs. McWorld". His latest book is "Consumed: The Fate of Citizens under Capitalism Triumphant".
He is Walt Whitman Professor of Political Science Emeritus, Rutgers University. An internationally renowned political theorist, Dr. Barber brings an abiding concern for democracy and citizenship to issues of politics, globalization, culture and education in America and abroad. He consults regularly with political and civic leaders in the U.S. (President Clinton, Howard Dean) and around the world (Germany, U.K., Libya, Finland, Syria).[1]
Education
Barber holds a certificate from the London School of Economics and Political Science and an M.A. and Doctorate from Harvard University.
Blogging/writing/media
Barber blogs regularly for The Huffington Post and writes for The Nation, Harper's Magazine, The New York Times, The Washington Post, The Atlantic Monthly, The American Prospect, Le Nouvel Observateur, Die Zeit, La Repubblica, El País and The Guardian. He was a founding editor and for ten years editor-in-chief of the distinguished international quarterly Political Theory.
Barber appears often on television, including the Tavis Smiley Show, CNN, Bill Moyers Journal, Fox & Friends, The O'Reilly Factor, Charlie Rose, John McLaughlin's One on One, C-Span and GRITtv. With Patrick Watson he wrote the prize-winning ten-part PBS/BBC series The Struggle for Democracy and contributed to the British series Greek Fire.[2]
Anti-capitalist
Benjamin Barber is no friend of capitalism;[3]
Our great leaders tell us what we already know, The economy is "sour." But no worries. At the end of the day all will be well. Just keep on shoppin.' Capitalism is the only game in town. Growth for growth's sake, without any attention paid to its consequences, is producing what one Canadian writer calls "The Cancer Stage of Capitalism." And like a cancer it will keep metastasizing until it kills its host.
The economic system is predicated on constant expansion and growth. The gospel of consumerism is an unsustainable paradigm. What is required is a radical rethinking of basic assumptions.
Demos Involvement
In 2009 Benjamin Barber was a Distinguished Senior Fellow, and President of CivWorld at New York based think tank Demos, [4]
Gadaffi "shill"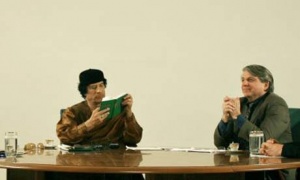 Barber wrote of Muammar al-Gadaffi in the Washington Post in August 2007 in an article entitled "Gaddafi's Libya: An Ally for America?";[5]
Written off not long ago as an implacable despot, Gaddafi is a complex and adaptive thinker as well as an efficient, if laid-back, autocrat. Unlike almost any other Arab ruler, he has exhibited an extraordinary capacity to rethink his country's role in a changed and changing world.
I say this from experience. In several one-on-one conversations over the past year, Gaddafi repeatedly told me that Libya sought a genuine rapprochement with the United States and that the issues of the Benghazi Six -- along with the still-outstanding final payment from Libya to families of the Lockerbie, Scotland, bombing victims -- would be resolved. And behold: The nurses are free.
In all my public and private conversations with Gaddafi, including a roundtable moderated by David Frost and televised by BBC in March during which Gaddafi responded to unrehearsed questions, Gaddafi acknowledged his history of enmity with the West and did not deny Libya's erstwhile involvement in terrorism. But he spoke of a new chapter for Libya and backed it up with a commitment to societal change. He insisted that in the Libya that comes after him there would be no new Gaddafi but self-governance.
This isn't mere bluster. Gaddafi has taken grave risks in the name of change: offending the Benghazi clans that engineered the nurses' arrest; giving up his nuclear program while rogue nations such as Iran and North Korea use theirs to blackmail the West; holding open conversations over the past year with Western intellectuals, not just progressives such as Robert Putnam of Harvard and me but neocon pundit Francis Fukuyama and the tough New Democrat defense expert Joseph N. Nye. Moreover, in seeking to modify the banking industry and economy, he has rattled the existing elite who benefit from the status quo.
Surprisingly flexible and pragmatic, Gaddafi was once an ardent socialist who now acknowledges private property and capital as sometimes appropriate elements in developing societies. Once an opponent of representative central government, he is wrestling with the need to delegate substantial authority to competent public officials if Libya is to join the global system. Once fearful of outside media, he has permitted satellite dishes throughout his country, and he himself surfs the Internet.
Gadaffi Foundation
Until he resigned in February 2011, Barber was a member of the International Board of the Qaddafi International Charity and Development Foundation. Barber wrote of Gaddafi in the Huffington Post, February 22, 2011;[6]
Remember, Gadhafi is no Mubarak or Bashar al-Assad, a second or third generation bureaucratic heir to once revolutionary dictatorships. He is a founding revolutionary cut from the same cloth as Nasser and Castro, and his revolutionary rhetoric, if seemingly incoherent and irrelevant to the modern world, is authentic, rooted in the (mostly) vanished world of colonialism, imperialism, socialism and people's democracy.
Statement
February 22, 2011;[7]
New York— Today, Dr. Benjamin R. Barber, the "internationally renowned political theorist and Distinguished Fellow at the policy center Demos, released the following statement announcing his resignation from the governing board of the Qadaffi Foundation:"
As a member of the international governing board of the (Saif) Qadaffi International Charity and Development Foundation, I deplore the savage violence being unleashed on protestors in Libya. At our December Board meeting, we passed motions that made Saif Qadaffi, our former chair, an honorary chair, and that separated the charitable and human rights works of the foundation from any and all politics. From a technical point of view then, the work of the foundation remains honorable and important, and the role of its able and independent director, Dr. Youssef Sawani completely above politics--equally distant from the regime and its brutal policies.
"But the position of the Foundation has now been made untenable by the country-wide repression of protesters by the most barbaric means, and the public declaration of the Foundation's honorary chairman, Saif Qadaffi, endorsing the repression and rationalizing the massacre of protesters. This current situation is completely contradictory to the stated intentions of the Foundation, and to the work the International Board has done on human rights and democratic reform in Libya--work that the Carnegie Foundation for International Peace described just last month (1/17/11) this way:
the Qadhaffi Foundation was the country's only address for complaints about torture, arbitrary detention, and disappearances. The Foundation issued its first human rights report in 2009, cataloging abuses and calling for reforms, and a second report released in December 2010 regretted "a dangerous regression" in civil society and called for the authorities to lift their "stranglehold" on the media. In the interim, Saif assisted Human Rights Watch in conducting a groundbreaking press conference which launched a report in Tripoli in December 2009.
"Given finally that the Foundation's honorable director Dr. Youssef Sawani has himself just resigned, expressing his 'dismay' at the violence, I herewith resign as a board member of the Foundation."
Signed: Benjamin R. Barber
al-Qadaffi adviser
As a longtime advisor to Saif al-Qaddafi, son of Libya's leader Muammar al-Qaddafi, Benjamin Barber knew him just about as well as any Western intellectual. Barber was among a small group of democracy advocates and public intellectuals, including Joseph Nye, Anthony Giddens, Francis Fukuyama, and Robert Putnam, working under contract with the Monitor Group consulting firm to interact with Col. Muammar al-Qaddafi on issues of democracy and civil society and to help his son Saif "implement democratic reforms and author a more representative constitution for Libya".[8]
Left Forum
Benjamin Barber spoke at Democratic Socialists of America's Left Forum 2011 on a panel entitled "The Future of American Liberalism?:
It was sponsored by: Logos: A Journal of Modern Society and Culture
Speakers were;[9]
References