Ben Rhodes
From KeyWiki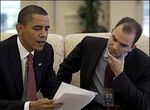 Benjamin J. "Ben" Rhodes, born 1977, is Deputy National Security Advisor for Strategic Communications for U.S. President Barack Obama as of June 2016. He is also is an advisor on the Joint Comprehensive Plan of Action with Iran.
Rhodes was responsible for crafting the Obama administration's dishonest narrative that was used to sell the United States' unenforceable nuclear nonproliferation agreement with the Islamic Republic of Iran which has been an enemy of the U.S. since 1979. Rhodes bragged about the deceptive tactics he used in a flattering New York Times profile in May 2016 that referred to him as "The Boy Wonder of the Obama White House[.]"[1]
National Security Action
Ben Rhodes and Jake Sullivan on MSNBC
National Security Action is a progressive advocacy group launched in February 2018 to counter president Trump's foreign policy and national security agenda.[2]
Ben Rhodes and Jake Sullivan are co-chairs.
NIAC connection
National Iranian American Council January 12, 2017:
Thanks to NIAC's work, "the voice and concerns of the Iranian-American community, in all of its diversity, is a part of civic discussions." - Ben Rhodes | #ObamaFarewell
NIAC Leadership conference
National Iranian American Council September 23, 2016
We're ready for you! Looking forward to an amazing Leadership Conference this weekend in Washington, D.C. - you can get your last minute tickets here: leadership.niacouncil.org
NIAC2016 #CreatingAMorePerfectUnion — with Mehdi Hasan, Ben Rhodes, Joe Cirincione, Tyler Cullis, Rula Jebreal, Trita Parsi, Sanam Anderlini, Suzanne DiMaggio, Maz Jobrani, Tara Kamangar, Celinda Lake, Farideh Farhi, Cyrus Habib, Negin Farsad, Congressman Jared Huffman, Mana Kharrazi, Yahya Alkhansa, Ilan Goldenberg, Congressman Dan Kildee, James Dobbins, Philip Gordon and Office of Foreign Assets Control.
Cuban Embassy soiree
It was remarkable how many non-Cubans knew the Cuban national anthem well enough to sing along July 2015 as the flag was raised over the newly re-established embassy on 16th Street NW. Then they joined in the delirious shouts of "Viva Cuba!"
"It's an amazing moment," said Phyllis Bennis, a fellow with the progressive think-tank, Institute for Policy Studies. "In the decades-long effort to normalise relations with Cuba, to stop the US attacks and hostility toward Cuba, we have not had so many victories. Suddenly we have a victory. The flag going up - that's huge."
"Hemingway would be proud," said Scott Gilbert, an attorney who represented jailed American contractor Alan Gross, by way of compliment to the bartenders mixing the concoctions in a room named after the famed American ex-pat writer. "There's a feeling today of joy, but also of disbelief," Gilbert said. "So many people here thought this would never happen."
Guests included Sens. Jeff Flake (R-Ariz.), Patrick Leahy (D-Vt.), and Amy Klobuchar (D-Minn.); Reps. Chris Van Hollen (D-Md.), Karen Bass (D-Calif.), Barbara Lee (D-Calif.), Jose Serrano (D-NY), Raul Grijalva (D-Ariz.); plus administration types including deputy national security adviser Ben Rhodes. NBC anchor Andrea Mitchell slipped through the phalanx of protesters, camera crews, and folks celebrating just outside the gates.
"I'm excited," said Danny Glover, who in addition to his "Lethal Weapon" roles has been part of numerous cultural delegations to Cuba. "This is the beginning of another narrative….What's happened in the last 54 years is an insult to our intelligence as human beings and [American] citizens."[3]
References