Belinda Bellinger
Jump to navigation
Jump to search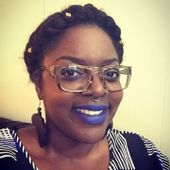 Belinda Bellinger is a Middle School History Teacher at Summit Public Schools Richmond, California. Married to Oshen Turman.
Education
Concordia University Irvine, Master of Arts (M.A.) 2016 – 2021.
Sarah Lawrence College, Liberal Arts and Sciences, General Studies and Humanities, 2008 – 2012. City College of San Francisco, General Studies, 2000 – 2006.[1]
Fewer team
Chelsea Boilard April 10, 2016 ·
(Former) Colmies for Sandra Lee Fewer in District 1! — with Greg Tanaka, Belinda Bellinger and Alvaro Sanchez.
Block party comrades
Chelsea Boilard June 11, 2016 ·
With Yaya Raiz, Kevine Boggess and Belinda Bellinger.
Chelsea Boilard June 11, 2016 ·
With Lily Wong, Jessica Inson, Belinda Bellinger, Neva Walker, Samantha Liapes and Mari Posa.
LeftRoots
Belinda Bellinger is an organizer, educator, and writer, and has worked with young people for over 15 years. She currently is a 7th grade English-Language Arts teacher at Everett Middle School, Facilitator with the Black Teacher Project, and a founding cadre of LeftRoots. [2]
LeftRoots 1 year anniversary!
Chelsea Boilard November 7, 2014 ·
LeftRoots 1 year anniversary!
Likes Beatriz Vargas-Zenteno, Catherine Marroquin, Lorraine Hanks, Ligia Montano, N'Tanya Lee, Tami Bryant, Mahnani Clay,Nicole Plata, Nato Green, Alex Tom, Ayoka Turner, Kimberly Dorthea, Natalia Vigil, Chery Mena, Pam Tau Lee, Belinda Bellinger, Ken Wang, Chris Longenecker, Maria Zamudio.[3]
Ken Wang addresses the crowd.
References