Bart Stupak
From KeyWiki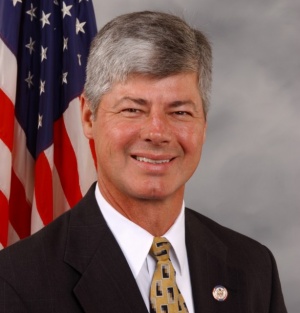 Bartholomew "Bart" Thomas Stupak was a Democratic member of the United States House of Representatives, representing the 1st district of Michigan.
Early Life & Career
Born on February 29, 1952, Bart was raised in Gladstone, Michigan and grew up in a family of 10 children. Stupak went on to graduate from Gladstone High School. He then left his hometown for North Western Community College in Traverse City, to earn his Associates Degree. He returned to Gladstone and began his career in public service as an Escanaba police officer in 1972.
Bart continued his career in law enforcement by serving as a Michigan State Trooper from 1973 to 1984. During his time in law enforcement, Stupak studied, earning a Magna Cum Laude honors with his Bachelor's Degree in Criminal Justice from Saginaw Valley State University. He continued his education, earning his Juris Doctor degree from Thomas M. Cooley Law School, in 1980. Stupak was injured in the line of duty and was medically retired from the Michigan State Police in 1984.
Following his retirement from the police force, Bart and his wife Laurie, and their two sons, Ken and Bart Jr., moved to Menominee. There, Stupak set up a small law practice.[1]
Political Career
From 1989-90 Bart represented Menominee, Delta, and Dickinson counties in the Michigan State House of Representatives.
Bart Stupak was first elected to Congress in 1992 to represent the First Congressional District.
In response to the terrorist attacks of Sept. 11, 2001, Stupak was named to the Democratic Caucus Task Force on Homeland Security.[1]
Supported by Council for a Livable World
The Council for a Livable World, founded in 1962 by long-time socialist activist and alleged Soviet agent, Leo Szilard, is a non-profit advocacy organization that seeks to "reduce the danger of nuclear weapons and increase national security", primarily through supporting progressive, congressional candidates who support their policies. The Council supported Bart Stupak in his successful House of Representatives run as candidate for Michigan.[2]
Democratic Party Super Delegates
In February 2008 Michigan Democratic Party Super Delegates were;[[3]
Charles Brown Mon, 25 Feb 2008
John D. Cherry, Lt. Governor
Rep. John D. Dingell, U.S. Congressman, 15th District
Joel Ferguson, at-large member of the DNC, businessman, member of MSU Board of Trustees
Dale Kildee, U.S. Congressman, 5th District
Sander Levin, U.S. Congressman, 12th District
Mark Schauer, State Senator, 19th District
Debbie Stabenow, U.S. Senator
John Conyers, U.S. Congressman, 14th District
Arthenia Abbott, Vice Chair, Michigan Democratic Party
Lu Battaglieri, President of Michigan Education Association, union representing retired teachers and education employees
Mark Brewer, Chair, Michigan Democratic Party, Vice Chair, Democratic National Committee
Elizabeth Bunn, UAW Secretary-Treasurer
Eric Coleman, County Commissioner of Oakland County, 23rd District
Debbie Dingell, WSU Board of Governors, senior executive at General Motors
Robert Ficano, Wayne County Executive
Jennifer Granholm, Governor
Kwame Kilpatrick, Mayor, City of Detroit
Carolyn Kilpatrick, U.S. Congresswoman, 13th District
Joyce Lalonde, Board of Directors, National Education Association
Carl Levin, U.S. Senator
Jeffrey Radjewski, business and finance manager of the International Brotherhood of Electrical Workers (IBEW)
Virgie Rollins, regional director, National Federation of Democratic Women, Chair, Democratic National Committee Black Caucus
Richard Shoemaker, UAW Vice President
Bart Stupak, U.S. Congressman, 1st District
Michael Tardiff, DNC
Richard N. Wiener, attorney and former Granholm staffer
Lauren Wolfe, President of the College Democrats of America, she is attending law school in Detroit.
Staff
The following have worked as staff members for Bart Stupak:[4]
External links
References