Barry Romo
Jump to navigation
Jump to search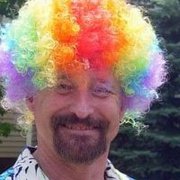 Barry Romo is a leader of the Chicago chapter of Vietnam Veterans Against the War.
Background
Romo was born to a mixed-race family, his mother having been a British war bride and his father a Mexican. Both taught against racism and brought up their son to be proud of his heritage. His father was a World War II veteran considered a hero by his son. That was one reason Romo chose to enlist. He wanted to be like his father.
Another reason was Romo, a Catholic, had attended a Catholic high school where he says he was fed "anti-communist propaganda". He also was told that by serving in Vietnam he would be "saving his Catholic brothers from the new Hitler."
Romo served as a platoon leader in 1967-68 in the Army's 196th Light Infantry Brigade. He received the Bronze Star for action in the Tam Ky province. When Romo's nephew was killed in battle during the post-Tet period in 1968, Romo returned to the United States with the nephew's casket. He still had time left to serve; he trained infantry troops at Fort Ord in preparation for their own combat service in Vietnam.
He later joined the Vietnam Veterans Against the War and spoke out at many demonstrations, demanding an end to the conflict. In 1972, when Romo was a national coordinator for the organization, he traveled to Hanoi in North Vietnam as part of a peace delegation.
During the visit, the delegation spent a good part of its time being protected by the North Vietnamese from the infamous Christmas bombings carried out by B-52s as ordered by President Richard Nixon.
"An equivalent of one nuclear bomb a day was dropped," Romo said. During the bombings, Romo said he started to feel there was a madness behind the U.S. policy in Vietnam. During a question-and-answer session at the high school, one student asked Romo to describe his most horrifying memory of Vietnam. Romo talked about American soldiers who kicked pregnant Vietnamese women in their stomachs and cut the kneecaps off Vietnamese prisoners of war. He did not address the treatment of American soldiers by the Vietnamese.[1]
Vietnam
On December 11, 1972 Anniversary Tours, a Communist Party USA owned travel agency, booked Scandinavian Airlines, SAS, flights out of JFK Airport bound for Hanoi with folksinger Joan Baez, the Episcopal Rev. Michael Allen of Yale Divinity, Barry Romo of VVAW, and Gen. Telford Taylor, the former chief counsel of the war crimes trials of the Nazis at Nuremberg, Germany.
On December 13, 1972, Cora Weiss held a press conference and introduced Baez, Allen, Taylor and Romo as departing for Hanoi. Baez said she wanted to meet North Vietnamese and to witness war damage. Allen said they carried 500 pieces of mail. Weiss said this was COLIFAM's 36th mail trip.
VVAW's Barry Romo claimed the bombing was never to destroy military targets, but to terrorize and demoralize the Vietnamese people. Bombs falling on nonmilitary targets were not errors. Thesame homes and shops were hit several times, Romo claimed.[2]
Maoism
During 1973, members of the Maoist Bob Avakian's Revolutionary Union, (in fall of 1975 renamed the Revolutionary Communist Party, became active in VVAW with Barry Romo's support. The RU faction claimed to represent an activist veteran's "vanguard of revolutionary change."
In supporting the Revolutionary Union (Revolutionary Communist Party) faction, Barry Romo said VVAW had to avoid becoming a "Petite bourgeois debating society." It was a classic split between Maoists and other communists, single issue versus multiple issue.
Like Barry Romo, VVAW's Joe Urgo was also a member of the Revolutionary Communist Party along with SDS members Clark Kissinger and Carl Davidson.[3]
LOM
In the 1980s, Barry Romo was involved with the Line of March organization.
Unity
In 1990 David Currie, national staff member of Vietnam Veterans Against the War, West Virginia, and Barry Romo, Vietnam Veterans Against the War national coordinator, and recent visitor to Vietnam to "normalize relations", contributed to the January 29th issue of Unity, newspaper of the League of Revolutionary Struggle.
New Party mailing list
A Chicago New Party mailing list circa 1993 included the names;[4]
Committees of Correspondence connection
In 1994 Barry Romo, Chicago was listed on a "Membership, Subscription and Mailing List" for the Chicago Committees of Correspondence, an offshoot of the Communist Party USA.[5]
Oakland panel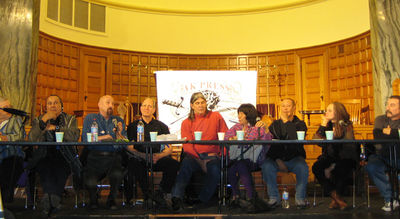 On December 4, 2005 Brooke Anderson arrived at the First Unitarian Church of Oakland, just a few blocks away from her new home in Oakland, California, to see Barry Romo on a panel convened by AK Press and KPFA. Having recently moved from Champaign, Illinois and missing my friends, I reveled in the idea of Barry and VVAW coming to Oakland, even if only for the evening.
The panel was called "The Future of Struggle: Movement Veterans Discuss Yesterday's Lessons for Today." The idea was to have key figures from various radical movements discuss lessons learned over the last four decades of organizing, how these lessons could be applied to work being done today, and how to move forward.
In addition to Barry Romo, the panel featured Kathleen Cleaver (Black Panther Party), Russell Means (American Indian Movement), Mike James (Students for a Democratic Society and Rising Up Angry), Elizabeth Martinez (Chicana activist and author), Ward Churchill (American Indian Movement), Bo Brown (George Jackson Brigade) and a former member of I Wor Kuen. [6]
Vietnam Agent Orange Relief & Responsibility Campaign
In 2012 Barry Romo served on the Board of the Vietnam Agent Orange Relief & Responsibility Campaign.[7]
References