Barry Commoner
Jump to navigation
Jump to search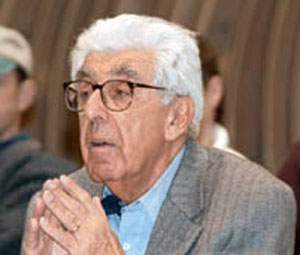 Template:TOCnestleft Barry Commoner
In The Times Founding sponsors
In 1976 founding sponsors of the Institute for Policy Studies/New American Movement linked socialist journal were;
Democratic Agenda
More than 1,200 people attended the Democratic Socialist Organizing Committee initiated Democratic Agenda Conference held November 16-18, 1979, at the International Inn and Metropolitan AM Church in Washington 1 DC. The conference focused on "corporate power'; as the key barrier to "economic and political democracy," concepts many Democratic Agenda participants defined as "socialism.'
The Democratic Agenda meetings attempted to develop anti-corporate alternatives" through influencing the direction of the Democratic Party during the period leading to the July 1980 Democratic National Convention in New York.
Keynote speaker Barry Commoner stated that "understanding energy" policy, options and, strategy was the way "to get a grip on the politics of the 80's." He expressed deep concern over the narrowing liberal majority in Congress, and opposition to the Defense Department's organizing a special "ready response" strike force that could be used to defend Middle East oil fields. Commoner asserted that inflation was the result of not having a federal energy program and plugged his embryonic Citizens Party.[2]
New American Movement connection
In 1979 the New American Movement published a booklet entitled "Socialist working papers on energy".
Contributors included Barry Commoner who wrote New Imperative: Social Governance of Production System.[3]
Physicians for Social Responsibility
Speakers at other New York City Physicians for Social Responsibility meetings from August 1981 to January 1982 included Michio Kaku, physics department, City College of New York, a frequent MFS rally speaker who links his antinuclear sentiments to the Hiroshima atomic bombing in which members of his family died; H. Jack Geiger, a founding PSR member and president of IPPNW; Barry Commoner, Citizens Party; and Joe Fahey of Pax Christi and the Manhattan College Peace Studies section on the European Nuclear Disarmament movement. Among the featured speakers in national PSR presentations have been Kosta Tsipis; Gene LaRocque, CDI; John Constable; H. Jack Geiger; Howard H. Hiatt.
1987 Rainbow conference/Board
At the 1987 National Rainbow convention in Raleigh North Carolina, a new board was elected, which included Barry Commoner.
Committee for Responsive Democracy
The Committee for Responsive Democracy began a series of hearings in New York, on November 13, 1990, on the "need for significant reform of the two party political system, as well as the feasibility of forming a new party". Sixteen hearings were planned, in eight major cities across the US. New York City Comptroller Liz Holtzman greeted the commission, saying that "many people don't see themselves as being represented".
Witnesses included Manhattan Borough president Ruth Messinger, Simon Gerson, chair of the Political Action and Legislative Commission of the Communist Party USA, Fern Winston of the Party's Womens Equality Commission. Civil Rights attorney Joseph Rauh urged work to invigorate the Democratic Party rather than turn to a third party.
Among the Commission's 49 members were former machinists Union president William Winpisinger, former California Supreme Court justice Rose Bird, former New Mexico governor Toney Anaya, environmentalist Barry Commoner, farm workers union leader Dolores Huerta, former Attorney general Ramsey Clark, author Barbara Ehrenreich, Joseph L, Rauh, Jr. and former Congressman and Presidential candidate John Anderson.[4]
Campaign for America's Future
In 1996 Barry Commoner, Queens College was one of the original 130 founders of Campaign for America's Future.[5]
References
Template:Reflist Template:Campaign for America's Future co-founders