Barrett Litt
Jump to navigation
Jump to search
Barrett "Barry" Litt is a Los Angeles lawyer, philanthropist and activist. He is married to Paula Litt.
October League
Speakers from the Organizing Committee for a Marxist-Leninist Party toured nine cities in August 1976, addressing the tasks ahead in building the party. Well over 1,200 people attended these forums.
Speaking in Boston to a crowd of 250 people made up largely of workers, OL Vice-Chairman Eileen Klehr pointed out the continuing role of ideological struggle in the organizational work of party building.
The Boston forum heard Shakoor Aljuwani of the Buffalo Unity Collective and a representative of the recently-formed Boston Unity Collective, as well as a cultural presentation that based itself on the struggle of communists to organize inside the St. Regis plant.
The theme of consolidating the political struggle with organizational unity was also addressed by Barry Litt of the League for Marxist-Leninist Unity, speaking in San Diego as a representative of the October League. Litt said Marxist-Leninists who support the "Call to Unite" should "enter the OC and struggle for a correct political line to be reflected in the Party program. We recognize the differences in our movement, but we also know that a high degree of unity now exists."
Over 150 people in Birmingham and Atlanta heard speeches by Susan Klonsky of the October League and Ernie McMillan of the Dallas Collective. In his remarks, McMillan summed up the civil rights movement which he participated in as a leader of SNCC. He pointed out the militancy of the masses in the '60s, but noted that it was the absence of a vanguard party which allowed the movement to be co-opted by reformism.
Sherman Miller, was the October League speaker in Chicago.[1]
DSA potential donors list
On January 21, 1992 Steve Tarzynski, National Political Committee of Democratic Socialists of America, wrote a letter to "Harold" (probably Harold Meyerson).
"Following is the list of possible major donors I can think of to pledge support for Trish and our program in southern California. Additions and comments sorely needed."
Question marks in original list.[2]
Los Angeles DSA potential donors list
On July 26 1992 California Democratic Socialists of America leader Steve Tarzynski wrote a draft "major donor letter" for Southern California DSA, inviting donors to join the Upton Sinclair Club of DSA[3]
We know you have been generous in supporting DSA's important work in the past. We'd like to develop a core of at least twelve people who will pledge 1,000 annually to keep our Organization working for Southern California DSA. We invite you to be one of those people. This select group of members and friends would have a key role in rebuilding a democratic left opposition in California.
This unique group of individuals would form the "Upton Sinclair Club" which will act in an advisory role meeting with the Southern California DSA leadership at an annual brunch. Sinclair Club members will receive a quarterly bulletin reporting on Southern California DSA's progress, and will have an opportunity to meet international DSA spokespeople and international guest speakers in more intimate small group settings. Admission to all local, statewide, and national DSA events in the Southern California would be complimentary with membership in the Sinclair Club.
The draft was accompanied by a "List of Potential major donors to DSA"
Upton Sinclair Club
In the early 1990s Paula Litt and Barrett Litt, Alhambra, were members of the Upton Sinclair Club, of Democratic Socialists of America. The club consisted of wealthy Californians able to contribute significant donations to DSA[4].
Judy Abdo
"Westside Friends of Jackie Goldberg"
Signatories to a letter from Westside Friends of Jackie Goldberg, dated January 15, 1993 were;
Socialists organize to "challenge for power" in Los Angeles
On March 11, 1998, Los Angeles Democratic Socialists of America leader Steve Tarzynski wrote an email to another Los Angeles DSA leader Harold Meyerson.
Tarzynski listed 25 people he thought should be on an "A-list" of "25 or so leaders/activists/intellectuals and/or "eminent persons" who would gather periodically to theorize/strategize about how to rebuild a progressive movement in our metropolitan area that could challenge for power."
Tarzynski listed himself, Harold Meyerson, Karen Bass, Sylvia Castillo, Gary Phillips, Joe Hicks, Richard Rothstein, Steve Cancian, Larry Frank, Torie Osborn, Rudy Acuna, Aris Anagnos, Abby Arnold, Carl Boggs, Blase Bonpane, Rick Brown, Stanley Sheinbaum, Alice Callahan, Jim Conn, Peter Dreier, Maria Elena Durazo, Miguel Contreras, Mike Davis, Bill Gallegos, Bob Gottlieb, Kent Wong, Russell Jacoby, Bong Hwan Kim, Paula Litt (and Barry Litt, with a question mark), Peter Olney, Derek Shearer, Clancy Sigal and Anthony Thigpenn.
Included in a suggested elected officials sub-group were Mark Ridley-Thomas, Gloria Romero, Jackie Goldberg, Gil Cedillo, Tom Hayden, Antonio Villaraigosa, Paul Rosenstein and Congressmen Xavier Becerra, Henry Waxman and Maxine Waters.
Tarzynski went on to write "I think we should limit the group to 25 max, otherwise group dynamics begins to break down....As i said, I would like this to take place in a nice place with good food and drink...it should properly be an all day event."
SCOPE 20th Anniversary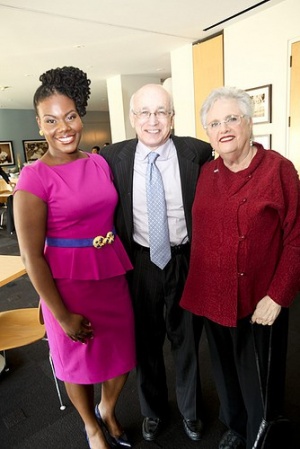 "When we started AGENDA back in 1993, we characterized it as an experiment. Because we kind of knew where we wanted to go, but how to get there was less clear to us. This is still true today as we continue to build the movement for social justice."
These are the words of Anthony Thigpenn, founder of SCOPE, and one of our respected honorees at a March 2014 celebration of SCOPE's 20th anniversary. In his address to a room of over 300 allies and friends, Anthony reminded us that we didn't have all of the answers when we first came together. But for SCOPE, "having the answers" was never the driving force behind our vision for change. Instead, we set out to empower the residents of our community to think for themselves, to design their own solutions, and to speak out on issues that affect the quality of their lives. Our founders believed that our community had the answers to the problems plaguing South LA—and from looking around the room last Thursday, it's clear that they were right.
Attendees included Manuel Chavez, Gloria Walton, Lynette Steele, Patricia Livingston, Clementina Lopez, Latrece Jackson, Sherri Wallace, Anthony Thigpenn, Jennifer Speck, Chante Harriel, Maria Virginia Otero, Mari Mercado, and Juan Canto, Congress member Karen Bass, Shay Salter, Chris Nixon, Kevin de Leon, Antonio Villaraigosa, Manuel Pastor, Soloman Rivera, Manuel Hernandez, Veronica Carrizales and Maria Elena Durazo.
Many of SCOPE's members standing alongside activists, community organizers, elected officials, union leaders, academics, and educators attended. Proof that South LA's progressive community is strong, thriving and growing.
The meeting honored Gerry Hudson, Paula Litt and Barry Litt and Anthony Thigpenn.[5]
Advancement Project board member
Board members of the Advancement Project, as of March 2013;[6]
References