Barbara Dudley
From KeyWiki
Barbara Dudley ...has been a labor lawyer, a socialist-feminist writer, executive director and president of the National Lawyers Guild, executive director of Greenpeace USA, Assistant Director for Strategic Campaigns at the AFL-CIO, and founder of the Oregon Working Families Party. She currently teaches at Portland State University.[1]
Education
Barbara Dudley received her BA in Political Science with honors in Social Thought from Stanford University in 1967, and her JD from the University of California at Berkeley in 1971. Ms. Dudley was a Lecturer in the UC Berkeley School of Criminology in 1973 and 1974. She practiced law in California with California Rural Legal Assistance and with the Agricultural Labor Relations Board.[2]
Activism/academia
In 1983, Dudley became the President and Executive Director of the National Lawyers Guild headquartered in New York City; from 1987 to 1992 served as Executive Director of a New York based Unitarian Universalist charitable foundation; from 1992 to 1997 was Executive Director of Greenpeace USA; and in 1998 was appointed Assistant Director for Strategic Campaigns of the national AFL‑CIO.
In 1999, Ms. Dudley moved to Oregon where she has been a partner in a family business, Bethel Heights Vineyard, since 1978. She is also a founder of and Senior Policy Advisor to the Oregon Working Families Party. She currently serves on the Portland Workers Rights Board as well as the boards of the Oregon Center for Public Policy, Family Forward Oregon, the National Lawyers Guild Foundation.
Ms. Dudley has been an adjunct assistant professor at Portland State since 2000. She has taught courses in Political Science, Public Administration, and Sociology, including courses on the World Trade Organization, History and Foundations of the Nonprofit Sector, Advocacy and Political Participation, Globalization of Civil Society, Social Sustainability, and the Politics and Economics of Student Debt. Ms. Dudley is a Senior Fellow at the Hatfield School's Center for Public Service.[3]
Stanford Foreign Policy Seminar
The first core seminar for the IIR Foreign Policy Institute's upcoming conference on Revolution and American Foreign Policy will be held tonight in Tresidder under the leadership of Prof. Sinclair Drake. The conference, which will run from January 21 to 23 1966, will feature five speakers: Senator Frank Church of Idaho, cultural anthropologist Anthony Wallace, Yale's Dr. Truong Buu Lan, Dr. Benjamin Nunez, and a still-un-announced expert on Africa. The conference will focus on the geographical aspects of revolution, approaches to and types of revolution.[4]
Contacts were Kurt Moses and Barbara Dudley.
New Party founders
The two key founders of the New Party were Joel Rogers and Dan Cantor.
The first strategic meetings to plan the New Party were held in Joel Rogers' home in Madison Wisconsin in the very early 1990s. Present were Rogers' wife Sarah Siskind, Dan Cantor, ACORN leaders , Wade Rathke ,Zach Polett , Steve Kest and Jon Kest , Steve Cobble from the Institute for Policy Studies (in an advisory role), Sandy Morales Pope (for the first 18 months), Harriet Barlow and Barbara Dudley.
The very first meeting included Gerry Hudson from Democratic Socialists of America and SEIU and Gary Delgado, plus labor activists Sam Pizzigati and Tony Mazzocchi. Anthony Thigpenn of Los Angeles was also approached, but though supportive did not wish to play a leadership role.[5]
New Party builder
New Party News Fall 1994 listed over 100 New Party activists-"some of the community leaders, organizers, retirees,, scholars, artists, parents, students, doctors, writers and other activists who are building the NP" the list included Barbara Dudley, Greenpeace.
SEAC, 1995 conference
This October 13-15, 1995, Student Environmental Action Coalition returned to its roots at UNC-Chapel Hill to host ts fourth National Conference. The conference will bring young people together from all over the country to learn more about current environmental issues.
Partial speakers list;
Back to Basics conference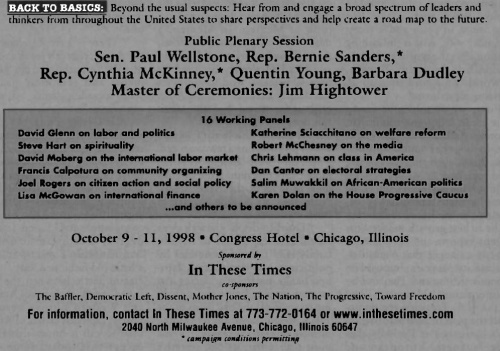 A Back to Basics conference on the future of the American Left, was held in Chicago October 9-11, 1998. Speakers included: Sen. Paul Wellstone, Rep. Bernie Sanders, Rep. Cynthia McKinney, Barbara Dudley, Quentin Young and Jim Hightower. The conference was sponsored by Sponsored by In These Times[7].
References