Barbara Corrado Pope
From KeyWiki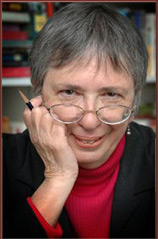 Barbara Corrado Pope ... fell in love with the art, landscapes and people of Provence while teaching French, women's and religious history to American students in Avignon. Among the many places she led lecture-tours were Aix-en-Provence, where she followed in Cézanne's footsteps, from the hidden depths of the Bibémus Quarry to his sunny studio at Les Lauves on the outskirts of town.
She has a PhD in the Social and Intellectual History of Europe from Columbia University and has taught history and women's studies in places as diverse as Hungary, Tuscany, the University of New Mexico, and Harvard Divinity School. Her longest stint was at the University of Oregon, where she was the founding director of women's studies.
Born and raised in Cleveland, Ohio, Barbara Corrado Pope resides in Eugene, Oregon, where she is actively pursing a second career as a novelist. She has just completed The Blood of Lorraine, a second Bernard Martin mystery, which will be published in both the United States and Germany in 2010.[1]
She is married to Daniel Pope.
New American Movement
In 1978 Barbara Corrado Pope was a member of the Willamette New American Movement[2].
References
↑

Women Organizing, No 2, Spring 1978