Barbara Arnwine
Jump to navigation
Jump to search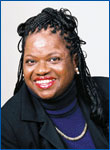 Template:TOCnestleft Barbara R. Arnwine is the Executive Director of the Lawyers' Committee For Civil Rights Under Law.[1] She founded the Transformative Justice Coalition in 2015.
Activism
Arnwine, a prominent leader in the civil rights community, is executive director of the Lawyers' Committee for Civil Rights Under Law. She is internationally known for contributions on critical justice issues including the passage of the landmark Civil Rights Act of 1991. A graduate of Scripps College and Duke University School of Law, she continues to champion civil rights issues nationally and internationally in the areas of housing, fair lending, community development, employment, voting, education and environmental justice.
In 1995, Ms. Arnwine served as national convener of the National Conference on African American Women and the Law held in Washington, D.C. and subsequently led a delegation to the NGO Forum and Fourth World Conference on Women in Beijing. In 2001, she helped draft provisions of the Program for Action of the UN World Conference Against Racism, Racial Discrimination, Xenophobia and Related Intolerance in Durban, South Africa.[2]
Netroots Nation 2021
DC STATEHOOD IS RACIAL JUSTICE Panel; Thu, 10/07/2021 - 03:45pm (Eastern)
Long tied to voting rights and representation, the issue of DC Statehood is rooted in racism. Throughout the history of the District, white politicians have worked to reduce and eliminate black power in the District of Columbia. For activists and allies interested in dismantling systemic racism, Statehood for DC is an achievable solution with immediate impact. Our panel of national and local leaders will lead a conversation on the issues throughout history and present in proposed alternative solutions to Statehood.
Led by: Dr. Ravi Perry
Panelists: Cliff Albright, Barbara Arnwine, Janeese Lewis-George
Voting rights press conference
July 13, 2011 WASHINGTON, DC-- Congresswoman Marcia L. Fudge (OH-11) made this statement today at the voting rights press conference:
"[In Ohio] We have one of the most draconian voter suppression bills in the United States. If we are going to have a society that involves all of its citizens, we cannot allow for these kinds of bills to be passed by legislature after legislature... Across this country, 11% of all people who are eligible to vote do not have a government issued ID. That's 21 million people. Every time we take one step forward, we take two steps back. And we're not going to allow it to happen. "
Members in attendance:
Rep. Bennie Thompson, Rep. Corrine Brown, Rep. Sheila Jackson Lee, Rep. Charles A. Gonzalez, Rep. Tim Ryan, Rep. Gwen Moore, Rep. Betty Sutton, Rep. Hank Johnson, Rep. Donna Christensen, Rep. Maxine Waters, Rep. Steve Cohen, Rep. Karen Bass.
Organizations and leaders in attendance:
Rev. Jesse Jackson, Rainbow PUSH Coalition, Tamika Mallory, National Action Network, Barbara Arnwine, Lawyers' Committee for Civil Rights Under Law, Laura Murphy, American Civil Liberties Union Hilary Shelton, NAACP, Rafael Collazo, National Council of La Raza/Democracia USA, Nichole Austin-Hillery, Brennan Center for Justice, Campus Progress, Center for American Progress, Diallo Brooks, People for the American Way.[3]
Rainbow PUSH Coalition
The Rainbow PUSH Coalition & Citizenship Education Fund held its 42nd Annual International Convention "A More Perfect Union: 150 Years Later Beyond Freedom – Reconstruction" July 6 - 10, 2013 Chicago Hilton & Towers. The Saturday morning Forum key issues we face today: access to health care, achieving high quality public education for all students, home and church foreclosures, urban violence, unemployment, economic recovery, and more, was moderated by Professor Charles Ogletree, Harvard University School of Law.
Panelists were: Rep. Marcia Fudge, Chair, Congressional Black Caucus, Michelle Alexander, Attorney and Author of "The New Jim Crow", Barbara Arnwine, Attorney & Executive Director, Lawyers' Committee For Civil Rights Under Law, David Slane, Attorney, Robert Borosage, Founder & President, Campaign for America's Future, Cliff Kelly, Talk Show Host, WVON Radio, Chicago, Willie Gary, Attorney, Jonathan Jackson, Rainbow PUSH Coalition National Spokesman, Fred Gray, Civil Rights Attorney, Danny Davis, Congressman, Bobby Rush, Congressman.[4]
PIRE former Advisory Board Members
Philanthropic Initiative for Racial Equity, former Advisory Board members since launch in 2003:
National Leading From the Inside Out Alum
Barbara Arnwine, Executive Director, Lawyers Committee for Civil Rights Under Law, was a 2008 Rockwood Leadership Institute National Leading From the Inside Out Alum.[5]
External links
References