Athena Salman
From KeyWiki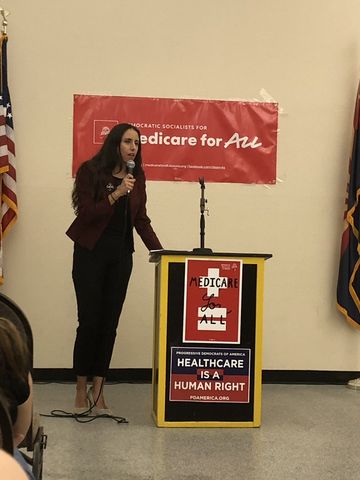 Athena Salman is an activist and a Democratic member of the Arizona House of Representatives elected to represent District 26 in 2016. Athena Salman currently serves as the Minority Whip of the Arizona House of Representatives.
Addresses DSA's Medicare for All
Athena Salman addresses Democratic Socialists Medicare for All, tweeted by Phoenix Democratic Socialists of America in October 2018. The Tweet quoted her as saying:[1]
"Why do they want us to internalize our own oppression? Could it be because in one quarter Cigna made $123 million? How many kids could we feed and educate with that money?"
Dan O'Neal October 26, 2018 ·
Great event with Michael Lighty - Medicare For All - DSA leader Benjamin Fong, PDA state coordinator Dan O'Neal, Michael Lighty of The Sanders Institute, CWA activist Yolanda Bejarano, and State Rep. Athena Salman.
LUCHA
Tweet in support of Living United for Change in Arizona (LUCHA) dated Dec 7, 2017 with Juan Mendez and Athena Salman
Supporting Kyrsten Sinema
Athena Salman quoted in Buzzfeed article in 2018:[2]
On the weekend Donald Trump was visiting Phoenix to campaign for Republican Senate candidate Rep. Martha McSally, young, progressive, Latinx volunteers flooded the city's suburbs in droves, going door to door, often in bright pink Planned Parenthood T-shirts, canvassing for Kyrsten Sinema.
"It's like when we had to vote for either Trump or Hillary," Angelica Romero, 21, the vice president of the Planned Parenthood student activist group on the Arizona State University campus said. "Hillary wasn't the perfect candidate, there was a lot I disagreed with her on, but are we gonna vote for Trump? No. Are we gonna vote for McSally? No."
"McSally is just so much worse," said Athena Salman, a young, progressive Democratic state legislator in Arizona. "To create a false equivalency there is absurd and dangerous," she added. "That's how we ended up with Trump."
Interested in he People's Summit
Athena Salman marked herself as "interested" on the Facebook event invitation[3] for the 2017 People's Summit, accessed on June 15 2017.
Support of CAIR - Arizona
On Jun 13, 2017, Athena Salman was pictured with Juan Mendez and other "comrades" in support of CAIR - Arizona, tweeted by Phoenix Democratic Socialists of America.[4]
Fight for $15
Rep. Isela Blanc April 18, 2016; With Edmund Higgins, Isela Blanc, Athena Salman, Juan Mendez and Patrick Morales at Margaret T. Hance Park.
References