Athena Matyear
From KeyWiki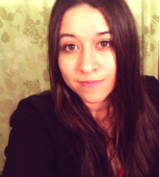 Athena Matyear is a member of the Communist Party USA.[1]
Former Community Outreach Coordinator at Centro Mayapan; Lives in Concord, California.
She has been an intern at Women's Resource Center.
Education
The University of Texas at El Paso, 2007 – 2012
El Paso
Athena Matyear was the Community Outreach Coordinator for La Mujer Obrera, an economic justice organization in El Paso, Texas.
Her mission is to support local movements by securing funding and resources for economically disadvantaged and underserved communities in El Paso. Previously, she participated in the Advocates for Youth Great American Condom Campaign and focused on reproductive justice issues while she studied Organizational Communication at the University of Texas at El Paso. Athena is very excited to be a member of Y-FAB where she will work with amazing people and gain valuable skills.[2]
USSA
"Ultimately, we want to help students alter power relations on their campuses," Athena Matyear, training director for the United States Student Association (USSA), told the People's Worldat the University of California-Irvine (UCI) during a break at their 67th Annual National Student Congress, in 2014.
USSA, the nation's largest and oldest student organization, is committed to "helping students identify what their goals are and how to achieve them," Matyear added. "We want to use our resources and our people power – as students – to our full potential."
Nearly 200 students from 22 campuses across the country met August 7-12 to discuss administrative and action resolutions, plan work for the coming year, organize and attend workshops and elect their in-coming vice president and president.
Matyear, a University of Texas graduate, organizes and coordinates GROW (Grassroots Organizing Weekends) Trainings on USSA campuses across the country in-order to "focus students on direct action organizing that brings the community aspects of student issues to the forefront and challenges power."
John Delshadi, a UCI senior, told the World, "The USSA Congress sets the tone for student advocacy for the year to come."[3]
Communist Party
In 2014 Athena Matyear attended the Communist Party USA's national convention in Chicago.[4]
What's race got to do with it?
"What's race got to do with it? Class, ethnicity and conflict in an evolving U.S. nation"
Sunday 15 February 2015, 20:00, Organized by : Communist Party USA
Join us for a Sunday evening discussion of Lenin's analysis of nations and national oppression and their applicability to 21st century America. Joe Sims will facilitate.
Those indicating they would attend on Wherevent include Dee Myles, Casey Doyle, Michelle Kern, Keri Rautenkranz Barbara Russum, Christian L. Wade, Athena Matyear, Emily Nashoba Dykes, Abby Liz, Betty Smith, Kelly Sinclair, Kathleen Casey, Chris Reynolds, Charles Brown, Josh Leclair, Roberto J. Mercado, Emile Schepers, Christopher D. Sims, Abdol H. Banaei, Zachary Clereigh, David Bender, Earchiel Johnson, Dan Power, Ahmad Budi, Adam R. Raven, Kyle Ritzinger, John Milam, Estevan Nembhard, Adrian Felty Ken Heard, Jordan Stepleton, Badreldin Elfaisal, Daniel Sankey, Hasan İncedere, Armando Ramirez, Chris Elliott, Larry Burks II . [5]
References