As You Sow
Jump to navigation
Jump to search
As You Sow is a shareholder activism organization who engages in progressive corporate pressure campaigns to "increase corporate responsibility on a broad range of environmental and social issues." Their slogan is "We change corporations for good."[1]
Background
As You Sow Chairman Thomas Van Dyck "founded the group in 1994" to shake down businesses who did not comply with Proposition 65, California's toxic labeling law. As You Sow was able to take advantage of "[T]he law's unique 'bounty hunter' provision [which] gives private citizens the ability to enforce the law and collect a portion of the penalties businesses pay."[2] On July 19, 2011, legal news service Law350 described Proposition 65 as a "treacherous trap for manufacturers and distributors and a lucrative source of settlements and attorney fees for a handful of professional plaintiffs."[3]
Partnering Organization of the People's Climate March
According to their website:[4] As You Sow was a "Partnering Organization" of the People's Climate March as of April 26, 2018.
Proposition 65
A congressional hearing dated October 28, 1999 titled "Proposition 65's Effect On Small Business"[5] referred to "private enforcers" who used Proposition 65 to "target small businesses which must settle because they cannot afford to fight frivolous lawsuits and still meet their payrolls." Further, it was testified that the "private enforcers" such as attorneys from As You Sow "often fail to inform small businesses that Proposition 65 exempts businesses with less than ten employees." The hearing referred to the following individuals from As You Sow: Thomas Van Dyck, Patrick Wilson, Christopher Bricca, Clifford Chanler, and Eric Somers.
During the hearing, an attorney representing two of the businesses being targeted by As You Sow claimed: "As You Sow itself is at best, a shadow organization. They have no office, apparently only a mailbox address, and I have been unable to locate their name in the Oakland telephone book."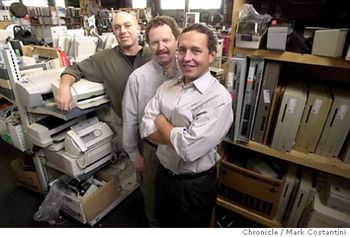 From a 2004 article on As You Sow:[6]
"Dell Inc. next month will become the first major PC-maker to commit to specific goals for recycling computers and the toxics they contain. The Gap developed a system to rate labor standards at its overseas contractors and this spring will begin releasing reports on factory working conditions in some countries. Home Depot has stopped selling old-growth and tropical lumber.
"These changes started with shareholder resolutions or discussions with management initiated by the As You Sow Foundation in San Francisco, in conjunction with large shareholder groups.
"From a Financial District office decorated with posters on progressive issues and full-page newspaper ads the small organization has run, As You Sow assists shareholders, such as foundations and socially responsible investment funds, that want to nudge corporations toward better treatment of workers and the environment.
"As You Sow helps form shareholder coalitions, solicit support from major investors, write shareholder resolutions and get the ear of management. Its big selling point: It analyzes the business benefits to companies of going green or changing their labor practices, rather than playing the holier-than-thou card.
"We don't say do this because we're do-gooders," said Conrad MacKerron, director of the corporate social responsibility program at As You Sow. "We know that doesn't wash on Wall Street. We go in and say not only is it the right thing to do, but here's the business/economic case for it because we want this to be a profitable company."
"Further, he said, it is difficult for companies to ignore their largest investors. "They can't dismiss you or marginalize you as some extreme interest group. We talk about long-term value. In the age of globalization, the most valuable thing these companies have is their brand name. We stress over and over that getting these controversies behind them will help maintain long-term value."
"As You Sow provides "cross-cultural communication" between the idealism of grassroots groups and the bottom-line focus of major corporations, said Michael Passoff, associate director of the corporate social responsibility program.
"Despite its name, the group is more a consulting firm than a foundation. It has no endowment and is funded through consulting fees and grants. It charges between $25,000 and $50,000 to run a campaign
"Pat Nathan, sustainable-business director at Dell, said she appreciates As You Sow's approach. Nathan said As You Sow spoke to Dell in a "constructive, supportive manner, not asking for the moon" and suggested that the company would benefit financially from recycling. The group pointed out that Dell's direct sales approach gives it "a great line of sight to customers; if anyone could figure out the reverse logistics to get (computers) back (for recycling), it would be Dell," she said.
"As You Sow initiates that kind of campaign as part of its mission to stay on the cutting edge of problems that resonate with the public and have cost- effective solutions, MacKerron said. In this case, it lined up the Calvert Funds as a co-sponsor, and found other major shareholders who agreed that increasing recycling of computers, which contain a variety of hazardous compounds, is an important issue.
"Now, Dell is developing what MacKerron called an aggressive but achievable goal for how many PCs it will take back for recycling. The company lets consumers send in old PCs for recycling for $5 and offers regular recycling days in major cities. Dell also responded to As You Sow's suggestion that it include information about recycling on its catalog cover, Nathan said.
"As You Sow's successes, most of them incremental rather than revolutionary, come at a time when shareholder activism is increasing. Almost 300 shareholder resolutions on social issues were filed last year; about the same number are expected this year, according to Meg Voorhes, director of social issues at the Investor Responsibility Research Center in Washington. (By contrast, more than 600 resolutions were filed on corporate governance issues in the wake of the accounting scandals morass.)
"Shareholder resolutions on social issues are breaking new ground, although they've been around for more than three decades and were a major tool for anti-apartheid activists in the 1970s and 1980s.
"'Shareholder advocacy is broadening in terms of the institutions involved, " Voorhes said. "Ten or 15 years ago, religious investors were filing the majority of shareholder proposals on social issues. They are still the single most important group, but now public pension funds, labor unions, socially responsible investment firms, and groups like Amnesty International, Friends of the Earth and the Sierra Club are all becoming active."
"The other big change: Companies are listening and responding more.
"Campaigns by As You Sow and shareholders led to Coca-Cola and Pepsi agreeing to use some recycled plastic in their bottles; Staples and Office Depot increasing the amount of recycled content in the paper they sell; and McDonald's and Walt Disney Co. increasing internal monitoring of labor practices at overseas vendors.
"As You Sow is talking with companies such as Starbucks, Du Pont and Heinz about another big issue: genetically engineered foods. Computer recycling remains a hot topic, and the group is hoping that Dell's example will inspire other computer-makers such as Apple, Hewlett-Packard and IBM to set their own goals.
""It's a cart-horse thing," said Patrick McGurn, vice president of Institutional Shareholders Service, which advises large investors on proxy votes. "Resolutions have been better written and better targeted in recent years by some of these new-age activists (and so) are getting higher voting support."
"Many issues don't become resolutions. The very specter of a resolution usually inspires corporations to come to the negotiating table rather than hashing out sensitive issues in the public forum of an annual meeting.
"And social-change resolutions almost never win. Last year, social-issue proposals drew an average of 12 percent of shareholder support, according to the Investor Responsibility Research Center. Voorhes said that is a significant increase from an average of 7 or 8 percent in prior years.
"But shareholder proposals and dialogue clearly light a fire under companies.
"'It's hard work to try to change big companies, like hitting your head against a brick wall," said Tim Smith, a senior vice president at Walden Asset Management and president of the Social Investment Forum, the trade group for socially responsible investors.
"'As You Sow has been a long-distance runner keeping pressure on companies for a very long time. Their powers of dialogue and persuasion have helped turn around some companies such as Disney with sweatshop issues. They're not Don Quixote tilting at windmills."
"As You Sow Chairman Thomas Van Dyck, 46, founded the group in 1994 to hold corporations accountable for complying with Proposition 65, California's toxic labeling law.
"The Prop 65 side of the organization, led by Executive Director Larry Fahn, who also is president of the Sierra Club, sues companies that violate the toxics law and disburses the lawsuit settlements as grants to California environmental groups.
"During the past decade, As You Sow has given out about $2 million in grants. The Prop. 65 suits have led to more disclosure about mercury levels in fish, the elimination of formaldehyde and benzene in construction of portable classrooms, and the removal of toluene from nail enamel, the group said.
"In his day job, Van Dyck, a co-founder of Progressive Asset Management, consults on socially responsible investing at Piper Jaffray & Co. in San Francisco. As You Sow branched into corporate social responsibility in 1997.
"Van Dyck sees pursuing change at the corporate level as a natural dynamic.
"'The capital markets can create social change much more quickly than legislation or litigation because that profit incentive is in place," he said.
"'The best management incorporates environmental and employee practices that are more sustainable long term. You can make as much money by doing what's right as (by doing) what's exploitative; and in the long run, you'll do better. It's only in the short run that exploitative practices do better because you're cheating the system."
Tactics
An August 2019 OpEd at The Hill discusses tactics used by As You Sow:[7]
"Liberal activist shareholders have a well-defined pattern of altering corporate behavior...First, a progressive shareholder group, almost always from the As You Sow network, files a shareholder resolution demanding a company make a pro-ESG policy statement. Go to any corporate website today, and you will assuredly see corporate commitments to environment, governance and social causes. Even financial forms such as proxies and annual statements are rife with these flowery statements. Again, this sounds innocuous. However, here's where the corporate gadflies ramp up the pressure.
"Once the left has the statement it wants, it next targets those companies with proposals calling for further action on those stated principles. Oftentimes that action would restrict the companies' commercial speech and freedom of association.
"For example, if a company simply says it is committed to the environment, it can expect to get a follow-up shareholder proposal demanding that it cease any affiliation with conservative politicians or pro-business organizations. Since most business associations oppose onerous regulation — including heavy-handed environmental legislation — the left maligns these groups as anti-environment."
Green New Deal Advocacy
A post by Daniel Stewart dated July 30, 2019 on the As You Sow website titled "A Green New Deal Is a Smart Deal for Investors" advocates for the Green New Deal:[8] Here is an excerpt:
"In February 2019, representative Alexandria Ocasio-Cortez (NY-14) and Senator Edward Markey (MA) introduced the Green New Deal as a non-binding resolution. The resolution lays out an ambitious federal strategy to decarbonize the U.S. economy and thereby increase clean power, create good jobs, improve air and water quality, while increasing U.S. global competitiveness. The carbon reduction goals of the Green New Deal are informed by the scientific consensus about the increasing impacts of global warming...
"Climate impacts present broad portfolio risks to investors who hold interests in companies and industries across all sectors of the global economy. Awareness of the systemic risk that climate change poses to the global economy is developing in influential institutions. For example, the Network for Greening the Financial System, a coalition of 36 central banks, was established at the end of 2017 with the purpose of helping to achieve the goals of the Paris Agreement and manage risks to the financial system. Frank Elderson, chair of the Network for Greening the Financial System, forcefully stated that "a transition to a green and low-carbon economy is not a niche nor is it a 'nice to have' for the happy few. It is crucial for our own survival. There is no alternative."
[...]
"An industrial green policy in the spirit of the Green New Deal with the goal of solving climate change would spur massive amounts of innovation, new markets, and businesses — a vast opportunity for investors. According to economist Mariana Mazzucato, director of the Institute for Innovation and Public Purpose in University College London, a Green New Deal "should create new opportunities for investment, so that growth and sustainability move hand in hand."
[...]
"A truism of markets is that business does not invest unless it sees an opportunity for growth. The Green New Deal would spur market opportunity. By clearly establishing that this is the direction our country is headed, corporations would be better able to plan for necessary change, secure competitive advantage, respond to new opportunities, and mitigate against the risks posed by climate change. Such policies would not only help in limiting climate related risk but also create an abundance of opportunity for the investment community. Recent research projects a potential direct economic gain of $26tn by 2030 if bold climate action is taken. Nobel-prize winning economist Joseph Stiglitz has endorsed the idea of a Green New Deal touting that it would be good for the economy by stimulating demand, creating jobs, and likely ushering in a new economic boom.
"Given what a Green New Deal could do to protect and unlock future value in investor portfolios, what can the investment community do to support its core principles? Investors must be vocal about what they have to lose and gain in face of the growing climate crisis and must support the solutions needed to prevent massive value destruction. Investor support for the concepts embedded in the Green New Deal is clearly growing. This was recently demonstrated by an investor letter organized by As You Sow with support from more than 50 investors representing more than $60 billion in assets under management. The letter was sent to every representative and senator on the 116th congress, urging action. Investors must also incorporate this urgent message into engagements with corporations. As You Sow's 2019 resolution with oil and gas company Chevron, for example, calls for the company to explain how it can align its business model with the Paris Agreement — a request very much in line with what the Green New Deal aims to achieve. Investors must ensure that the companies in which they invest provide information to understand the risk and opportunity their business actions are creating and have a clearly communicated vision for how they will align with Paris net zero targets.
"Finally, investors should reflect on their own investment strategy. As mentioned previously, central banks and financial regulators are becoming more acutely aware of the risk and corresponding financial materiality of climate change. As such, the fiduciary duty of investors regarding climate change is under scrutiny. Recently a panel of financial experts from Harvard, Stanford, and other respected institutions advising the New York State Common Retirement Fund concluded that 'the fund pursue alignment of its entire portfolio with a 2-degree or lower future by 2030 in accordance with the climate science consensus.' This view is similar to As You Sow's call in a 2018 report — 2020: A Clear Vision for Paris Compliant Shareholder Engagement — calling on investors to ensure that the oil and gas companies in which they invest have low carbon business transition plans in place to help ensure alignment with the Paris Agreement goals of keeping global warming at or near 1.5°C.
"Ultimately, the ethos of the Green New Deal should be embraced and supported by investors. If carried out comprehensively, it would bring about ambitious policy solutions commensurate with the magnitude of the climate change emergency, create a clear pathway forward to protect investment interests, transform and decarbonize the U.S. economy, minimize risk of climate breakdown impacts, and maximize opportunities in the low-carbon economy.
People
Board of Directors
The following individuals were listed on the As You Sow board of directors and advisory board as of August 29 2019:[9]
Advisory Board
Executive Staff
The following individuals were listed on the As You Sow staff as of August 29 2019:[10]
Program Staff
Development, Operations, Digital Strategies, and Communications Staff
Current Fellows
References