Aris Anagnos
From KeyWiki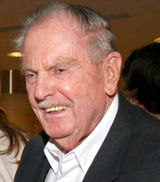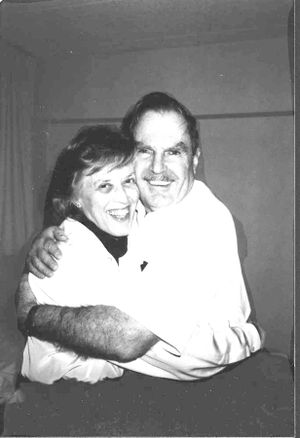 Aris Anagnos was born in Greece where he served in the Greek army in World War II. He came to UCLA for his studies and went on to build a successful business in Southern California. He has distinguished himself as champion of social justice. Aris Anagnos is an activist for peace in Kosovo and Serbia, and for human rights movements in Latin America. He has been awarded the Ralph Bunche Peace Award by the United Nations Association. He is also the founder of American Hellenic Council of Southern California, an organization that promotes Hellenism and the Greek issues in the US.
When Turkey invaded Cyprus in 1974, Aris with some other fellow Greeks established the Save Cyprus Council (later renamed the American-Hellenic Council), which grew into a principal political lobbying group dedicated to the promotion of Greek-American interests.
Anagnos has served on the Board of the American Civil Liberties Union of Southern California since the early 1980s, including a two-year term as President of that chapter. He is also the former Executive Vice President of Southern California Americans for Democratic Action.
Anagnos — along with Martin Sheen, Ed Asner, Jodie Evans, Noam Chomsky, and Howard Zinn sat on the Board of Directors of the Office of the Americas ), a non-profit organization dedicated to anti-war and anti-U.S. foreign policy activism. Seeking to help put an end to "the culture of militarism throughout the world," OA aims to confront "areas of U.S. foreign policy which its Board of Directors considers illegal and/or immoral."
In 2002 Anagnos was a signatory to Not in Our Name's "Statement of Conscience," which condemned the Bush administration's "stark new measures of repression" domestically, and its "unjust, immoral, illegitimate, [and] openly imperial policy towards the world."[1]
National Committee to Abolish the House Un-American Activities Committee
As of May 1964, Aris Anagnos, insurance, Beverly Hills, was listed as a sponsor of the Communist Party USA front, National Committee to Abolish the House Un-American Activities Committee.
DSA potential donors list
On January 21, 1992 Steve Tarzynski, National Political Committee of Democratic Socialists of America, wrote a letter to "Harold" (probably Harold Meyerson).
"Following is the list of possible major donors I can think of to pledge support for Trish and our program in southern California. Additions and comments sorely needed."
Question marks in original list.[2]
Los Angeles DSA potential donors list
On July 26 1992 California Democratic Socialists of America leader Steve Tarzynski wrote a draft "major donor letter" for Southern California DSA, inviting donors to join the Upton Sinclair Club of DSA[3]
We know you have been generous in supporting DSA's important work in the past. We'd like to develop a core of at least twelve people who will pledge 1,000 annually to keep our Organization working for Southern California DSA. We invite you to be one of those people. This select group of members and friends would have a key role in rebuilding a democratic left opposition in California.
This unique group of individuals would form the "Upton Sinclair Club" which will act in an advisory role meeting with the Southern California DSA leadership at an annual brunch. Sinclair Club members will receive a quarterly bulletin reporting on Southern California DSA's progress, and will have an opportunity to meet international DSA spokespeople and international guest speakers in more intimate small group settings. Admission to all local, statewide, and national DSA events in the Southern California would be complimentary with membership in the Sinclair Club.
The draft was accompanied by a "List of Potential major donors to DSA"
Socialists organize to "challenge for power" in Los Angeles
On March 11, 1998, Los Angeles Democratic Socialists of America leader Steve Tarzynski wrote an email to another Los Angeles DSA leader Harold Meyerson.
Tarzynski listed 25 people he thought should be on an "A-list" of "25 or so leaders/activists/intellectuals and/or "eminent persons" who would gather periodically to theorize/strategize about how to rebuild a progressive movement in our metropolitan area that could challenge for power."
Tarzynski listed himself, Harold Meyerson, Karen Bass, Sylvia Castillo, Gary Phillips, Joe Hicks, Richard Rothstein, Steve Cancian, Larry Frank, Torie Osborn, Rudy Acuna, Aris Anagnos, Abby Arnold, Carl Boggs, Blase Bonpane, Rick Brown, Stanley Sheinbaum, Alice Callahan, Jim Conn, Peter Dreier, Maria Elena Durazo, Miguel Contreras, Mike Davis, Bill Gallegos, Bob Gottlieb, Kent Wong, Russell Jacoby, Bong Hwan Kim, Paula Litt (and Barry Litt, with a question mark), Peter Olney, Derek Shearer, Clancy Sigal and Anthony Thigpenn.
Included in a suggested elected officials sub-group were Mark Ridley-Thomas, Gloria Romero, Jackie Goldberg, Gil Cedillo, Tom Hayden, Antonio Villaraigosa, Paul Rosenstein and Congressmen Xavier Becerra, Henry Waxman and Maxine Waters.
Tarzynski went on to write "I think we should limit the group to 25 max, otherwise group dynamics begins to break down....As i said, I would like this to take place in a nice place with good food and drink...it should properly be an all day event."
In These Times
As of 2009 Aris Anagnos was a member of the Publishing Consortium of Chicago based socialist journal In These Times.[4]
Progressive Jewish Alliance
On the arganization's website, Aris Anagnos and Carolyn Anagnos are named as founders of the California based Progressive Jewish Alliance.[5]
Harry Bridges Project Advisory Board
As of 2014 Aris Anagnos served on the The Harry Bridges Project Advisory Board. The project was formed to promote the work an ideals of the late Harry Bridges, an iconic Bay Area labor leader and one time secret member of the Central Committee of the Communist Party USA.[6]
California Grayson Senate campaign supporters
Aris Anagnos, John Amato, Cindy Asner, Ed Begley, Jr., Tom Coleman, Frances Fisher, Lindsay Gardner, Jan Goodman, Lila Garrett, Howie Klein, Jerry Manpearl, Scott Mayers, Sara Nichols, Rick Overton, Dorothy Reik, Frank Reyes and Eloise Reyes, Paul Song, Ron Stone, Patric Verrone, Marianne Williamson, Roger Wolfson.
(Host Committee in Formation) - In Support Of Congressman Alan Grayson for U.S. Senate 2016.
Sunday August 30, 2015, The Lantern House Venice, CA.
References