Ari Melber
From KeyWiki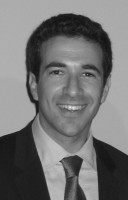 Ari Melber is a correspondent for The Nation magazine, a writer for the magazine's blog, and a columnist for Politico.
During the 2008 presidential election, Melber traveled with the Obama Campaign on special assignment for The Washington Independent. He was a Legislative Aide in the U.S. Senate and as a national staff member of the 2004 John Kerry Presidential Campaign.
Melber earned a Bachelor of Arts in Political Science from the University of Michigan at Ann Arbor and a J.D. from Cornell Law School. He was an editor of the Cornell Journal of Law and Public Policy while earning his J.D.
Melber is a member of the American Constitution Society, he serves on the advisory board of The Roosevelt Institute.
JournoList
Ari Melber, was an identified member of JournoList - an email group of approximately 400 "progressive" and socialist journalists, academics and "new media" activists.
JournoList members reportedly coordinated their messages in favor of Barack Obama and the Democrats, and against Sarah Palin and the Republican Party. JournoList was founded in 2007 and was closed down in early 2010.[1]
Robert Hockett connection
Robert Hockett June 4, 2015:
With Abby Huntsman and my star former student Ari Melber after lovely conversation on their news analysis program. — with Abby Huntsman.
The Nation
In 2009 Ari Melber was listed in the Net Movement Department of The Nation.[2]
Netroots Nation
Melber was a speaker for a Netroots Nation convention.[3]
External links
References