Anwar Omeish
Jump to navigation
Jump to search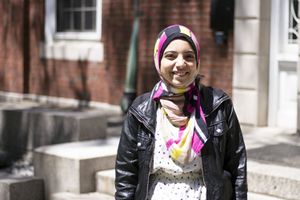 Anwar Omeish has served as Director of external relations for the Harvard Islamic Society.
Background
"Omeish is an undergraduate student at Harvard University concentrating in Social Studies with a secondary in Statistics. She is interested in epistemic decolonization and the implications it has for our Islam, as well as in thinking about Islam as a theology of liberation, integrating analyses and methodologies from within the Islamic tradition and critical theories from outside of it. Prior to her matriculation at Harvard, she spent a year studying Islamic theology and jurisprudence in Amman, Jordan. At Harvard, she is on the board of the Harvard Islamic Society, an officer of the Phillips Brooks House Association (the home of service and advocacy at Harvard) and an activist for campus labor rights, Palestinian issues, and the rights of students of color and other minorities on and off campus. She is also a writer and a spoken word poet."[1]
Resentful for having to teach about "institutionalized Islamophobia"
Anwar Omeish described how she felt "overburdened" for having to "create a presentation for faculty members on institutional Islamophobia after the election [of President Donald Trump]."[2]
Following a concussion while preparing for final exams, Omeish said she had to create a presentation for faculty members on institutional Islamophobia after the election, which made her feel overburdened compared to non-Muslim students.
"I literally had a concussion, and I still ended up being the person who had to give this presentation to faculty and tutors and staff," she said. "That's not something our students should be expected to do."
Muslim at Harvard in the Age of Trump
Verbatim from an article dated May 24 2017 by Angela Fu and Alexis Ross posted at the Harvard Crimson:
"After a months-long election season calling for a "complete and total shutdown" of Muslims entering the United States and the arrival of a presidency many say stirred nationwide Islamophobic sentiment, violence against Muslim Americans intensified beginning in late 2016.
"Harvard was not exempt.
"Just days after the election, Harmann Singh, a first-year student at Harvard Law School, was called a "f***ing Muslim" while at a store in Harvard Square. In an op-ed in the Boston Globe, Singh recalled how no one questioned his aggressor as he followed Singh around, repeatedly asking him where he was from.
"The incident was only one of many across the nation. According to a May report from the Council on American-Islamic Relations, Islamophobic incidents increased by 57 percent in 2016, and hate crimes targeting Muslims increased by 44 percent during the same period.
"Many across Harvard emphasized that they would not tolerate anti-Muslim discrimination. In a November email, University President Drew G. Faust lamented "escalating numbers of cruel and frightening incidents" both at Harvard and nationwide. She later announced the start of a search for the University's first full-time Muslim chaplain, and vigilantly opposed a White House executive order that looked to bar immigration from several Muslim-majority countries.
"Muslim affiliates say they are pleased to see a commitment to Muslim students, though they noted Harvard could increase financial resources to better welcome the vulnerable group.
"As discrimination against Muslim Americans became more visible across the United States, Harvard students say they experienced its consequences. In addition to less subtle acts of Islamophobic aggression, some students say they felt hurt by peers with political opinions they found offensive.
""I was amazed how a few people were turning things and twisting them around to make it sound like the stuff that Donald Trump was doing was not necessarily racist," said Sahar Omer '20, a member of the Harvard Islamic Society —an undergraduate Muslim affinity group— and an active Crimson editor. "At this point, how does someone convince you that the stuff that you're saying has ramifications that really do affect me and a lot of other people?"
"Omer and others said they found students with discriminatory opinions to be in the minority, but still felt it was difficult to separate their student experience from changing political tides.
"For Anwar Omeish '19, the Islamic Society's director of external relations, this was impossible.
""When the literal president of the United States is talking about how your community should be banned, that's significant." Omeish said. "No matter how much you try to separate in your head what's happening outside and what's happening on campus...it affects the way you experience this place."
"A majority of Harvard undergraduates identify as liberal, and roughly 87 percent of respondents to a Crimson election survey said they would vote for President Donald Trump's Democratic contender, Hillary Clinton, in the November election. But despite living at a left-leaning campus largely disapproving of Trump's rhetoric, Omeish said she felt "isolated" because students largely did not understand the profound effect such rhetoric had on her identity and life at Harvard.
""It's because I'm thinking and stressing and processing this thing all the time… and I don't know how to express this energy and stress in me to people around me who are just going about their daily lives and the way they would have regardless," Omeish said.
"Muslim students and their allies across the University took to activism to express their experiences and protests, hosting teach-ins, rallies, and vigils after Trump's election.
"Professor of Indo-Muslim and Islamic Religion and Cultures Ali Asani said Islamophobia has always been embedded in the United States and in Muslim Americans' experiences. The election results only fueled it.
""The [latent racism] was already there. The election, his rhetoric, that's what he was whipping up. And once he was elected, it became even more bold," Asani said.
"Some students took the aftermath of the election as an opportunity to further bring Harvard's Muslims together to cope.
""I could tell very obviously that people were looking for a space, and I was very fortunate enough to be able to help create that space," said Kennedy School student Omar El-Halwagi, who organized a vigil in February shortly after Trump signed his travel ban.
""I think it was just a time where people needed to take a minute and step away from all the political activism that people were doing and the organizing and have a moment to maybe reconnect spiritually, and have a moment to exhale," he added.
"The Burden of Representation
"Even with the positive outcomes of an otherwise troubling election, some students now find themselves burdened with an expectation to represent all Muslims.
"For El-Halwagi, this is complicated by an already difficult task of being a student.
""There is an additional tax placed on Muslim students to not only have to navigate the regular experience of being a student, but on top of that, you also have to figure out how you can advocate for your community," El-Halwagi said.
"Following a concussion while preparing for final exams, Omeish said she had to create a presentation for faculty members on institutional Islamophobia after the election, which made her feel overburdened compared to non-Muslim students.
""I literally had a concussion, and I still ended up being the person who had to give this presentation to faculty and tutors and staff," she said. "That's not something our students should be expected to do."
"Omeish said discussions about Islamophobia and discrimination are often wrongly grouped into a single story. She said she is often asked to do "institutionalized Islamophobia presentations" for groups on campus and in Boston.
""People sometimes still do approach it as, 'Tell us what the Muslims think' and I'm like, I cannot," Omeish said. "What does it mean to represent Islam correctly and fully? There is such a diverse set of experiences within Islam and within the Muslim community."
"Searching for a Spiritual Guide
"After Trump issued an executive order barring immigration from seven majority muslim nations, Harvard announced it would begin searching for a University-funded, full-time Muslim chaplain.
"Students have for some time pushed for a full-time chaplain, and Muslim students currently do not have even a part-time religious advocate of this kind.
"In an email to Harvard affiliates in January, Faust said that the hiring of a new chaplain was in recognition of "the special concerns of the Muslims among us at this moment in our national life" and that a chaplain would provide "more tangible ways to support [Muslims'] distinctive needs."
"The previous Muslim chaplain, Taymullah Abdur-Rahman, had only worked part-time and was funded by the Harvard University Muslim Alumni.
""Taymullah was great," Omeish said. "But his position was limited in what it was able to do because it was part time and served all of the schools."
""There is an additional tax placed on Muslim students to not only have to navigate the regular experience of being a student, but on top of that, you also have to figure out how you can advocate for your community," Kennedy School student Omar El-Halwagi said.
"Many students and faculty have responded positively to the news of the hiring, noting that the decision was unprecedented. While Harvard has 35 chaplains representing a variety of belief systems and sects within them, many chaplains are either volunteers or are paid for by outside student groups and churches.
""I think that is one very strong sign of solidarity, particularly for a group of students on campus who need someone who can be able to assist them through this difficult time both politically and socially," said El-Halwagi, who is on a committee to search for the chaplain.
"The chaplain will serve as a "spiritual and mental health resource," according to Harvard Islamic Society President Zarin Rahman '18. Rahman said she looks forward to "having someone to talk to and to help advocate for our needs that we ourselves have been advocating for for decades."
"Omer said she expects the presence of a chaplain to make a "huge difference" in guiding students through faith, and that it will allow Muslims at Harvard to devote more time and energy to their spirituality.
""I think [the Muslim community] will move from being a social group to one that will actually help kids on campus with their religious knowledge and religious teachings and what not," Omer said.
"Beyond a Chaplain
"While students praise the hiring of a full-time Muslim chaplain, they have said that they hope the administration will continue to provide tangible support—mainly in the form of financial investment in Islam on campus.
"Noting limited funds for groups like the Islamic Society, students say they want increased funding for Muslim student programming, and construction of a "Muslim student life center"—which already stand at schools like Princeton and Duke—to supplement Harvard's existing prayer spaces.
"Harvard administrators have previously said they are open to creating a similar multicultural student center, though some like Dean of the College Rakesh Khurana have cited local space constraints as a barrier from beginning construction.
"According to Rahman, one issue facing the Islamic Society is a lack of funding for the programs it runs for Muslim students. She noted that compared to other religious groups on campus, the Islamic Society does not have as large of an alumni network to help support its programming.
""We host Ramadan events because Ramadan is in the summer," Rahman said. "Term-time, we can apply for grants. But during the summer, we have to fundraise for that."
"College spokesperson Rachael Dane did not respond to requests for comment for this story.
"Omeish emphasized that although their incoming chaplain marks a major step in Muslim student support, the University should not stop there.
""A lot of the issues students of color are raising—diversity of faculty, ethnic studies—all of these things also intersect with the needs of Muslim students," Omeish said. "So yes, it's great that we have this Muslim chaplain, but there's also a lot more we can be doing."
SodaStream Boycott
"In December 2014, Harvard President Drew Faust discovered that, months earlier, Harvard's dining services had unilaterally bowed to pressure from students representing the College Palestine Solidarity Committee and the Harvard Islamic Society to remove SodaStream water machines, which are manufactured by an Israeli company located in the West Bank, and to replace them with American-made machines."[3]
Faiz Shakir and Harvard Islamic Society
Verbatim from an article dated May 28, 2012 by Daniel Greenfield of FrontPageMag:[4]
"In 2000, he oversaw a week of events that raised money for Islamic terrorists murdering Jews. From 2005 until the present, he oversaw a left-wing blog whose contributors used language that even he admitted was anti-Semitic. And now Faiz Shakir is about to become a senior advisor to the Democratic Minority Leader of the House of Representatives.
"What happens to a top left-wing operative when he loses control of a media operation so badly that the White House has to distance itself from its allied think tank? He gets a job offer from Nancy Pelosi.
"After the use of bigoted language by ThinkProgress contributors turned into a growing scandal, the White House publicly distanced itself from ThinkProgress, an outlet of the Center for American Progress, which Time Magazine called the think tank with the largest influence on the Obama administration. Jarrod Bernstein, the White House's liaison to the Jewish community, described the events there as troubling and stated that the Center for American Progress's attitude was not that of the Obama administration.
"This distancing has however proven to be only momentary with Faiz R. Shakir, ThinkProgress's longtime Editor-in-Chief and Vice President at the Center for American Progress, who had made the site what it is, going off to work as a senior advisor and new media director for Nancy Pelosi. Moving Faiz Shakir into such a prominent role where he will be able to influence policy and messaging for a key Democratic Party figure, while keeping Danielle Gilbert on as the DNC liaison to the Jewish community, is proof once again that the Democratic Party does not take bigotry seriously when it is directed at Jews. Not only that, but it even rewards the bigots with plum posts.
"Faiz Shakir had co-authored the "Fear Inc." report, which had implicitly claimed that Islamophobia was the product of a Jewish conspiracy, and had written positively about the Tunisian Islamist Al-Nahda Party and its genocidal head, Sheikh Rashid Ghannouchi, who has engaged in blatant anti-Semitism, and has said, "There are no civilians in Israel. The population—males, females and children—are the army reserve soldiers, and thus can be killed."
"During his time at ThinkProgress, Faiz Shakir had repeatedly attacked the Jewish State, endorsing the Hamas aid flotilla to Gaza and attacking Israel's attempts to defend itself against terrorists. Unlike some of his more radical junior colleagues, like Ali Gharib and Zaid Jlani, his position has forced Shakir to be somewhat more discreet.
"But Shakir's sympathy for Islamists and antipathy for the Jewish State are no surprise at all considering his activities during his college days when he was a member of the Harvard Islamic Society.
"While the Harvard Islamic Society's affiliation with the Muslim Brotherhood's MSA is somewhat vague, its Constitution states that its independence does not preclude "affiliation with the Muslim Students Association of the United States and Canada."
"HIS was co-founded by Yusuf Ibish, the father of Hussein Ibish, who is a veteran pro-terrorist and anti-Israel activist, and Syed Hossein Nasr, an Islamic philosopher and opponent of the United States and Israel, who claims to be able to trace his ancestry back to Mohammed. During Faiz Shakir's time there, HIS was presided over by Zayed Yasin, who became infamous for his "My American Jihad" speech.
"In 2000, The Harvard Islamic Society held an Islamic Awareness Week and Faiz Shakir served as the co-chair for the week's events. One of those events included a fundraiser for the Holy Land Foundation, a group which acted as the fundraising arm for Hamas in the United States. As co-chair of the week's events, Shakir would have unquestionably been involved in the selection of organizations to donate to. That he chose a fundraising for a Muslim Brotherhood terrorist organization can only be regarded as highly significant.
"Though the Holy Land Foundation was only raided in the year after that, it was well known at the time that the group was a front for terrorists, and the Harvard Islamic Society faced complaints and scrutiny for its terrorist fundraising. Zayed Yasin's defense of the Holy Land Foundation made it quite clear that he was familiar with its true mission.
"At the time, Shakir was quoted as saying that, "We want to give them a couple ways for them to think about Islam." But apparently there was really only one way to think about Islam. There still is.
"Under Shakir, ThinkProgress has promoted Muslim Brotherhood-linked Islamists, much as he tried to direct funds to Hamas during his Harvard days. It has been a long time since Shakir was a student and as someone who claims to be a foreign policy expert, there is no doubt that during his tenure at ThinkProgress he knew exactly what he was doing.
"ThinkProgress is not just a site; it's the messaging apparatus for the most influential think tank in the country. It's where Democrats and their media allies pick up their talking points in their war on truth, justice and the American Way. And as senior advisor to the Democratic Minority Leader in Congress, and aspiring Majority Leader, Faiz Shakir will be doing what he was doing all along.
"The Center for American Progress is the George Soros Shadow Party's tool for influencing domestic and international policy, but it is also filled with members of another shadow party: the agents of the Muslim Brotherhood. As a senior advisor to Nancy Pelosi, Faiz Shakir will be doing directly what he once did indirectly, openly what he once did covertly.
"Putting a man like Shakir into such a position is a statement that the Democratic Party no longer cares what it reveals about itself as the last vestiges of caution that it adopted after September 11 fall away and the dark blotch of the two shadow parties covers it over. And so a man who chaired a week of events that raised money for an Islamic terrorist group, whose charter calls for the extermination of the Jewish people, and who ran a messaging apparatus whose contributors used anti-Semitic language, will now run the messaging apparatus for the leader of congressional Democrats.
"The elevation of Faiz Shakir is yet another reminder to Jews that there is no longer a place for them in the Democratic Party.
References