Annette Taddeo
Jump to navigation
Jump to search
Template:TOCnestleft Annette Taddeo was a Democratic nominee for the United States House of Representatives for the 18th district of Florida.
Tomas Kennedy connection
Megan Hull
Taddeo received $500 on 10/28/08 and $500 on 9/39/08 from Megan Hull.
Planned Parenthood
Taddeo received $500 in lobbying funds from Planned Parenthood in 2008.
Policing round table
June 8 2020, Representative Donna Shalala joined more than 150 Members of Congress in co-sponsoring the Justice in Policing Act of 2020, a bold, comprehensive approach to hold police accountable, change the culture of law enforcement and build trust between law enforcement and our communities. If signed into law, the Justice in Policing Act of 2020 would ban chokeholds, mandate the use of dashboard cameras, prohibit local law enforcement from racial, religious and discriminatory profiling, and facilitate training on racial, religious, and discriminatory profiling for all law enforcement.
WHO: Congresswoman Donna Shalala, (FL-27)
We don't need more hate in Florida
March 11 2019 at the capitol in Tallahassee a press conference was held against a new law that they want to bring the Republicans and Governor Desantis so that our police and other public employees work with immigration to stop more immigrants.
Several elected officials and people affected by our community spoke against family separation and detention of immigrants.
We don't need more hate in Florida, what we need is a permanent solution!
NoSB168 #WeAreFl
— with Annette Taddeo, Tomas Kennedy, Carlos Guillermo Smith, Jasmen M. Rogers-Shaw, Jose Javier Rodriguez, Nataly Chalco, Ida Eskamani and Charo Valero.
CLW
In 2016 Annette Taddeo was supported by Council for a Livable World in the 26th district of Florida, which was held by first term Republican Carlos Curbelo.
In the Democratic primary, which takes place August 30, Taddeo is the undisputed frontrunner, even against former Congressman Joe Garcia, who lost the seat in 2014. She has consolidated support from progressive groups and Members of Congress. Additionally, she has been an excellent fundraiser raising more money than any candidate for the last quarter of 2015.
The political pundits rate the election as a toss-up. President Obama carried the district twice. The district is 70% Hispanic, a group that is expected to turn out in great numbers in a presidential year in response to the GOP presidential candidates' rhetoric.
The Democratic Congressional Campaign Committee is strongly behind her, and has named this district in the "red to blue" program and specifically mentioned Annette Taddeo as their candidate of choice.
As a child in Colombia, Annette grew up volunteering and helping others in her community. Taddeo fled to the United States at 17 years old after her family's home was attacked by the FARC. After college, she created the company LanguageSpeak, a translation and language instruction company. Taddeo's company, where she served as CEO, has been named one of the top 100 small businesses in Florida and one of the top 500 small businesses in the United States.
Taddeo is very involved in the community and in Florida politics. She is the immediate past chair of the Miami-Dade Democratic Party and is considered to be a rising star in the Democratic Party in Florida. She ran for lieutenant governor on the ticket with former governor Charlie Christ, a race that the ticket lost by a mere 1%.
Annette is a strong backer of the Iran nuclear agreement and backs negotiations with Russia to reduce further nuclear weapons stockpiles in both countries. She agrees that Pentagon spending is too high, and that the U.S. can and should make smart, effective reductions in military spending.
Progressive Caucus support
The Miami-Dade Democratic Party Progressive Caucus, formed by former Bernie Sanders supporters who sensed an opening after the 2016 election. Kennedy was one of the main organizers for Sanders in South Florida; his evident leadership and his activism made him the easy choice to chair the new caucus. It now has 80 members.
The caucus was instrumental in Democrat Annette Taddeo's victory in a special election to fill a state House seat vacated by a three-term Republican.
"We felt that Annette was very open minded, willing to listen to the grassroots, and very receptive to our concerns," Tomas Kennedy says. [2]
New Florida Majority
Annette Taddeo is very close to New Florida Majority.
NFM support
New Florida Majority supported Annette Taddeo in her successful State House race.
Building a Latinx bench in Florida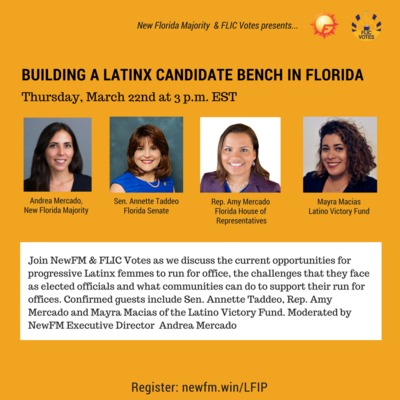 New Florida Majority executive director Andrea Mercado moderated a debate March 22, 2018 between Sen. Annette Taddeo, Rep. Amy Mercado to discuss Mayra Macias of the Latino Victory Fund, on "building a Latinx candidate bench in Florida".
Endorsed for new term
May 2018 New Florida Majority (NewFM), announced that it was endorsing Florida State Senator Annette Taddeo for full term in District 40. Taddeo won a special election last fall over Republican candidate Jose Felix Diaz to fill the seat of disgraced State Senator Frank Artiles.
"From Day 1, Senator Taddeo has been a vocal champion of the needs of her district in Tallahassee. She has been on the right side of working for affordable housing, a livable wage and educational access for all children," said NewFM Executive Director Andrea Mercado. "She has been the inclusion leader her community has tasked her to be and has not been silent on the matters that are important to them."
"The [[New Florida Majority}Florida New Majority]] is a staunch defender of a democratic system of government that works for everyone in our community," said an honored Sen. Taddeo. "Their brand of advocacy for historically marginalized and disengaged communities is exactly in-line with the work that I've been proud to champion in the Florida Senate."
NewFM endorsed Sen. Taddeo last fall, with dozens of volunteers mobilizing voters to go to the polls weeks after Hurricane Irma hit the South Dade-based district. Taddeo credited those efforts for making a difference in that special election and was honored to receive the organization's support once again.
Added Taddeo, "The path towards true equality and justice is long, but I know that with partners like New Florida Majority, we will continue to make strides in ensuring a free and fair society for all. " [3]
Medicare for All National Day of Action
Miami Democratic Socialists of America April 22, 2018.
Members of The New Florida Majority, United We Dream, National Nurses United, & YDSA FIU participated in today's Democratic Socialists of America Townhall at Second Baptist Church in Richmond Hights as part of the Democratic Socialists for Medicare for All National Day of Action. Shout out to Annette Taddeo and Michael Hepburn for coming through to support #MedicareForAll. 🌹#DSAm4a — with Dwight Bullard, Religious Socialism and FLIC Votes.
"Beyond Resistance: Reclaiming our Progressive Future"
Beyond Resistance: Reclaiming our Progressive Future was a November 15, 2017 gathering of the Democracy Alliance. How to Make Climate Progress In the Age of Denial
Climate change is not a problem for the future-it is here now. taking lives and devastating communities, as evidenced by this year's series of extreme weather disasters. Even with the facts of climate science on our side. the climate movement has struggled to break the vice grip of industry and entrenched interests blocking climate progress. but more frequent climate·driven disasters have raised the stakes and urgency of climate change to a broader public. With action on climate obstructed at the national level. building a powerful and diverse grassroots climate movement and bold political leadership at the state and local level are more important than ever, and there are clear signs of progress.
Democracy Alliance Senior Strategy & Planning Officer and Climate and Clean Energy Equity Fund Director Roger Kim will lead a discussion with Florida State Senator Annette Taddeo (FL-5040), Washington State Labor Council President Jeff Johnson, New Florida Majority Executive Director Andrea Mercado, and University of California, Santa Barbara Professor Hahrle Han on groundbreaking strategies to strengthen the movement by addressing social and racial justice, new opportunities to build political power and leadership, and innovative climate and clean energy campaigns that improve people's everyday lives.[4]
Progressive Caucus endorsement
In 2018, Annette Taddeo was endorsed by the Democratic Progressive Caucus of Florida.
CAIR connection
CAIR - Florida January 30 2018:
With Wilfredo Amr Ruiz, Julio Calderon, Sahar El-Emam Murad, Laurie Woodward García, Annette Taddeo, Saima Farooqui and Jale Erkoc at Florida Senate Office Building.
External links
References