Annette Rubinstein
Jump to navigation
Jump to search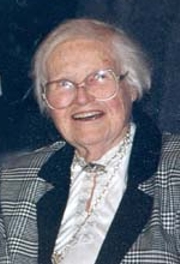 Template:TOCnestleft Dr. Annette T. Rubinstein (April 12, 1910 - June 20, 2007) of New York was referred to as a Marxist literary lion. She was an activist and educator, part of the teacher's collective at the Brecht Forum Marxist School. She spent decades as a leader and candidate of the American Labor Party. She wrote, spoke out, and organized in defense of "McCarthyism's victims", desegregation and Puerto Rican independence, and Freedom Socialist Party founder Clara Fraser's landmark suit charging political discrimination at Seattle City Light.[1]
Communist Party Involvement
Rubinstein joined the Communist Party USA in the early 1930s and left in 1952. She also taught at two U.S. Communist Party schools, in Eastern Europe and in China.[2]
Rubinstein was not proud of her earlier involvement in the Communist Party. When Senator Joseph R. McCarthy once asked Rubinstein if she were a member of the Communist party, saying that she was the most charming communist who had sat before his committee, she responded, "Aren't you jumping to conclusions, Senator?"[3]
American Labor Party Involvement
Rubinstein was a major leader of the American Labor Party, under whose banner, in two special elections in 1949, she ran for State Assembly (winning nearly one in six votes) and for Congress against Franklin D. Roosevelt Jr.[4]
Herbert Aptheker Testimonial Dinner
On April 28, 1966 Annette Rubinstein was a sponsor of the Herbert Aptheker Testimonial Dinner. The dinner was held on the occasion of Herbert Aptheker's 50th birthday, the publication of his 20th book, and the 2nd anniversary of the American Institute for Marxist Studies. It was held in the Sutton Ballroom, The New York Hilton, Avenue of the Americas, 53rd to 54th Street, New York City. Most speakers, organizers and sponsors were known members or supporters of the Communist Party USA.[5]
Science & Society
Science & Society is a quarterly journal of Marxist thought and analysis. Published without interruption since its inception in 1936. With a press run of about 2,500 copies, the journal reaches 565 individual subscribers, of whom 475 are in the United States and 90 reside in other countries. S&S also has 800 library and other institutional subscribers, both in the United States and abroad.
In its early years, Science & Society played a unique role in providing a home for scholarship in the Marxist tradition. It attracted contributors from many countries, and was a major site of interaction among Marxist researchers in capitalist countries and those working in the Soviet Union and Eastern Europe. The British "social relations of science" movement was well represented, including some of that school's leading figures, such as J. B. S. Haldane, Hyman Levy and J. D. Bernal. Also from Britain, political economists such asMaurice Dobb, and historians such as Eric Hobsbawn and Christopher Hill, contributed regularly; in this way, S&S played a role in the early development of the British Marxist Historians school. In the United States, leading figures in history, literature and the social sciences, such as Joyce Adler, Herbert Aptheker, M. F. Ashley Montagu, W. E. B. DuBois, Abraham Edel, Lewis S. Feuer, Philip S. Foner, Margaret George, Alvin W. Gouldner, Irving Louis Horowitz, Corliss Lamont, Eleanor Burke Leacock, Robert S. Lynd, Robert K. Merton, June Nash, Joan Robinson, and William Appleman Williams, among many others, wrote articles and reviews for the journal.
Science & Society was founded, after a developmental period of several years that involved two main centers: one group in Boston, led by the MIT mathematician Dirk Struik, and another in New York, with significant participation from faculty members at New York University. Founding editor Margaret Schlauch, the distinguished linguist and medievalist, was a member of the English Department at New York University, as was Edwin Berry Burgum, another S&S founding editor. Dr. Annette T. Rubinstein, who was not a founding editor but joined the Editorial Board in the 1960s and was active with the journal until her death in 2007 at age 97, also taught briefly at NYU, where there was a concentration of S&S activism in the first period of the journal's existence.
One particularly influential contribution arose as a result of Paul Sweezy's 1950 essay on Maurice Dobb's Studies in the Development of Capitalism, which developed into a full-fledged controversy involving, in addition to Dobb and Sweezy, Rodney Hilton, H. K. Takahashi, and Christopher Hill, subsequently published in book form as The Transition from Feudalism to Capitalism, under the editorship of Hilton. This "first round" debate in the theory of social transformation set the stage for the later "Brenner Debate" on the transition to capitalism, and has often been revisited in recent years in S&S.
In the early decades, Science & Society had a strong base in the non-academic political left, in a time when "ordinary" working people felt comfortable studying political economy, reading critiques of the leading mainstream intellectual figures of the time, or debating the "situation in the biological sciences" (S&S was an early critic of T. D. Lysenko). There were "friends of Science & Society" clubs in various cities throughout the United States, and the journal also achieved an international reputation. It should be noted that, while S&S was in (what could be called, in that period) the Marxist mainstream, and some of its authors were aligned with or sympathetic to the Communist parties, the journal has always been organizationally independent, never affiliated with or funded by any political party or institution.[6]
Socialist Scholars Conference 1990
The Socialist Scholars Conference 1990, held September 6-8, at the Hotel Commodore, New York, included panels such as:[7]
Contradictions in the Contemporary Chinese State
Socialist Scholars Conference
Rosalyn Baxandall, Michael E. Brown, Annette Rubinstein, editor, Science and Society and Anders Stephanson were speakers on the Rethinking the History of Communism: 1910 - 1992 panel sponsored by Research Group on Socialism and Democracy at the Tenth Annual Socialist Scholars Conference. The conference was held April 24-26, 1992 at the Borough of Manhattan Community College, New York City[8]
Publications
Rubinstein wrote more than 20 essays and reviews on literary and political subjects for Monthly Review, as well many articles in Science & Society, and Jewish Currents. She also authored the following titles;
The Great Tradition: From Shakespeare to Shaw
American Literature: Root and Flower
Communist "Manifestivity"
On October 30 and 31, 1998 the Brecht Forum presented the "Communist Manifestivity to celebrate the 150th Anniversary of the Communist Manifesto" at Cooper Union's Great Hall, New York.
Individual endorsers of the event included Annette Rubinstein.[9]
One of the many workshops at the Manifestivity was;
Can We Go from Cultural Imperialism to World Culture? with Amiri Baraka, Aijaz Ahmad, Joseph Buttigieg, Annette Rubinstein, Sonia Sanchez and N'Gugi Wa Thiongo. Moderator: Colleen Roach.
References