Anne Lewis
From KeyWiki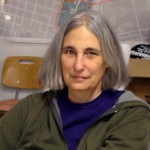 Anne Lewis is a Texas activist and film maker. She is the partner of Jim Branson. Anne Lewis is a documentary filmmaker whose films include: On Our Own Land (DuPont-Columbia award), Justice in the Coalfields (Gold Plaque, Intercom), and Morristown: in the air and sun about factory job loss and the rights of immigrants. She serves on the executive board of the Texas State Employees Union TSEU-CWA 6186.
She is a member of the Freedom Road Socialist Organization/Liberation Road.
Austin Beloved Community
Austin Beloved Community is a gift. Movement history comes alive in a digital collage of collective memory -- audio, film, photos and maps, and a rich diversity of local recollection.
This website is a gift from Anne Lewis. Lewis makes documentary film. Notably, she was associate director/assistant camera for Harlan County, U.S.A, the Academy Award-winning documentary about a coal country strike. Her most recent work is Anne Braden: Southern Patriot. In this film, Lewis documents the life of a woman praised as "eloquent and prophetic" by Dr. Martin Luther King, Jr. in his 1963 Letter from Birmingham Jail.
Lewis, who also is a contributor to The Rag Blog, describes the site as "a shared space between organizations, artists, and all who hold close ideas of liberation, equality, and just society." She reaches back to the 1880s and takes you forward to the present. She even includes a Google map that pinpoints where events occurred and organizations were born.
I deliberately put priority on African American, Chicano, Women, LGBTQ, working class organizations -- and made rules for myself like no national organizations unless the Austin chapter was strong and independent, no group on campus, no political groups, no primarily service organizations. I managed to keep myself non-judgmental on events. Anything that was a people's uprising or victory went on the map. Also I decided not to even try to build a database. I wanted it to be subjective, quirky, open-minded, and fun.
Well I'm not much of a cameraperson but the rest hold. I hate websites -- all those little boxes and all those tabs inside of tabs. I don't like the idea of clicking as interactivity and I don't really enjoy choosing my own adventure. Huge qualities of factual information leave me cold and anxious. But on the other hand I knew a wonderful visual artist, Jeanne Stern, and wanted to work with Tom Hammond's style of tonal shifts of wind for sound design.
I also wanted to bring Anne Braden's ideas to Austin without driving myself crazy trying to market the film and make people show it. The City of Austin helped fund the Anne Braden film, and helped fund this project as well. So in many ways the start was an animation film idea with social justice events over time as folks remembered them and a tie to Anne Braden's ideas. The rest developed from the process of arriving at content -- organizations and mapped events, still photographs, a calendar to give back.
The movement history is still growing. All I need is date, place, event, and a paragraph or link and it can go up. The organizational map is similar. The calendar of events is current. People need to send their events to me though -- especially the strange stuff that goes on here. The stars on the organizations are still slowly lighting up. Resistencia and PODER are the only ones on right now. Then there's a Facebook page. [1]
Film maker/activist
Anne Lewis came to Austin Texas in 1998 and teaches her film craft at the University of Texas at Austin. She hardly limits herself to teaching. She can often be seen behind a camera at marches or demonstrations or without a camera holding a picket sign.
As an executive board member of the Texas State Employees Union (TSEU-CWA 6186), she is at the forefront of a current struggle against the University's plan to downsize, consolidate, and outsource jobs -- a plan that would further corporatize the academic community.
Before coming to Austin in 1998, Anne Lewis and Jim Branson were living in Whitesburg, Kentucky (population 1,499) and had a young son.
The Texas State Employees Union wanted Jim to come to work as an organizer for the union. Lewis had been [producing films] with Appalshop for 15 years.[2]
Austin Beloved Community people
The people who created Austin Beloved Community - Anne Lewis organizer/filmmaker/director, Jeanne Stern animator/painter, Salma Mirza web developer, Rene Renteria photographer, Justin Hennard sound designer, Emma Louise Mutrux artist, Jacob Branson design consultant.[3]
2013 CCDS conference
Nearly 100 delegates, observers and friends gathered in Pittsburgh, PA for the 7th Convention of the Committees of Correspondence for Democracy and Socialism over the July 18-21, 2013 weekend.
One panel was a discussion on how to use the Anne Braden film for radical education in organizing efforts. Presentations were made by Jim Branson, Janet Tucker, Frank Chapman, Ted Pearson, and the maker of the film, Anne Lewis.[4]
Freedom Road article
"Deep in the heart of Texas: Women who misbehave" by Anne Lewis was posted on the Freedom Road Socialist Organization website July 10th, 2013 by The Rag Blog
This week reactionaries in Texas are trying again to force through a vile anti-woman abortion bill. So we are reprinting this story from Anne Lewis (first posted at the Rag Blog). She was present at the Texas statehouse and took part in the "people's filibuster" which defeated the last attempt to pass this bill a few weeks ago.
Left Forum 2013
Anne Braden: Her Spirit Lives Sponsored by: freedomroad.org
Participants:
Fight For Fifteen rally
Leslie Cunningham May 15, 2014:
At the terrific Fight For Fifteen ($15 and a Union) rolling rally in May, 2014, in East Austin. — with Amy Mashberg, Anne Lewis, Gregorio Casar, Susana Almanza, Monica A. Guzman and Juanita Spears.
Austin Beloved Community site launch
Thursday May 1, 2014 marked the InternationalWorker's Day.
Many grassroots organizations and activists gathered at Resistencia Bookstore to celebrate and to recogmize the official web launch for Austin Beloved Community.
Austin has a rich history of social justice organizations, artists and activists who have worked hard to fix longstanding problems in neighborhoods and communities.
Organizations participating included: ACC/AFT Local 6249, ADAPT, ALLGO, Austin Tan Cerca de la Frontera, Campaign to End the Death Penalty, Challenger Newspaper, Creative Action, Code Pink, Democratic Socialists of America, Education Austin, Freedom Road Socialist Organization (/OSCL), Grassroots Leadership, Austin Immigrant Rights Coalition, International Socialist Organization, MonkeyWrench Books, People's History in Texas, PODER, Proyecto Defensa Laboral (Workers Defense Project), Resistencia Bookstore, Rise Up Texas, Texans United for Families (TUFF), The Sierra Club, The Rag Blog, Texas Jail Project, Third Coast Activist, Treasure City Thrift, TSEU/CWA Local 6186, Women's Community Center.
Event organizers were Anne Lewis and Jacob Branson.
Music by Sonoita, Fandango Tejas, Mario Garza, Kiko Villamizar, Kiya Heartwood, and The Bronze Band! [5]
Texas State Employees Union (CWA Local 6186)
Texas State Employees Union staff October 17, 2016 ·
With Myko Gedutis, Cisco Jav San, Paula Everett, Barbara Fetonte, Nicole Banks, Matthew James Comeau, Elias Cantu, Leslie Cunningham, Nufi Sammuel Almaguer, Seth Hutchinson, Joanne Day, Taylor Jones, Joe Montemayor, Anne Lewis, Arthur Valdez, Joe Angulo, Mary Clayton, Anitra Patterson and Edna Wiley.
Now What? Defying Trump and the Left's Way Forward
Now What? Defying Trump and the Left's Way Forward was a phone in webinar organized by Freedom Road Socialist Organization in the wake of the 2016 election.
Now what? We're all asking ourselves that question in the wake of Trump's victory. We've got urgent strategizing and work to do, together. Join Ash-Lee Woodard Henderson of the Movement for Black Lives and Freedom Road, Calvin Cheung-Miaw, Jodeen Olguin-Taylor of Mijente and WFP, Joe Schwartz of the Democratic Socialists of America, and Sendolo Diaminah of Freedom Road for a discussion of what happened, and what we should be doing to build mass defiance. And above all, how do we build the Left in this, which we know is the only solution to the crises we face?
This event will take place Tuesday November 15, 2016 at 9pm Eastern/8pm Central/6pm Pacific.
Those invited, on Facebook included Anne Lewis.[6]
References