Anne Hallett
Jump to navigation
Jump to search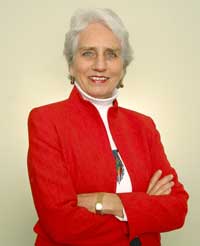 Template:TOCnestleft Dr. Anne C. Hallett consults on education, community, and philanthropy in Chicago.
Service record
Anne Hallett serves as director of Grow Your Own Illinois, founded and served as Executive Director of the Cross City Campaign for Urban School Reform, and serves on the Board of Directors of the Center for Neighborhood Technology and Community Organizing and Family Issues.
Dr. Hallet co-wrote the Chicago Annenberg Challenge proposal which provided $49.2 million to Chicago's school reform efforts. As Executive Director of the Wieboldt Foundation in Chicago, she co-chaired the Neighborhood Funders Group and chaired Chicago Women in Philanthropy. She also served as the founding Executive Director of the Chicago Panel on School Policy and chaired the Governing Board of the National Committee for Citizens in Education. She was Executive Director of Citizens Education Center in Seattle and was founder, chair, and chief lobbyist for Citizens for Fair School Funding which advocated successfully for school finance reform in Washington State[1].
Comrades
Kim Bobo October 23, 2018 ·
With Kim Zalent, Robin Potter, Anne Hallett and Ingrid Christiansen.
COFI
Community Organizing and Family Issues is a Chicago based non-profit. COFI Sponsoring Committee -1994-95 members included Pastor Alvin Bergh, Lina Cramer, Barbara Engel, Jacky Grimshaw, Anne Hallett, Judy Hertz, Maria Mangual, Della Mitchell, Barack Obama, Elce Redmond, Amanda Rivera, Mary Scott-Boria, John Schmidt, Coretta McFerron, Kaye Wilson, Ellen Schumer, Founding Director and President, Nancy Aardema, Founding Vice-President, Sandra O'Donnell, Founding Vice-President[2].
Obama and Ayers
Anne Hallett has vigorously defended Barack Obama and Bill Ayers from attack;
"I don't remember ever hearing anyone raise concerns or questions or concerns about [Ayers'] background," says Anne Hallett, who has worked closely with Ayers on the Annenberg Challenge grant and with Obama on education and other community and legislative matters. "And that included everybody I was engaged with," including prominent Republicans, and corporate and civic leaders in Chicago, Hallett adds.
Hallett calls this attack on Obama's association with Ayers and the Annenberg Challenge by further association, "a smear campaign. It's a political diatribe that has no basis in fact. The Chicago Annenberg Challenge was an extremely positive initiative. It was well-vetted, thorough, and the fact that it is now is being used for political purposes is, in my opinion, outrageous.[3]"
ACORN
In 2004 - 2005 Hallett worked with Illinois ACORN and National ACORN[4].
Business and Professional People for the Public Interest
In 2008, Anne Hallett was listed as a sponsor/financial contributor to the Chicago based Business and Professional People for the Public Interest.[5]
"Support Bill Ayers"
In October 2008, several thousand college professors, students and academic staff signed a statement Support Bill Ayers in solidarity with former Weather Underground Organization terrorist Bill Ayers.
In the run up to the U.S. presidential elections, Ayers had come under considerable media scrutiny, sparked by his relationship to presidential candidate Barack Obama.
We write to support our colleague Professor William Ayers, Distinguished Professor of Education and Senior University Scholar at the University of Illinois at Chicago, who is currently under determined and sustained political attack...
We, the undersigned, stand on the side of education as an enterprise devoted to human inquiry, enlightenment, and liberation. We oppose the demonization of Professor William Ayers.
Anne Hallett of Grow Your Own Illinois signed the statement[6].
References