Andy Levin
From KeyWiki
Andrew (Andy) Levin is the son of Rep. Sander Levin and nephew of Michigan senator Carl Levin. He is married to Mary Freeman.
Background
Andy Levin has worked in Union Summer, No Worker Left Behind, Lean & Green Michigan, and Detroit Jews for Justice.
As the former director of worker training for the state of Michigan, Levin created and ran No Worker Left Behind, the largest job-retraining program in the country. No Worker Left Behind provided training to 162,000 Michiganders during the great recession, the majority of whom went on to get good paying jobs.
Later, Levin founded his own clean energy business, creating good jobs while reducing carbon emissions and improving public health, air and water quality.
Most importantly, Andy Levin brings an authentic desire to unite Americans in a quest for a just society. That means pursuing bottom-up economics to restore the middle class; fighting a moral and economic crusade to save our planet; recognizing the need for full rights and opportunities for everyone; and reviving our democracy to bring everyone's voice to the table.
Andy Levin served on the board of the National Skills Coalition until the fall of 2017 and continues to advocate passionately for the right of all workers who lose their jobs or need new skills to obtain the training they need to prosper.
After leaving state government in 2011, Levin founded and continues to run his own company, Levin Energy Partners, LLC. He has created a statewide market to finance clean energy building improvements called Lean & Green Michigan. Andy came up with the idea of building a statewide program to implement newly available property assessed clean energy (PACE) financing – and has been implementing it across Michigan, largely with sweat equity. In the process, he has gotten 34 local governments to join the program, steering completely clear of the politics of division.
Every kind of jurisdiction has joined, usually by unanimous votes of their legislative bodies – from the Upper Peninsula to Kalamazoo County to Huron County at the tip of the Thumb to Wayne County; from the most conservative to the most liberal; from rural to suburban to urban. Today, 68 percent of all Michiganders live in a Lean & Green Michigan jurisdiction, and they are starting to choose energy efficiency, water efficiency and renewable energy projects on every manner of business and non-profit building.[1]
Labor Caucus
The Labor Caucus is an official caucus in the U.S. House of Representatives. In 2021 members included Andy Levin .[2]
Union Organizer and Workers' Rights Expert
Andy Levin helped striking cap and gown workers as a sophomore in college by getting Williams College seniors to agree to graduate unrobed rather than wear robes made in a factory where workers were on strike. He has never stopped advocating for workers since. From 1983 to 1988, he organized health care workers in America, helping hundreds of workers in Michigan, Indiana, Massachusetts and Rhode Island join the Service Employees International Union, always against the fierce and often intimidating opposition of their bosses.
Levin later served as Assistant Director of Organizing for the national AFL-CIO for 11 years, helping workers across the country organize for a better life with a wide variety of unions. He created the Union Summer program, which put more than 1,000 young people on the front lines of union campaigns in the summer of 1996. Union Summer has lived on and been copied and emulated for over 20 years by unions, universities, and law firms.
In 1994-1995, Andy Levin served as staff attorney to President Clinton's Commission on the Future of Worker-Management Relations. At the AFL-CIO, Levin created and directed the Voice@Work campaign, which won nearly universal Democratic support in Congress for the Employee Free Choice Act, which would have overhauled America's labor laws to allow employees to bargain for better wages and working conditions. Andy has been involved in many acts of civil disobedience to demand workers' freedom to form unions.[3]
Advocate for Human Rights and Diversity
Andy Levin has advocated for human rights across the globe, as well as celebrating diversity at home. In college he was a leader of the Williams Anti-Apartheid Coalition, which conducted a weeklong hunger strike that garnered national attention in an effort to convince the trustees of Williams College to divest from companies that did business in South Africa.
Levin traveled to Hong Kong and China during the summer of 1989 and published photographs and writings about his eyewitness observations of the Chinese crackdown on dissent in Chengdu during the Tiananmen Massacre. He published a lengthy, exclusive interview with and a newspaper article about the Dalai Lama when he won the Nobel Peace Prize for seeking human rights for Tibetans in their own land.
Andy has been especially active on human rights in Haiti. He learned to speak Haitian Creole while organizing Haitian nursing home workers in Boston, and served as an observer to the first attempt at presidential elections in 1987 after the end of the Duvalier dictatorship. He watched in horror as anti-democratic forces shot at voters lining up at the polls and viewed the aftermath of a massacre of voters at a school. He spent the summer of 1992 in Haiti for Human Rights Watch and was the principal investigator and writer for that organization's book-length report, Silencing a People. He has published writings on Haitian civil society and what an effective U.S. policy to support democracy and economic development in Haiti would look like.[4]
Environmental Activist
Andy Levin joined the campaign to close the Rowe Yankee nuclear plant near his college almost 40 years ago and has remained active on environmental causes ever since. A true believer in the spiritual and economic importance of wilderness, Andy's idea of a good time is to hike or paddle as far from civilization as possible and live off what he and his companions can carry and catch. He was involved in the campaign to prevent drilling for oil in the Arctic National Wildlife Refuge, where he once paddled for two weeks with four friends. He believes we have a moral obligation to protect and preserve our natural resources.[5]
Person of Faith
Levin grew up in a rather secular Jewish household, but has been very committed to Judaism in adulthood. He has been a board member and leader of Jewish congregations in suburban Washington, DC and Detroit. He is currently president of Congregation T'chiyah. He also serves as chair of the steering committee of Detroit Jews for Justice, an organization he helped create to activate Jews of all ages to fight for racial and economic justice in Detroit.[6]
Family Man
Andy Levin married his high school sweetheart Mary Freeman in 1991 and they have four children, Koby Levin , Saul Levin, Ben Levin and Molly Levin.[7]
Proud Levin Family Son
Andy Levin is Sander Levin's son and Carl Levin's nephew.
Andy has been steeped in politics almost from birth – when his dad was Oakland County Democratic Party chairman. He remembers meeting Hubert Humphrey, Ed Muskie, and other Democratic luminaries as a child, often in his family home or station wagon. Andy has spent his life debating politics and policy with others in the family, and observed closely how Sandy and Carl Levin operated in Michigan and Washington. Their legacy of integrity, humility, moral purpose and hard work in public service are his biggest influence.[8]
Career
Andy Levin started his career advocating for nursing home workers throughout Michigan. He is currently Of Counsel at the Southfield law firm of Klimist, McKnight, Sale, McClow, and Canzano, P.C.
At the national AFL-CIO, the U.S. Department of Labor, and the Presidential Commission on the Future of Worker-Management Relations, Levin helped "create programs and lead innovative policy campaigns to improve economic security for working families and create business-labor partnerships. In addition, Levin's experience studying and working in Haiti, India, and China will bring additional strength to the Governor's efforts to attract business to Michigan from all over the world."[9]
Department of Labor & Economic Growth
On January 11, 2006 - Governor Jennifer Granholm and Director Robert W. Swanson announced the appointment of Andy Levin as a Department of Labor & Economic Growth deputy director, overseeing workforce development, career education and other key programs.
"DLEG is focusing its considerable strength and expertise on ensuring that 'no worker is left behind' in our state's transformation to a 21st century economy," said Granholm. "With his deep commitment to public service, his knowledge of labor relations and his passion for connecting high-quality education, higher education and good jobs to Michigan workers, Andy is the perfect person to lead this effort for us. He will be instrumental in ensuring both that we have a 21st century workforce to attract new jobs and employers and that every Michigan citizen has the tools they need to take those jobs of the future."
Levin would be overseeing a number of bureaus, including: Workforce Programs, Career Education, Labor Market Information & Strategic Initiatives, Michigan Rehabilitation Services, the Michigan Commission for the Blind and Michigan Commission on Disability Concerns. Deputy Director Sharon Bommarito will return to overseeing the Unemployment Insurance Agency, Wage & Hour, Worker's Compensation and other labor-related agencies. Acting Deputy Director Doug Kalinowski would return to his position as director of Michigan Occupational Safety and Health Administration.[10]
Defense spending cuts letter
May 19, 2020.
Dear Chairman Smith and Ranking Member Thornberry:
We write to request a reduction in defense spending during the coronavirus pandemic. As you draft this year's National Defense Authorization Act (NDAA), we encourage you to authorize a level of spending below last year's authorized level. Congress must remain focused on responding to the coronavirus pandemic and distributing needed aid domestically. In order to do so, appropriators must have access to increased levels of non-defense spending which could be constrained by any increase to defense spending.
Initiated by Mark Pocan and Barbara Lee.[11]
Co-signatories included Andy Levin .
DSA connections
Andy Levin is close to Democratic Socialists of America.
National Organize to Win Call
TONIGHT, our National Organize to Win Call will focus on Rebuilding the Labor Movement with Michigan Congressman and former national AFL-CIO organizer Andy Levin and other special guests!
Bob Muehlenkamp chair of Our Revolution Maryland and Darryl Richardson Amazon worker Bessemer Alabama.
Our Revolution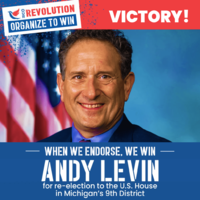 Our Revolution endorsed Andy Levin in 2020.
Worker May Day Celebration
Metro Detroit Democratic Socialists of America:
Saturday, May 1st In-Person Rally: Hart Plaza, 12PM, Zoom Virtual Town Hall 7PM.
This May Day, we're teaming up with Detroit Action and MAJIC to put on an in-person May Day Worker Celebration starting at noon at Hart Plaza, complete with speakers, food, and live music! Later that night, we'll be joined by labor leaders from across the state, Professor Steve Babson, and Rep Andy Levin for a Virtual Town Hall to discuss labor history and the importance of passing the PRO Act. Whether you're interested in one or both events, we look forward to you joining us celebrating the workers who built our world!
Other participants included Rep. Rashida Tlaib. Panellists were Steve Babson, Jason Krzyslak, Josh Roskamp and Tom Burke both Grand Rapids Democratic Socialists of America. Jess Newman moderated.[12]
Solidarity with Amazon workers
Eric Hall March 6 2021.
Eric Hall is with Camilla Thompson and Kelsey McClure, Nicole Watkins, Richard A. Rice, Julia Siergiey Juarez, Cory Pettway, Martez Files, Jilisa Renee, Jamie Foster, Haley Mack, Johnny Scott, Majadi Baruti, Gabriel Samuel Rob Burton, Terri Rector Michal, Stephanie Hicks, Keith O. Williams, Ralph Young, AC Poteete, Jason Kobielus
I want to recognize the local organizations on the ground everyday canvassing, connecting with folk, providing security detail, putting up signs in the community.... you may not see them in the spotlight all the time but they work like hell in support of Amazon Democratic Socialist of America Birmingham Chapter 🌹, SWEET Alabama, Black Lives Matter Birmingham, Dynamite Hill-Smithfield Community Land Trust, Alabama Working Families Party, and, of course, Our Revolution Birmingham.
Rep. Jamaal Bowman, Rep Nikema Williams, Rep. Terri Sewell, Rep. Cori Bush, Rep. Andy Levin.
PDA 2020 endorsement
In 2020 Progressive Democrats of America endorsed Andy Levin's congressional run.[13]
2006 DSA support
The Agenda for the November 4, 2006 Greater Detroit Democratic Socialists of America meeting at the Royal Oak Senior/Community Center, 3500 Marais Avenue, included item (8) Electoral projects
Item 10) "Canvassing for Andy Levin from 1-3 p.m. (We will meet at Andy's campaign headquarters located at25 W. Fourteen Mile Road—near the intersection of Main and Fourteen Mile—in Clawson)".[14]
Under the heading "DSAers work for Andy Levin, Lisa Brown" a Greater Detroit Democratic Socialists of America 2006 newsletter report on a Detroit DSA meeting Nov. 4 2006 stated;[15]
DSA's goal this election cycle is to help the Democrats take control of both the state house and state senate. We do this work, not because we are sycophants of the Democratic Party, but because only in the context of a Democratic majority do we have the political space necessary to pursue our agenda (.e.g., fixing the flawed minimum wage legislation, pursuing universal health care).
Our strategy is to choose races in which the focused efforts of a small, but determined, group such as ours can play a decisive role in electing a progressive candidate.
We have endorsed two candidates in this election cycle: Andy Levin who is running for the state senate seat in District 13 (Royal Oak/Troy/Birmingham/Clawson/Bloomfield Hills) and Lisa Brown who is running for the state house seat in District 39 (West Bloomfield/Commerce Township).
DSA members Adam Sokol, Catherine Hoffman, Brandon Moss, Lon Herman, Earl Mandel, Helen Samberg, Bob Frumkin, David Green, Frank Goeddeke, David Ivers, Gary Benjamin, Al Benchich, Eric Ebel, David Elsila, Bill Helwig, Paul and Garie Bass, Selma Goode, and Mo Geary have come out for several campaign dates in September and October. Our volunteers canvass door-to-door, make phone calls, and stuff envelopes with campaign literature for our endorsed candidates.
Our last campaign date is on Saturday, November 4 (immediately following our general membership meeting) when we will be canvassing and phone banking for Andy Levin.
We will meet at his campaign headquarters (located at25 W. Fourteen Mile Rd.—near the intersection of Fourteen Mile andMain Street inClawson) at12:45 p.m. and will work from1-3 p.m. To volunteer for this activity, call David Green...
We are also looking for volunteers to work on getting out the vote in Lisa Brown's district on election day (Tuesday, November 7). Volunteers will be collecting names of voters as they register at the polling places, matching them against a list of Lisa Brown supporters, and calling those supporters who have not yet voted to urge them to do so.
Socialists lament loss
Detroit DSA was disappointed when both Lisa Brown and Andy Levin lost their races;[16]
Detroit DSA focused its resources on two legislative races: Lisa Brown's race for the state house seat in District 39 (West Bloomfield/Commerce Township) and Andy Levin's race for the state senate seat in District 13 (Royal Oak/Troy/Birmingham/Bloomfield Hills).
DSA volunteers canvassed door-to-door, stuffed envelopes, made phone calls, and mailed friend-to-friend postcards. We also organized a fundraising house party for Lisa Brown which raised over $2300. Despite our best efforts, Lisa lost by 188 votes. We can take consolation in the fact that DSA was one of the main sources of organizational support for Lisa.
We proved that this district can be "flipped" from the Republican column. It would behoove our friends in the Democratic Party hierarchy to pay attention to this district in terms of candidate recruitment and early infusion of resources when planning electoral strategy for 2008.
Andy Levin's race was even more disappointing. He lost by 788 votes (0.6% of all the ballots cast). What was particularly disturbing was that the Green Party candidate (who did not actively campaign) received more than three times as many votes as the margin of victory for the Republican candidate—John Pappageorge.
Addressed DSA meeting
From Greater Detroit Democratic Socialists of America Facebook page
Saturday, December 2, 2017 at 10 AM – 12 PM
Red Door Digital 7500 Oakland St, Detroit, Michigan 48211.
Our next Detroit DSA general membership meeting will include Andy Levin, President of Lean and Green (a company promoting green energy and energy efficiency) and former Director of the Michigan Department of Energy, Labor, and Economic Growth. Feel free to come with questions.
We will open nominations to fill Eric Kehoe's position on the Steering Committee. If you are interested in joining the Steering Committee, please attend the meeting or email DetroitDSA@gmail.com
National Nurses United endorsement
National Nurses United 2018 endorsements included Andy Levin MI 9.
DSA endorsement
From Metro Detroit Democratic Socialists of America newsletter July 2018.
Electoral Committee Updates
The next meeting of the Electoral Committee will be TOMORROW, July 16 at 7.00 pm, to discuss how the primary activity is going and start organizing for the general election. ALL MEMBERS WELCOME, email Gillian at gilliantalwar@gmail.com for meeting location info.
For the first time ever we have endorsed FOUR candidates running in Democratic primaries who are Chapter members! They are:
In addition, we have jointly endorsed Andy Levin and Ellen Cogen Lipton in the 9th Congressional District, finding both equally deserving of support. Members are encouraged to support either candidate and the Chapter will support whichever of the two candidates wins the primary election.
There is less than a month until the primary on Tuesday, August 8 and much work to do to help our DSA candidates succeed.
2018 DSA upport
According to Dick Olson the "2018 midterm elections were incredibly momentous for DSA nationally, as well as here in the Detroit area. We scored critical wins from coast to coast — getting leftists elected to office and pushing through key ballot measures".
DSA-endorsed Andy Levin, a close ally of the Michigan labor movement, easily won his race in the 9th Congressional district. DSA member Beau Perry won a write-in campaign for Ferndale Library Board. Three other Detroit DSA members who received our Chapter's endorsement also ran for office but fell short: Michele Oberholtzer and Mike McDermott for state rep, and Joel Batterman for Wayne County commissioner. Detroit DSA members also knocked on hundreds of doors for Padma Kuppa, Democrat for the 41st Michigan house seat in the Troy. With DSA's help, Kuppa flipped a Republican seat 22,317 to 21,170.
DUH winning candidates 2018
DUH - Demand Universal Healthcare winning candidates 2018.
Ro Khanna, Joe Neguse, Jared Polis, Jesus Garcia, Andy Levin, Jamie Raskin, Bernie Sanders, Alexandria Ocasio-Cortez, Ilhan Omar, Deb Haaland, Madeleine Dean, Mary Gay Scanlon, Joe Cunningham, Veronica Escobar,
HR 109 endorser
By February 20 2019 endorsers of Alexandria Ocasio-Cortez's HR 109 (Green New Deal) included Andy Levin.
Medicare for All Act
In February 2019 Rep. Pramila Jayapal introduced H.R.1384 - Medicare for All Act of 2019. By May 29 she had 110 co-sponsors including Rep. Andy Levin.
21st Century Democrats
Andy Levin was endorsed by 21st Century Democrats in 2020.
Head of Michigan Department of Energy...
In July 2010 Gov. Jennifer Granholm said that current director Stanley "Skip" Pruss will retire and that Andy Levin will become the department's acting director. Levin had been a deputy director of the department since 2007.
Skip Pruss had led the consolidated state department for the past two years.
Levin "currently oversees operations of the Bureau of Workforce Transformation, Michigan Commission for the Blind, Michigan Rehabilitation Services, Commission on Disability Concerns, Labor Market Information & Strategic Initiatives, and the Bureau of Employment Relations. In October 2009, Granholm appointed Levin Michigan's first chief workforce officer."
"Andy Levin will continue Skip Pruss' groundbreaking efforts to make Michigan a leader in the emerging green economy," Granholm said. "Andy is a proven leader who has overseen the No Worker Left Behind (NWLB) initiative that has become a guidepost for national workforce policy, helping No Worker Left Behind workers get long-term training that can change their lives."
Pruss said Levin has helped create a more efficient, capable and strategic state workforce agency within DELEG by eliminating the outdated bureaus of workforce programs and career education and replacing them with the Bureau of Workforce Transformation. He also led efforts to create Michigan's Green Jobs Initiative, produce a rigorous report on green jobs, and establish the Academy for Green Mobility.[17]
Maurice & Jane Sugar Law Center
In 2009, Andy Levin was a member of the Host Committee for the Essential: Advocacy for Community Justice Reception & Silent Auction which was held at the Atlas Global Bistro, Detroit. The reception, which was held on Nov. 18, 2009 is the annual fundraising event to benefit the far left National Lawyers Guild-affiliated Maurice & Jane Sugar Law Center for Economic & Social Justice. Remarks were made by Steve Tobocman and the Maurice Sugar Voice for Justice Award was presented to Marilyn Mullane, Executive Director, Michigan Legal Services.[18]
Van Jones award host committee
On November 18, 2010, the far left Maurice & Jane Sugar Law Center for Economic & Social Justice presented "The Maurice Sugar Voice for Justice Award" to Van Jones "Human Rights Activists and Green-Jobs Advocate", at the United Way for Southeastern Michigan, 660 Woodward Ave, Suite 300.
Members of the Honorary Host Committee were;[19]
Jeffrey Breslin, RN, President, Michigan Nurses Association
Hon. Hansen Clarke, Michigan Senate
Diana Copeland, Executive Director, East Michigan Environmental Action Council
David Elsila, Retired Editor, UAW Solidarity Magazine
Leslie Fields, National Director of Environmental Justice, Sierra Club
Michael Garfield, Director, The Ecology Center
Ponsella Hardaway, Executive Director, MOSES
W. Kim Heron, Editor, Metro Times
Bob King, President, UAW International
Chris Kolb, President, Michigan Environmental Council
Andy Levin, Acting Director, Michigan Department of Energy, Labor and Economic Growth
Hon. Claudia Morcom, Retired Wayne County Circuit Court Judge
Fred Redmond, International Vice President, United Steelworkers
Ed Wendel, General Counsel, United Food & Commercial Workers
Saundra Williams, President, Metro Detroit AFL-CIO
Council for a Livable World
In 2018 Andy Levin was endorsed by Council for a Livable World.[20]
CPC Deputy Whips
2021 Congressional Progressive Caucus Deputy Whips: Congressman Mark Takano (CA-41), Congressman Lloyd Doggett (TX-35), Congressman Ro Khanna (CA-17), Congresswoman Debbie Dingell (MI-12), Congressman Mondaire Jones (NY-17), Congressman Andy Levin (MI-09), Congresswoman Veronica Escobar (TX-16) and Congresswoman-elect Cori Bush (MO-01).
CPC new members
2018 Congressional Progressive Caucus new members included Alexandria Ocasio-Cortez, Rashida Tlaib, Ilhan Omar, Ayanna Pressley, Deb Haaland, Veronica Escobar, Jesus Garcia, Joe Neguse, Andy Levin, Mike Levin.[21]
Anniversary of Muslim Ban
06/29/2019 Congresswoman Rashida Tlaib called a press conference today to uplift the one year anniversary of the SCOTUS decision to uphold the hateful Muslim Ban and reflect on its impact in our communities. Rep. Tlaib was joined by Rep. Debbie Dingell, Rep. Brenda Lawrence, and Congressman Andy Levin. Organizations in attendance include National Network for Arab American Communities parent organization ACCESS, ABISA, ACLU of Michigan, Cair - Michigan, Detroit Hispanic Development Corporation, Emgage, and Michigan Roundtable for Diversity and Inclusion!
National Network for Arab American Communities Executive Director, Ahmad Abuznaid attended in solidarity with the organizations on the ground who are leading the charge to #RepealTheBan.
Since the ban was enacted, families have been torn apart by a reckless policy that fuels anti-Muslim attitudes and action. Our work will continue until all immigrants and refugees are welcomed into this country.[22]
NIAC Action Commends Resolution on JCPOA
July 16 2019 Washington DC – Moments ago, Reps. Barbara Lee, Jan Schakowsky, and David Price introduced a resolution calling for the United States to return to compliance with the Joint Comprehensive Plan of Action (JCPOA), or Iran deal, from which President Trump withdrew in May 2018.
In response, NIAC President Jamal Abdi issued the following statement:
"Donald Trump's decision to abandon the Iran nuclear deal has put the U.S. on the brink of war with Iran and threatened to undo the hard won constraints against Iran's nuclear program. Thankfully, many Members of Congress recognize that there is no military solution to the present crisis, and that the best way to de-escalate is for the U.S. to return to compliance with the nuclear deal. Representatives Lee, Schakowsky and Price should be commended for their years of leadership in advancing peace and diplomacy, including by introducing this important resolution.
"There remains strong political will in Congress to restore U.S. credibility and engage Iran diplomatically–despite Trump and Bolton's push for war. For Members of Congress and Presidential contenders, it is good and important to call out Trump's dangerous moves that have taken us to the brink of war. Yet, the root cause of this crisis was Donald Trump's decision to kill a strong nuclear agreement with Iran, which is why signaling support for a return to compliance is so important. The Lee-Schakowsky-Price resolution helps solidify the growing consensus for a JCPOA return while signaling that the window for diplomacy is not shut, nor is the opportunity to restore U.S. credibility with both the international community and the Iranian people.
The resolution was co-sponsored by Reps. Don Beyer, Earl Blumenauer, Steve Cohen, Gerry Connolly, Lloyd Doggett, Anna Eshoo, Ruben Gallego, Raul Grijalva, Deb Haaland, Pramila Jayapal, Ro Khanna, Andy Levin, Alan Lowenthal, Donald Payne, Jr., Mark Pocan, Jamie Raskin, Peter Welch, John Yarmuth.[23]
Dalai Lama connection
Civil rights activist
Jackie Parker, Andy Levin, John Lewis.
References