Andrea Gundersen
Jump to navigation
Jump to search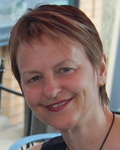 Template:TOCnestleft Andrea Gundersen is a Chicago psychologist.
New American Movement 10th convention
In 1981 Gene Vanderport, Danville NAM; Bernie Demczuk, DC NAM; Andrea Gunderson, Cleveland NAM; Paul Schrade, LA NAM and Judy Gregory, Cleveland NAM led a workshop entitled Labor in the '80's at the 10th Convention of the New American Movement. The convention was held in a union headquarters in Chicago and ran from July 29 - August 2, 1981.[1]
New American Movement
In 1982 Judy Gregory and Andrea Gunderson were members of Cleveland New American Movement and Cleveland Working Women.[2]
DSA Conference delegate
In 1983 Andrea Gundersen was a Chicago delegate to the Democratic Socialists of America conference in New York City, October 14-16, 1983[3]
DSA Feminist Commission
In 1985, Andrea Gundersen of Illinois was listed as a member of the Feminist Commission of the Democratic Socialists of America.[4]
In 1986 she was listed as a member of the Commission.[5]
1986 Debs dinner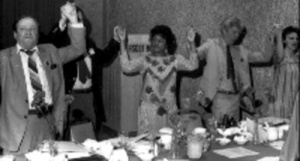 Andrea Gundersen attended the Chicago Democratic Socialists of America 1986 Norman Thomas - Eugene V. Debs Dinner, held on Saturday, May 10, at the Ascot Hotel.
Andrea Gundersen presented the Debs Award to Jackie Vaughn.
Picturd right: Carl Shier, Rev. Jim Gorman, Jackie Vaughn, Michael Harrington, Andrea Gundersen singing "solidarity forever"[6].
References