Andre Brie
Jump to navigation
Jump to search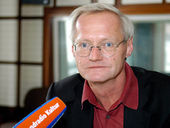 Andre Brie was a representative of the Party of Democratic Socialism of Germany (a revamp of the old East German Communist Party) at a Committees of Correspondence convention in July 1994.
Brother of Michael Brie. Son of Horst Brie.
Background
After graduating in 1968 in Berlin Brie served three years at the NVA in Brandenburg on the Havel as a technician in the helicopter squadron 31. He then began in 1971 a foreign policy study at the Institute for International Relations of the Academy of State and Law of the GDR in Potsdam-Babelsberg which he finished in 1976 as a graduate political scientist. He then worked as a research assistant at the Institute of International Relations until 1989 In 1981 he received the UN scholarship and completed his habilitation in 1986 (dissertation B). Subsequently, he was at the same time a lecturer and head of department for questions of European security and disarmament. From 1989 to 1990, Brie was a research associate at the Institute for Interdisciplinary Research on Civilization at the Humboldt University Berlin.[1]
Brie was a scientific adviser to the GDR delegation to the Geneva Disarmament Conference in 1985 and 1986, and from 1986 to 1991 a member of the Pugwash Nuclear Weapons Working Groups for Europe and Conventional Weapons in Europe.
Brie is a founding member of the Foundation Rosa Luxemburg Foundation. He is also a member of the Steering Committee of the German-Russian Petersburg Dialogue .
That group was set up in 2001 by former Chancellor Gerhard Schroder and then-Russian President Vladimir Putin to promote German-Russian relations.
Stasi connections
Andre Brie has worked since 1970 for the MfS, district administration Potsdam ( division II / 6 - counterintelligence ), as IM "Peter Scholz". He received the Medal of Merit of the NVA in bronze for his informative work . His range of action as IM "Peter Scholz" included: friends, girlfriends, work colleagues (inter alia at IIB, ASR of the GDR, UNO representation of the GDR - as a scholarship holder, writers' association, cabaret scene of the GDR), songwriter (inter alia Bernd Rump ), group layer , Association of Visual Artists of the GDR (including Klaus Vonderwerth and Petra Kurze). As late as 1986, Andre Brie demanded an increase in "revolutionary vigilance" at the Institute for International Relations.[2]
Revelations
In December 1969 Andre Brie volunteered to work as a Stasi IM. In 1991 he did not reveal these connections as per the June PDS resolution, that all aspiring PDS officials had to come clean about past Stasi affiliations, and in October 25 had to step down as chairman the Berlin PDS, and in October 26 as deputy chairman for the whole PDS.[3]
In 1994, the Editorial Board of Links, a "journal of international socialist renewal" produced and sponsored by the Australian Democratic Socialist Party, included;
Committees of Correspondence connection
Danny K. Davis also had ties to Communist Party USA splinter group Committees of Correspondence.
According to Chicago DSA's New Ground of September 1994[4];
"Over 500 delegates and observers (including 140 from Chicago) attended the founding convention of the Committees of Correspondence (CoC) held here in Chicago in July.
New Ground reported that speakers…included Charles Nqukula, General Secretary of the South African Communist Party, Dulce Maria Pereira, a senatorial candidate of the Workers Party of Brazil, Angela Davis of CoC, Andre Brie of the Party of Democratic Socialism of Germany (a revamp of the old East German Communist Party). Guests during the Convention included Cook County Commissioner Danny Davis, Chicago Aldermen Helen Shiller and Rick Munoz, a representative of the Green Left Weekly of Australia and a representative of the Cuban Interest Section."
References