Amy Offner
Jump to navigation
Jump to search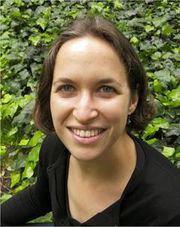 Template:TOCnestleft Amy C. Offner is an Assistant Professor of History at Penn.
Affiliations
Amy Offner has been a postdoctoral fellow at the Center for the United States and the Cold War within NYU's Tamiment Library, and has received fellowships and grants from institutions including the American Council of Learned Societies, the Social Science Research Council, the Inter-American Foundation, the Society for Historians of American Foreign Relations, and the Duke University Center for the History of Political Economy. Before beginning graduate studies, she worked as a union organizer and an editor at Dollars & Sense, a magazine and book publisher analyzing economic affairs. In 2008, she worked for the Landmine Survivor Network in Bogota, Colombia.
PSLM
Amy Offner was active in 2001, in the Harvard Progressive Student Labor Movement.[1]
A sit-in has begun in Mass Hall for a living wage for all Harvard workers," declared Harvard Progressive Student Labor Movement activist Amy Offner.
As students held aloft a banner that read "Workers Can't Eat Prestige: Rally for a Living Wage," Offner explained to students, union activists and confused alumni in Cambridge for a reunion that the Harvard Living Wage Campaign's struggle to guarantee Harvard workers a living wage of at least $10.25 an hour had escalated to a dramatic new stage.
With support from actor Matt Damon, NAACP Chairman Julian Bond, linguist Noam Chomsky, writer Barbara Ehrenreich, the Rev. Jesse Jackson, historian Howard Zinn and the Cambridge City Council -- which twice has passed resolutions calling on the university to implement a living wage policy -- the living wage campaign has over the past several years mounted one of the most ambitious campaigns in the nation for a living wage for campus employees.
But Harvard officials have stonewalled. So students moved their protests inside the walls of Massachusetts Hall, the building where Harvard President Neil L. Rudenstine and other administrators make their offices.[</ref>April 19, 2001 Upping the living wage ante at Harvard By JOHN NICHOLS, in The Nation (online)]</ref>
"Real World Labor"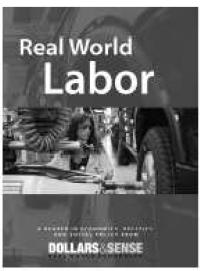 In August 2009 Dollars & Sense, produced an anthology entitled "Real World Labor", edited by Immanuel Ness, Amy Offner and Chris Sturr and the Dollars & Sense Collective.
Contributors included David Bacon, Kim Bobo, Aviva Chomsky, Steve Early, Bill Fletcher, Jr., Staughton Lynd, Arthur MacEwan, John Miller, Frances Fox Piven, Robert Pollin, Jane Slaughter.[2]
References
↑

[Harvard Crimson Three Honored by Women's Leadership Award By JULIET J. CHUNG, CRIMSON STAFF WRITER April 4, 2001]